October 30, 2012
Bayer CropScience appoints Liam Condon as CEO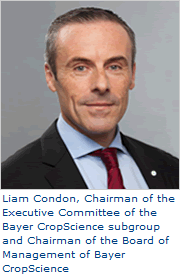 Bayer CropScience has appointed Liam Condon as Chairman of the Executive Committee of the Bayer CropScience subgroup and Chairman of the Board of Management of Bayer CropScience effective December 1, 2012.
The decision was made by the Supervisory Board of Bayer CropScience at its meeting on Monday (Oct.29) evening. He succeeds Sandra E. Peterson, who is leaving the company on November 30. Condon has been Managing Director of Bayer Vital GmbH, Leverkusen, and head of Bayer Pharma's business in Germany since January 2010. Bayer Vital is the business operations company for the Bayer HealthCare subgroup in Germany.

"Liam Condon is a highly successful and experienced manager with proven expertise in marketing and sales, who has demonstrated his leadership skills internationally over a 20-year period. We are convinced of his ability to continue the dynamic development of Bayer CropScience," said Bayer Group CEO Marijn Dekkers. "Safeguarding harvests and food supplies for people and animals are major issues of our time. I look forward to the opportunity to do my best for our customers in the agricultural industry together with my CropScience colleagues - in tune with our mission 'Bayer: Science For A Better Life,'" said Liam Condon.