Diamond V's Asia Tour offers Filipino livestock farmers natural, non-antibiotic solutions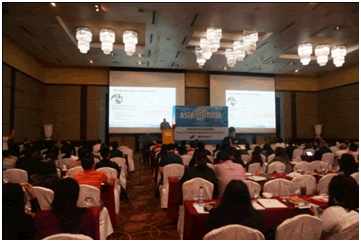 At the Manila leg of the Diamond V Asia Tour in the Philippines, a Filipino food safety expert asserted Friday, July 13 that Southeast Asia, which includes the Philippines, had the highest incidence of foodborne diseases among the regions in the world.
Dr. April Shayne Lobaton-Sulabo, assistant professor at the Institute of Food Science and Technology, University of the Philippines in Los Banos (UPLB), said the top disease-causing pathogens common in the country and in Southeast Asia were salmonella, E. coli, clostridium and campylobacter. The Philippines, according to her, lacked adequate surveillance facilities to keep track of disease incidents involving these pathogens.
"So we can't with certainty claim the Philippines is less prone to pathogen incidents than other countries. We don't know… we don't have the data," she said.
Diamond V's
Asian Tour is a technical lecture series for animal industry professionals, food company executives and other stakeholders in the feed and meat industry.
This inaugural lecture swing has made stops in Thailand (July 3-5), Indonesia (July 5-7), Vietnam (July 10-12) and, finally, in the Philippines (July 12-14).
In Manila, the "by invitation only" event was held at the Crown Plaza Manila Galleria hotel in Mandaluyong, Metro Manila. Nearly 200 people attended the one-day event, including feed millers, livestock farm operators, and representatives from agribusiness conglomerates, among other stakeholders.
The tour went on to Cebu, the Philippines, on July 15, with the same speakers at the event.
Two Diamond V animal health experts - Dr. Darin Henry, director of North American Ruminant Business, and Dr. Jason Frank, director of Non-ruminant Research and Technical Support - also spoke at the Manila event.
Dr. Henry warned that "many pathogens found today in farms in Asia and around the world are cause for concern". Citing salmonella, E. coli, clostridium, campylobacter and staphylococcus, he said "these pathogens impact not only the health of the animals but also the overall economics of production".
Beyond these concerns, he added, "there is the much larger impact on food safety and public health".
Asia, according to him, continues to rely on antibiotics to contain the problem. But antibiotic resistance is equally a growing health menace, Dr. Henry said. Hence, "non-antibiotic pathogen risk control must be in place from the farm to the table".
In his morning lecture, Dr. Frank spoke about alternatives to antibiotics in pathogen reduction and disease prevention.
He said antibiotics have been in use in the livestock industry since the 1950s. But growing concern among consumers about increasing antibiotic resistance in pathogenic bacteria affecting humans has prompted governments around the world to ban or limit the use of AGPs or antibiotic growth promoters.
The industry can make do without sub-therapeutic antibiotics, Dr. Frank said. But "the change will take time, effort, and multiple strategies".
"There is no single solution to this challenge," he emphasised, pointing out that there are a large number of products touted as alternatives to antibiotics. "We must be vigilant and remain critical of the on-farm interventions available," Dr. Frank added.
In his afternoon lecture, Dr. Frank unveiled Diamond V's natural, non-antibiotic nutritional health programmes, which, he said, had been proven effective in controlling pathogen risks in on-farm or pre-harvest stages of animal production.
These programmes, he added, have the advantage of working well in poultry and pig production both with and without antibiotics.
– F.E. OLIMPO