An in-depth look into Adisseo's liquid application technology

From small to large feed mills in Asia Pacific, Adisseo offers two main liquid additives products which come with its customised liquid applicators - Rhodimet® AT88 and Rovabio™ Liquid Enzyme. William Goh, regional engineering and product application manager at Adisseo APAC, gives an in-depth look.
1. Rhodimet® AT88,

This is a concentrated liquid source of hydroxy-methionine, as an essential amino acid for all animals; it is added in feed mixers during feed production.

2. Rovabio™ Liquid Enzyme

This is a range of liquid enzyme solutions that improves digestibility of feedstuff for poultry, fish and hogs. The liquid form ensures that the enzyme activities are not affected by the pelleting/extrusion process and added as Post Pelleting process.

Applicator for Rhodimet® AT88 :

Rhodimet® AT88 is heat stable. Thus, feed mills add it directly into their feed mixer. In Asia Pacific, the most commonly installed liquid applicators are the load-cell weigher system as shown in Figures 1 & 2. As its name implies, this applicator uses loadcell to weigh the amount of the liquid accurately according to feed formulation then pump it through pipeline into nozzles and the feed mixer.
Dosing and Loading operation of the applicator is automatic as it is controlled by PLC. The process can be monitored on the integrated HMI Touchscreen panel. Other instrument control features are pipeline pressure sensors, comprehensive usage report exportable to USB drive, PLC ready for integration to feedmill batching feed formulation controller, and PLC ready for remote internet service support. Most parts in contact with the liquid are made of corrosion-resistant material such as stainless steel.

With Adisseo engineer's proper on-site installation and supervision, AT88 recovery and mixing homogeneity can be achieved within expected level.

Dosing accuracy for this applicator is (+/-) 1% error tolerance against set point. As an example: at 2 kg/mt, one can expect variation (+/-) 20 g.

This liquid applicator as shown in Figure 1, is designed for medium-scale feedmills producing from 6 K to 10 K MT feed per month. To enable smaller feedmills to gain the economics, nutritional and non-nutritional benefits of AT88, Adisseo engineers have developed several smaller loadcell weigher systems (Figure 3). All these applicators are easy to install and user friendly with dosing accuracy (+/-) 1% tolerance against set point.
Applicator for Rovabio™ Liquid Enzyme :

Enzymes are proteins that can digest feed components provided that their active site is not altered by extreme pH or temperatures. To overcome the pelleting stress, Adisseo has developed a range of liquid enzymes to be applied after pelleting process. Thus, feed mills must install the liquid applicator after a cooler machine where the finished feed pellets have been cooled to ambient temperature. Such applicator systems are usually installed below a sifter machine to spray onto the finished feeds before they move to finishing feed bin. This applicator is called Post Pelleting Liquid Applicator (PPLA) (Figures 4 and 5).

There are several types of PPLA setup in the market. Here, we introduce the most commonly installed PPLA by Adisseo, the gravimetric feed flow device PPLA as shown in Figure 5. This Basic PPLA module consists of the following:

a. Feed buffering surge bin (to enable constant feed flow): capacity of at least 1.5 MT

b. Solid flowmeter chamber: Feed flowrate measuring device with built-in spray nozzle (Figure 9, solid flowmeter)

c. Mixing cabinet: with all liquid flow sensors, pressure regulator and liquid static mixer. This is the site to mix and dilute water and liquid enzyme before spraying through nozzles (Figure 6)

d. Pump station: Enzyme and water pump are installed (Figure 7)

e. Day tank weigher system: Liquid Enzyme Day Tank to record weight reduction to reflect actual usage of liquid enzyme

f. Water day tank: water storage use for dilution liquid enzyme to proportion of 1:4

g. Loading system: for controlling enzyme loading diaphragm pump

h. PPLA controller and process monitoring: Supplied with computer PC or Touchscreen Control Panel

This design of PPLA has a surge bin installed with three bin switches (HL: high level; SL: Start level; LL: Low level). Feed drop from sifter machine needs to be accumulated into the bin until SL, before the slidegate of solid flowmeter opens automatically. When the sildegate opens, feeds will drop into Solidflow chamber with loadcell mounted curve chute where feed flowrate will be calculated by PLC into Ton/Hr. Once feed flowrate is calculated, the enzyme and water pump will start, and regulate the spray rate according to feed flowrate signal, to deliver both liquids to mixing cabinet, dilute then move towards the spray nozzles. The spraying will continue continuously onto the flat feed curtain formed by feed pellets dropped onto the curve chute until the feed surge bin reaches LL (Figure 9).

This constant feed flowrate and liquid enzyme spraying on the feed curtain can yield desired spray homogeneity (below 10%) and enzyme recovery.
1. eFL: How do you ensure Adisseo liquid applicators always stay relevant, valuable and provide peace of mind to feedmillers when using Adisseo liquid additives?

Being customer centric has been one of Adisseo's management priorities across all functions.

To make sure Adisseo liquid applicators and engineering services always stay relevant and valuable to feed millers is also one of the objectives. To achieve it, Adisseo has recognised the importance of having an in-house professional service engineer located in our main markets to ensure quality and on-time handling of all liquid applicator installations as well as routine maintenances and troubleshooting. In terms of liquid applicator handling,
"Peace of Mind" commitments to feed millers are set as follow:

- ZERO accident (for Adisseo engineer working on site, and all feedmill personnel handling Adisseo liquid products and applicators)

- Adisseo local engineer 24H/7D standby to assist feedmill applicator fault call through phone and chat. If not solved by phone/chat, they are obligated to go onsite within 24 hrs.

- Adisseo keeps stock of critical spare parts at feedmill and local office

- Applicator manufacturing engineers are also on standby to support Adisseo local engineer via remote internet 24 H/7D

- Minimum applicator DOWN time with quality routine preventive maintenance

- Dosing accuracy within committed tolerance.

Having a dedicated applicator manufacturer as our partner also enables Adisseo engineering services to improve the applicator (hardware and software aspects) to achieve better user experience, dosing accuracy, reliability and performances. This is possible because of continuous innovative solutions being developed from constant feedback about applicator operating conditions from Adisseo service engineers and feed millers. Lastly, being agile with our engineering services plus customising applicator design to fit different feedmill scales, has become extremely valuable for feedmills as they also have the opportunity to gain the benefits of using liquid additives such as liquid hydroxyl methionine and enzymes in their feed business.

2. What are key features and services most desired by feed millers using Adisseo liquid products?

Nowadays, large-scale feed mills are highly automated in operations as compared to those small- and medium-sized ones. However, they face similar problems such as limited manpower, especially engineers and technicians, to service and maintain their mill equipment.

Adisseo recognised this issue and employed an engineering team of dedicated and professional engineers located in the main markets to ensure "peace of mind" to feed mills while using Adisseo liquid additives and applicators.

Adisseo's liquid applicators offer unique features and services which feed mills find valuable and want it most to make their operations efficient. Some of these features and services are as follow:

• Being able to interface with the feedmill's feed formulation system to operate in full automation mode. It eliminates human error with manual input, such as dosing setpoint.

• Build-in user-friendly touchscreen process graphics to monitor and input dosing parameters. For instance, liquid usage report and system alarm history are traceable, exportable to USB storage devices.

• PLC controlled, remote-able via internet to do troubleshooting and software upgrading by the Adisseo engineer.

• Customisable applicator according to the feedmill's request.

• Fast responses, attentive services provided by the Adisseo local engineer.

3. What are the common concerns of feed mills regarding liquid application into feeds when switching from DLM to HMTBA? How does Adisseo Engineering Services address their concerns?

For this question, DLM or (DL methionine) refers to powder methionine that is Adisseo Rhodimet® NP99. HMTBA (DL HMTBA) refers to liquid methionine that is Adisseo Rhodimet® AT88.

First of all, let me highlight five of the reasons why they are interested to switch from DLM to HMTBA.

Benefit 1: Save up to 10% of their methionine purchases

Rhodimet® AT88 is 100% active. Maximise their savings by using its full nutritional value at 88% in feed formulation but by purchasing at only 80% of DL methionine price.

Benefit 2: Reduce the nitrogen excretion by optimising their feed formulation

With Rhodimet® AT88, they can fulfill and balance the requirements for methionine, and sulphur amino acids, without adding nitrogen to the feed.

Benefit 3: Optimise the use of organic acids and reduce the cost of using acidifiers

Rhodimet® AT88 with a pKA of 3.6 has similar acidifying properties as other organic acids, such as formic acid.

Benefit 4: Improve the quality of their feed

Because it is a strong organic acid, Rhodimet® AT88 inhibits the growth of fungi in feed and is also effective in inhibiting in vitro pathogenic bacteria at higher inclusion rate.

Benefit 5: Reduce the risk of poor performance in stressful conditions

Due to Rhodimet® AT88's antioxidant effect, it has been proven to play an important role in metabolism, resulting in better ability to form glutathione than DL-Methionine.

Thus, when feed mills are planning the switch, it is normal to raise questions and here are some of the most common concerns:

I. Dosing inaccuracy

Dosing inaccuracy will not only affect feed quality but also incur losses. With current technological advancement in the hard- and software design, Adisseo liquid applicator integrated the features below to solve this concern:

a) System design with "dosing sampling bypass test" to facilitate easy checking dosing accuracy (Figure 9)

This hardware design features will facilitate engineers to perform applicator dosing accuracy checking. This port diverts the liquid additive into a bucket, where one can weigh and compare against the pre-set dosage. The Adisseo engineer checks it during routine maintenance.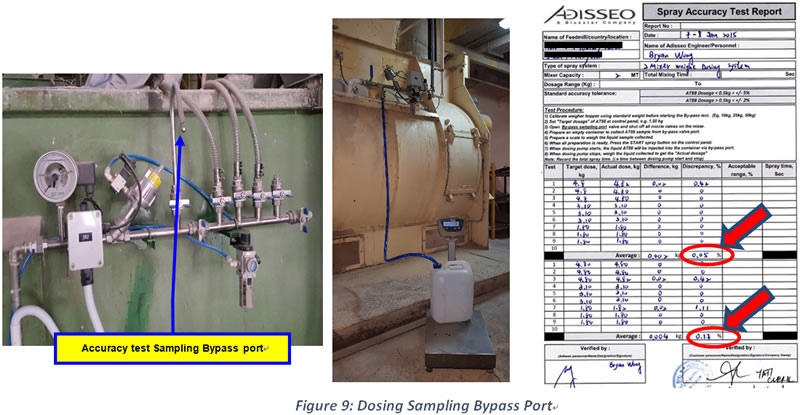 b) Constant dosing inaccuracy checking and notification by applicator (PLC) software (Figure 10)

This software feature is programmed to alert and stop the applicator operation, when there is dosing inaccuracy.
c) Comprehensive consumption report to show "Deviation" (Figure 11)

This software features the applicator automatic generation of a comprehensive consumption report for engineers and production operators to track and check the applicator's dosing accuracy.
d) Adisseo engineer routine maintenance visit (Figure 4)

Is is compulsory for Adisseo engineer to visit the site for scheduled routine maintenances, to guarantee desired dosing accuracy and working conditions of the applicator. During the visit, Adisseo engineer will conduct a few critical tasks that affect dosing accuracy:

- dosing weigher hopper checking and calibration (Figure 12)

- "dosing sampling bypass test" and calibration (Figure 9)
II. Spray nozzles may be clogged with dust after using for some time

Adisseo liquid applicator has the following design features, hardware and other counter-measures to prevent problems of nozzles clogging:

- One of routine maintenance tasks is to check, clean, and adjust nozzle positioning. In addition, the system also has a built-in function of automatic air flashing at nozzle tip to prevent clogging.

- Nearer the nozzle manifold, there is also a pressure sensor to detect and alert operator of nozzle clogging.

4. With the increasing sophistication in smart automation system, how is Adisseo keeping up with improving reliability and efficiency for feed millers?

To further enhance customer experience with Adisseo liquid additives, applicators and engineering services, Adisseo is developing a digitalised cloud technology solution for our liquid applicators and engineering services management.

This digitalisation project will bring about the following benefits:

- Further enhanced "peace of mind" with faster response time and reduced applicator DOWN time.

- Digitalisation of all reporting and recording of the system parameters.

- Increased productivity and management efficiency of Adisseo engineer service schedule and workload.
With this project, Adisseo's liquid applicators will be serviced and maintained on time, leading to better reliability, less breakdown, thus improving efficiency of the feed production.
Lastly, we are actively contributing to designing the feed mills of tomorrow!

All rights reserved. No part of the report may be reproduced without permission from eFeedLink.