Nanyang Rising! Southeast Asia becomes world agribusiness's growth frontier
Chinese feed output will remain flat for years. India is limited by religious restrictions on protein consumption; wealthy country markets are saturated -but Southeast Asia's diverse protein lines are growing by up to 10% annually.
By Eric J. Brooks
"Nan Yang"
--"Southern Ocean" (The traditional Chinese name for Southeast Asia)
People-rich, land-poor and economically dynamic, ASEAN's 10 nations and 660 million people have overtaken China as the world's largest, most diverse and fastest growing agribusiness market. This reality is partly concealed by the Southeast Asia's diverse, fragmented nature: 10 nations ranging in size from 0.5 million to 270 million, per capita incomes from US$2,000 to US$57,000, meat consumption from 15kg to 70kg, pork loving Buddhist nations situated next to poultry consuming Muslim societies.
Nor should the fact the ASEAN economic community contains half of India or China's population dispersed across ten very different nations distract you from the scope of their transformation or collective growth potential. -Since 2012, all world feed demand growth has occurred in countries with less than a 4% share of global feed production -and six of the ten countries with the fastest growing feed production are in Southeast Asia.

With an average per capita GDP of approximately US$5,000, 1.3% annual population growth, 4% annual income growth and meat consumption at 1/3 of China's current level, no regional economic bloc has pent-up growth dynamics comparable to that of Southeast Asia at this time.
Vietnam, Thailand, Indonesia and the Philippines account for 85% of Southeast Asia's feed output and lead its growth. Among these, export-oriented Thailand is the most mature and is the only ASEAN nation with significant feed-to-meat operations around the world, while Vietnam is the least mature and fastest growing of the three.
Among the less developed Southeast Asians nations, Myanmar has been called Southeast Asia's "next Vietnam" as its demographic profile and stage of economic development resembles Vietnam in the late 1990s. Alongside Cambodia and Laos, Myanmar will sustain Southeast Asia's rapid growth after 2025 even as its other economies approach maturity.
Based on Alltech Global Feed Survey statistics, Southeast Asian feed output expanded at a 7.3% annual rate from 2012 through 2018 inclusive. Over these six years ending in 2018, ASEAN feed annual feed output growth and production volumes were dominated by Vietnam (19.6 million tonnes, 8.5% annual growth), Philippines (20.0 million, 8.1%), Indonesia (20.3 million, 6.6%) and Thailand (21.1 million, 4.8%); with underdeveloped, fast-growing nations such as Myanmar (3.53 million tonnes, 34%) and Cambodia (2 million tonnes, 67%) counterbalancing the slow-growing mature economies such as in Malaysia, Singapore and Brunei, which produced 5 million tonnes between them.
Their collective 101 million tonnes of projected 2019 feed output is 45% less than China's but 140% more than India's -even though India has twice as many people.
On one hand, India enjoys similar growth rates but its market is limited by various religious prohibitions on the consumption of beef, pork and in some cases, restricts protein consumption to lacto-ovo vegetarianism. On the other hand, China's feed output peaked in 2012, declined thereafter, with African Swine Fever poised to keep it stagnant into the 2020s.
Poised to grow at 5% to 7% annual rate up to at least the year 2040, Southeast Asia is the only continent-sized demographic region with the rapid, across-all-protein-lines economic growth that once keynoted China.
Demand-wise, while Thailand, Indonesia, Vietnam and Philippines all mill approximately 19 to 21 million tonnes of feed, their fast-growing output is diverted into very different protein lines, depending on the ASEAN nation in question.
Buddhist majority Vietnam's US$3,000 per capita GDP sustains a surprisingly high 29kg of per capita pork consumption, with swine accounting for 56% of feed demand. Over 75% of Muslim-majority Indonesia's feed is eaten by poultry, with 5kg per capita chicken consumption accounting for a slightly higher proportion of feed demand than the 5.5kg of eggs consumed.
Partly because they eat slightly more pork (17kg) per capita than they do chicken (15kg). Partly because hogs are less feed efficient, hogs account for the largest share of Philippine feed demand (42%) followed by poultry (32%), with broilers consuming 19% of total feed and layers 13% respectively.
In some ways, Thailand is the reverse of Philippines, with its chicken consumption (18kg) slightly higher than that of pork (15kg). In Thailand's case however, with approximately 30% of chicken meat exported, poultry accounts for 51% of feed output, with broilers accounting for 35%.
Among the smaller ASEAN producers, none is more important than Myanmar. While Myanmar's 2018 output of 3.53 million tonnes is a fraction of the above nations, it increased a whopping 31% over the previous year, and has been rising at a 34% annual rate since 2012.
On one hand, broilers (35%) and layers (31%) account for 66% of Myanmar's feed output at the present time. On the other hand, Myanmar has very similar Buddhist-dominated demographics to Thailand and Vietnam. Consequently, many analysts expect Myanmar agribusiness to eventually be driven by pork consumption in a manner comparable to what has already occurred in China and Vietnam.
On one hand, consisting of land-scarce island and coastal nations, rapid income growth is overwhelming ASEAN's ability to expand feed inputs in line with its growing meat demand. On the other hand, except for Singapore and Brunei, ASEAN nations have opted to import feed crops and grow their meat locally rather than importing a majority of the protein they consume. This is having major consequences in world agribusiness markets.
Vietnam for example, went from being a net corn exporter in 2000 to import 1.5 million tonnes in 2010 and a USDA estimated 10 million tonnes this year -and would have risen even faster were it not for a partial substitution of feed wheat in place of corn.
Corn imports would probably now total over 13 million tonnes had it not substituted 2 to 3 million tonnes in annual feed wheat imports in place of corn. Even so, this year will probably see Vietnam overtake South Korea as the world's third-largest corn importer, behind only Japan and Mexico.
Vietnam has plenty of company when it comes to feed grain imports: Philippines uses quotas and tariffs to restrict corn imports. Alongside boosting meat imports in place of expensive corn, this caused its feedwheat imports to multiply from 0.95 million tonnes to 2.5 million tonnes last year.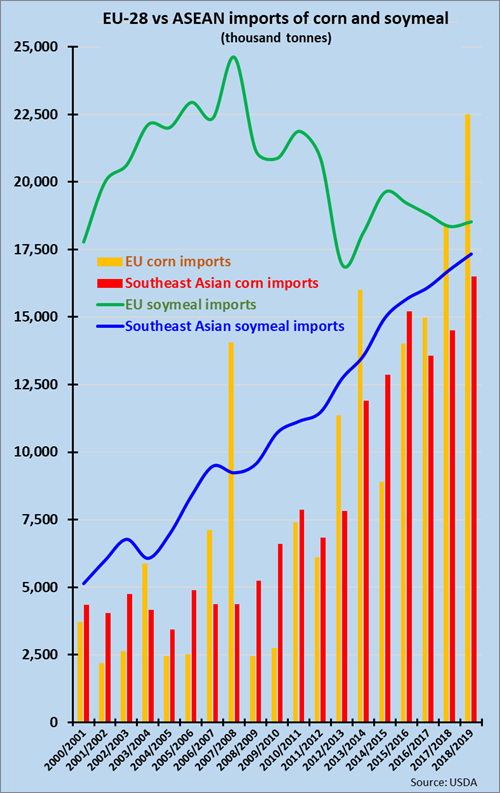 Indonesian feed wheat imports also jumped from almost nothing in 2000 into the 2.0 to 2.5 million tonne range in recent years. Similarly, Thai and Indonesian feedwheat imports also expanded exponentially, from almost nothing in 2000 to 1.7 million tonnes in Thailand's case and 2 million tonnes for Indonesia respectively.
On the protein meal side, Vietnamese soybean imports rose from nothing to 0.43 million tonnes to 2.9 million tonnes over this time. Moreover, despite opening and repeatedly expanding three crushing facilities amid skyrocketing bean imports, Vietnam's soymeal imports jumped 10-fold in less than 20 years, from 0.43 million tonnes in 2000 to a USDA estimated 5.0 million tonnes in 2018.
This year's opening of a new soymeal crushing facility in northern Vietnam will only stabilize soymeal imports for a year or two before they continue rising towards 6 million tonnes. This has already made Vietnam the world's top soymeal importing country.
--But Vietnam has plenty of Southeast Asian company in world soymeal import rankings: Whereas 20 years ago, Japan and South Korea were top meal importers, by 2018 they had been replaced by Vietnam (5 million tonnes), Indonesia (4.85 million), Philippines (2.95 million) and Thailand (2.90 million) as the top four soymeal importer.
Number nine importer Malaysia saw its own soymeal imports jump from 600,000 to 1.9 million tonnes over these same eighteen years. For this reason, the USDA expects that by 2022, Southeast Asia will overtake the European Union to become the top soymeal importing region in the world.
Moreover, the region is also keynoted by exceptionally high aquaculture production, consumption and exports, supplying 30% to 50% of seafood lines such as shrimp, tilapia and pangasius to the world market. In nations such as Indonesia, per capita, seafood consumption is several times that of meat.
Others such as Thailand have pioneered the growing of exporting of aquaculture in their own nation first and are now important investors in the seafood farming operations of neighboring nations such as Vietnam, Philippines or Indonesia. With fishmeal being replaced in aqua feed rations where ever possible, Southeast Asia's export-driven seafood sector is further increasing its dependence on protein meal imports.
Going forward, ASEAN poultry production expanded at a 4.5% annual rate, totaling 9.2 million tonnes in 2017. The USDA expects it to expand 3% annually and total 12.3 million tonnes by 2027. Similarly, pork output expanded 2% annually over the last ten years and is expected to rise at this same rate into the late 2020s, with nations such as Vietnam and Myanmar expanding swine output by up to 3% annually.
Amid ongoing consolidation, modernization and the substitution of feed crops in place of farm scraps, Southeast Asian demand for feed crops will rise by 4% to 5% annually, and their imports even more rapidly. Having overtaken Japan and South Korea, Southeast Asia's demand for imported feed crops (and possibly meat) will be second only to that of China.
Of course, exactly how Southeast Asia exactly impacts the world agribusiness markets depends on policymaking decisions: Will they opt to attract investment in crushing facilities or allow the logic of fragmented national markets to encourage soymeal imports?
Will meat be protected and unrestricted feed crop imports be allowed, or will the opposite be encouraged? Unlike China, these questions cannot be answered monolithically in one national capital but will be approached differently across half a dozen already important or emerging world market buyers.
Even so, the eclipsing of Europe, Japan, South Korea and every non-Chinese buyer by Southeast Asia's growing world market importance is an unstoppable trend.


All rights reserved. No part of the report may be reproduced without permission from eFeedLink.