April 27, 2022

UK ministerial visit to Roslin-based Agritech Hub highlights data potential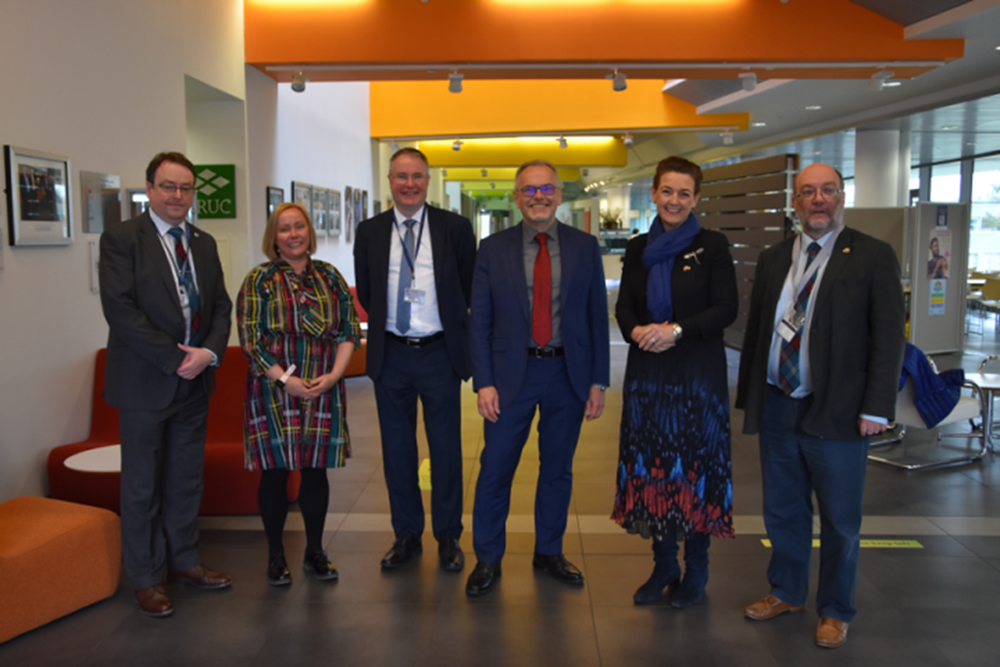 Jo Churchill, Minister for Agri-Innovation and Climate Adaptation at the UK's Department for Environment, Food & Rural Affairs (Defra), visited the Easter Bush Agritech Hub based at the Roslin Innovation Centre on April 26, the Roslin Institute announced.
During the visit, Churchill met with senior staff including Professor David Argyle, head of the Royal (Dick) School of Veterinary Studies, and Professor Bruce Whitelaw, director of the Roslin Institute, touring some of the world-leading facilities on campus.
The group discussed the potential of data-driven innovation to improve the efficiency of food production, accelerate the path to zero carbon and reduce emissions – with a view to ensuring animal health, robustness and welfare.
While onsite, the minister saw gene-edited cattle with improved heat tolerance. This scientific technique was used in a study by researchers from the Centre for Tropical Livestock Genetics and Health (CTLGH) at the Roslin Institute. It could benefit cattle in tropical low- and middle-income countries, where increased temperatures associated with climate change have negative impacts on animal welfare, productivity and immunity.
The Easter Bush Agritech Hub is a dynamic and vibrant innovation environment. World-class facilities equipped with the latest technologies support Europe's largest concentration of animal science research experts and clinicians, as well as co-located industrial partners in the custom-built Roslin Innovation Centre.
In partnership with the Edinburgh International Data Facility delivering exascale supercomputing at Easter Bush, the Agritech Hub will propel data-led decision making in the Agritech sector.
Ahead of her visit, Churchill opened the A3 Scotland Conference on Animal Health, Agritech and Aquaculture, with a focus on net zero.
"We were delighted to host Jo Churchill at the Agritech Hub to discuss data-driven innovation and explore how we can work with Defra to unlock national data assets," said Whitelaw. "The unique concentration of expertise and capabilities we have at Easter Bush enables us to be truly innovative in our approach to many of the world's most pressing problems around hunger, nutrition, disease and planetary health."

- Roslin