Diamond V appoints new technical support manager for Europe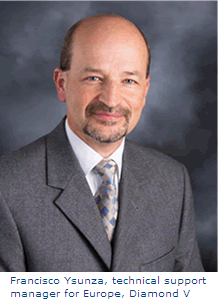 Diamond V, a leading supplier of nutritional fermentation products, has appointed Francisco Ysunza as the company's technical support manager for Europe.
Ysunza was formerly Diamond V's quality assurance corporate manager, responsible for the compliance of live animal procedures in 380,000 beef operations. He was also a department head and graduate professorin experimental nutrition, intensive beef production and dairy quality.
Ysunza has led applied research for institutions and founded two private corporate consultancy firms. He is involved in thedevelopment of technical projects for more than twenty food, feed, livestock, pharmaceutical, technology, and service corporations.
Ysunza earned his Ph.D. in Animal Science from Texas A&M University, US.