Salmon upended: Coronavirus breaks strong early 2020 market momentum, deflates a strong price rally
Strong world demand sustained prices deep into Q1 –but coronavirus deflation is now impacting export markets. Why this year's expected price fall will dent production more than in previous years.

By Eric J. Brooks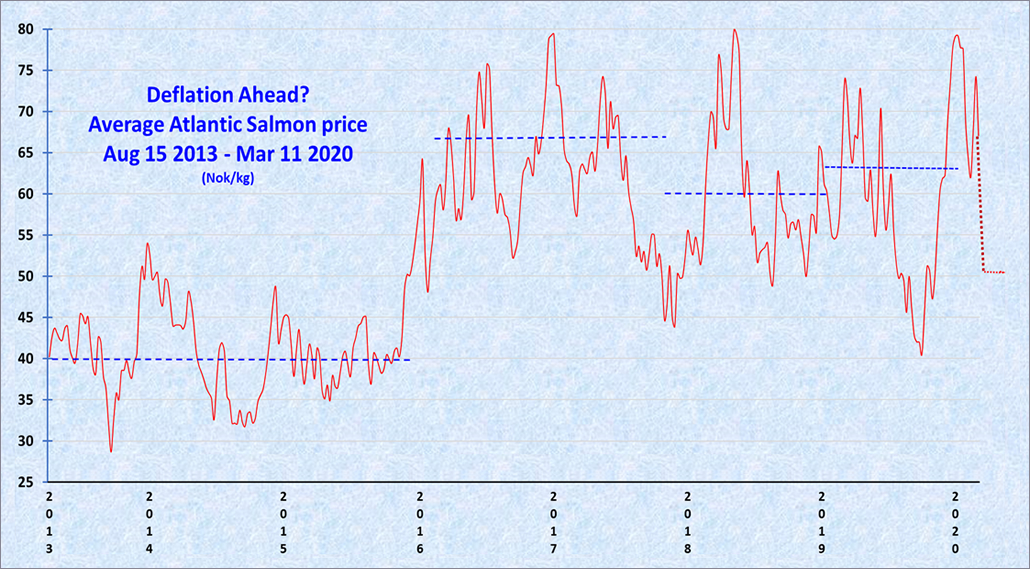 Despite all the gloomy talk of coronavirus's impact on protein demand, salmon farming enjoyed a prosperous 2019 and showed remarkable resilience in Q1 2020 –though great uncertainty now lies ahead. Coronavirus's timing was most unfortunate: After half a decade of nearly flat output, 2019 saw salmon farming grow at its fastest pace since 2014. Expanding at a 6.5% rate the industry once took granted.

It was jump-started by aggressive H1 2019 supply growth that was offset by lower prices, keeping revenues flat until late in the year, when prices took off. H1 Chilean and Norwegian salmon output grew by 9% and 6% respectively before biological limitations put the brakes on their expansion.

This aggressive supply growth was met by demand, which eagerly absorbed all the additional output at flat prices. H1 2019 US salmon imports, for example, rose 6.4% by volume but only 1% by value to US$2.16 billion. Not that this hurt Norwegian salmon farms. 2019 earnings averaged near €2.00/kg, well above their €1.45/kg average for the 2010s or €1.00/kg that was the norm during the 2000s.

In the second half of 2019, Chilean output growth decelerated but Norway's production remained higher than observers anticipated, up 4% from H2 2018 levels.

For the year, Norwegian salmon output grew 4.3%, from 1.38 million tonnes in 2019 to 1.45 million tonnes. This powered a 6% increase in exports, from 1.038 million tonnes in 2018 to 1.10 million tonnes last year.

Chile's post-recovery boom also continued: Even though serious problems with sea lice emerged later in the year, output rose 6.4%, from 921,000 tonnes in 2018 to 977,000 tonnes last year. This in turn allowed exports to total approximately 850,000 tonnes in 2018 and are estimated at over 900,000 tonnes for 2019.
This is not to say there weren't problems: After growing salmon to a new record average of 5.5kg in 2018, H2 2019 sea lice epidemics reduced their weight to just above 5kg, roughly on par with those from Norway. This, however, was counterbalanced by Norwegian salmon's average salmon size recovering to near their 5kg average after several years of disappointing yields.

Booming Norwegian and Chilean output was complemented by a 22% increase in the production of third leading producer Britain, where output rebounded to 191,500 tonnes after falling 17.8% to 156,025 tonnes the year before.

The resulting supply tsunami deflated prices from near-record highs down to levels that are still very high by any historical measure. Average prices fell by almost 45%, from above NOK73.00/kg in January 2019 to NOK40.5/kg in late Q3 2019. The latter price would have been considered normal a decade ago but was the lowest salmon sold for since 2015, when the current era of high, volatile prices began.

Thereafter salmon's traditional late-year rally was far more inflationary than expected, jumping over NOK51/kg in mid-October and to over NOK60/kg by early December. It started the year 2020 near NOK79.2 –just a shade below the record high of NOK79.3/kg set in early 2017 and roughly equaling its early 2018 price peak.

Mid 2019's low prices stimulated had strong, pent-up buying demand –just in time for Chilean and Norwegian production growth to decelerate.

Alongside strong late 2019 salmon demand and slower H2 supply growth, price inflation was also induced by wild catch numbers, which fell 13% on-year in 2019 and were 4% below 2017's wild salmon production. The decline in wild catch numbers offset part of this year's large increase in farmed salmon output. Alongside strong US, European and Chinese demand growth, this meant that by late 2019, supplies were tighter than they seemed, making for an explosive late 2019/early 2020 price rally.

Entering 2020, salmon fell as expected to around NOK62/kg in mid-February. Thereafter, it surprised many, gaining in price and rebounding to 74/kg in the first week of March, at which point serious world economic deflation set in. Up to that time, Covid-19 was devastating China's economy but had not yet impacted salmon-hungry consumers in America and Europe.
As a result, Norway's salmon exports spent most of Q1 2020 defying gloomy coronavirus centered predictions. On one hand, there has been a significant increase in the value of salmon exports, which rose 16% to NOK 5.9 billion (US$628 million), in February, up substantially from NOK5.09 billion (US$542 million).

On the other hand, at 81,100 tonnes, February 2020 shipments were up by only 1% or less than 1,000 tonnes from February 2019 levels. Earnings increased because the average export price increased by 17.1% from NOK58.9/kg a year ago to NOK69.0/kg in the same month of this year.

There was an 83% drop in Norway's salmon shipments to China, from 2,135 tonnes in February 2019 to 363 tonnes this year. There was also a 14% drop in export volumes to Covid-19 afflicted Italy –but all this was counterbalanced by higher shipments to other top buyers. That left overall export volumes nearly unchanged but revenues per unit 17% higher, making for a prosperous start to 2020.

Poland, France, and the US were Norwegian salmon's biggest customers. Among them, America bought 22% more by volume than it did in February 2019. Taiwan similarly increased its purchases 76% though from a small base.

Unfortunately, March saw Covid-19 induced deflation spread from China into the wider world economy. From its ultra-high NOK74/kg on March 4th, it deflated to 67/kg a week later and is on track to fall below the NOK50/kg to NOK55/kg Q2 bottoms it made in 2018 and 2019.

Asia, where coronavirus began, boosted 2019 salmon imports by 16%, with China purchasing 95% more or 51,300 tonnes in 2019, compared to 26,300 tonnes in 2018. Of this amount, 41,000 tonnes came from Chile. With Chile still supplying an overwhelming majority of China's salmon purchases, the latter's coronavirus induced recession will impact its sales more than those of Norway, especially in the first half of this year.

But while Norway exports a majority of its salmon to western countries, by late Q1, they too were reeling under coronavirus induced deflation and travel restrictions, the latter expected to deeply impact even the GDPs of western countries.

Hence, under current macroeconomic circumstances, late 2019's supply deficit will turn into a large surplus by the end of Q2 2020. Amid flourishing output in all major producing regions, 2019 world salmon production (across all species) was 3.381 million tonnes, up 6.5% from 2018's 3.175 million tonnes.
Due to coronavirus, we expect 2020's ongoing commodity market deflation and recessionary macroeconomic conditions to constrain salmon output more than problems controlling sea lice in Chile or maximum allowable biomass (MAB) limits in Norway.

Disease control issues, government constraints on output expansion will coincide with falling salmon prices which we expect to fall below NOK55/kg during the second quarter. Barring any supply constraining natural disasters or an unusually fast world economic recovery from coronavirus, we expect salmon to trade in the NOK45/kg to NOK55/kg range for most of 2020 until the traditional Q4 rally comes.
--And this price range will depress output far more than in the past. While salmon trades at far higher prices than ever, its production costs have also risen –and in more ways than one. As stocking densities reached critical levels, disease treatment costs have risen. Fishmeal is more costly than before and so is soymeal and rapeseed meal, especially compared to their pre-2010 prices.
Norway and Chile are not only the largest salmon producers but also enjoy the lowest unit costs. –But Norway and Chile must import most of their feed inputs, which are priced in US dollars. Before 2015, a US dollar could buy between 5 and 6 Norwegian NOKs. Now it buys 10. Chie's peso underwent milder though comparable devaluation versus the US dollar. Hence, the rising cost of feed and disease treatment has been further amplified by currency depreciation.
According to an extensive 2018 Norwegian study ("Production cost and competitiveness in major salmon farming countries2003–2018", Audun Iversena, Frank Asche, Øystein Hermansen, and Ragnar Nystøyl, Aquaculture 522 (2020) 735089), from US$3.50/kg in the early to mid-2000s, the weighted average of Norwegian Chilean production costs plateaued near US$4.50/kg after 2012 through today.
--But in Norwegian currency terms, this made for an average Chile and Norway production cost near NOK24/kg in 2012. Ongoing currency depreciation boosted this production cost to NOK38/kg by 2015, NOK41/kg by 2018 and approximately NOK46/kg at present.
As the attached graph implies, with Norway's currency now trading at NOK10.17/US$ Norwegian production costs have risen to slightly above this NOK47/kg level. Partly due to its higher recent productivity growth, partly due to its lessor currency depreciation, Chile will have lower production costs, though still over NOK44/kg. But the production costs of British, Canadian and Faroe Island producers are even more expensive, and currently in the NOK50/kg to NOK55/kg range.
With average salmon prices already trading near NOK60/kg and heading into the NOK45/kg to NOK55/kg range, this year's coronavirus price inflation will greatly reduce the incentive to expand output, keeping overall salmon production growth near 3% in 2020. With revenue margins so thin, the incentive to boost production and "test" biological limits will simply not be there.
Thereafter, we can expect history to repeat: Assuming the world economy recovers in H2 2020, rising demand will race ahead of this year's 3% to 3.5% world salmon output increase. That could make for another round of hyperinflation in late 2020 to above NOK70/kg –though much depends on the interplay between coronavirus, the world economy and the whimsical variability of Nature.


All rights reserved. No part of the report may be reproduced without permission from eFeedLink.