Guns and nervous beans, biofuel and dry palm leaves
How Russians and rapeseed, biofuel policiesand drought are shaking feed crop markets all the way to the equator.
by Eric J. BROOKS
An eFeedLink Exclusive Commentary
The old Chinese saying that prices go up when the army marches was proven true over the last few days. Russia's invasion of Ukraine, the world's fourth largest corn exporter and a major European supplier of rapeseed, caused feed crops to jump by 4% to 6% in less than two trading days.
Rapeseed supply threat boosts soy, palm oil
This is because Russia's invasion of Crimea puts its army very close to the Black Sea coastal ports Ukraine uses to ship its corn, soy and rapeseed to the world market -and the market impact was felt all the way to the equatorial tropics.
An emerging Black Sea region feed crop supplier, Ukraine only accounts for 1.7% of soy exports but its USDA estimated 2.23 million tonnes of rapeseed exports make it the third largest supplier after Canada and Australia, with a 16.4% world market share. When one holds such a large market share of a key soy substitute, any supply disruption is bound to upset the markets for oilseeds and protein meals -especially if the supply of substitute oilseeds are simultaneously under threat.
The situation's potential for oilseed market inflation is augmented by several coinciding factors. In South America, an arid, parched end to the soy growing season means the USDA is widely expected to trim its estimate of Brazilian and Argentine soy shipments to the world market in its upcoming March report. In Brazil, for example, the expected soy crop size, formerly expected at 90 million tonnes, is now more commonly estimated to be in the 85 to 88 million tonne range. Similarly, Argentina is now expected to produce up to 3 million tonnes less soy than was originally anticipated.
Palm oil: Drought, biofuel output and a Russian surprise
That would normally not be so inflationary in itself, except that with America's own soy stocks-to-use ratio near an all-time low, it is now getting difficult to find substitute oilseeds: Coincidentally, Southeast Asia is in a serious drought, threatening palm oil supplies. It is now expected that Malaysia and Indonesia, which collectively account for a USDA estimated 86% of world palm oil exports, will see their own harvest stay flat or decline by up to 5% from last year's levels. Hence, even before Russia's Crimean moves tightened things further, February had seen palm oil prices rise 9.4%.
To give a perspective on what this means: Although Indonesia palm oil output jumped an impressive, USDA estimated 8.8% in both 2012 and 2013, domestic consumption increased even more quickly, at an average rate of 9.2% over these two years. Malaysia is slightly better balanced, having seen output rise 6.2% in 2012 and fall 0.6% in 2013, while domestic consumption fell by 2.8% and 1.3% respectively over this time.
But just as the world seeks to use more palm oil in place of disappointing soy and rapeseed supplies, a coincidence of wild cards has tightened up the market.
In the latter half of 2013, Indonesia raised the proportion of proportion of mandatory biodiesel blended into diesel fuel from 7.5% to 10%. Malaysia followed with a similar move to increase the biofuel content of its own diesel.
Within months, the amount of Indonesian palm oil used for biodiesel more than doubled. At the very least, it will force the quantity of palm oil consumed by its biofuel sector to rise by at least 33% this year. Even before Southeast Asia's drought hit, rising domestic biodiesel consumption was expected to limit the amount of available Malaysian and Indonesian palm oil available for export.
Now however, with Malaysia's consumption expected to stay at the very least flat and Indonesia's poised to grow by at least 7%, their combined palm oil output may fall by as much as 5% or more this year. But with Indonesia domestically consuming 2.7 times more palm oil than Malaysia, a potential 5% fall in output would encounter a combined increase of 5% or more in their domestic consumption -and sharply higher international demand for palm oil -just as drought pinches Latin soy exports and Russia's actions put Ukraine's rapeseed shipments into question.
When combined with Russia's recent military actions, this resulted in some dramatic market movements. In a February 27th interview with Bloomberg News, Michael Coleman, who co-manages the Singapore-based, $143 million Merchant Commodity Fund hedge fund stated that given the seriousness of Southeast Asia's drought, he thought palm oil could rise 5%, from MYR2,790/tonne to MYR3,000/tonne (US$915/tonne) within four months.
But Coleman was only looking at the situation with respect to Southeast Asia's drought and biofuel consumption. As a result of Russia's unanticipated invasion of Crimea, palm oil jumped nearly 3% overnight to MYR2,860/tonne (US$873/tonne), up 13% since early January and its highest level since September 2012.
As a result of Russia's actions, palm oil increased by over half the amount Coleman predicted it would rise over four months in just two days. Should the Ukrainian crisis worsen and Southeast Asia's drought persist, palm oil could break through the MYR3,100/tonne (US$945/tonne) barrier within a few weeks and climb much further.
Hence, amid waning Latin American soy supplies, a bare cupboard of US soy reserves, shrinking international palm oil availability and Russian jackboots threatening a sixth of the world rapeseed market, the present situation has the entire oilseed and protein meal complex jittery.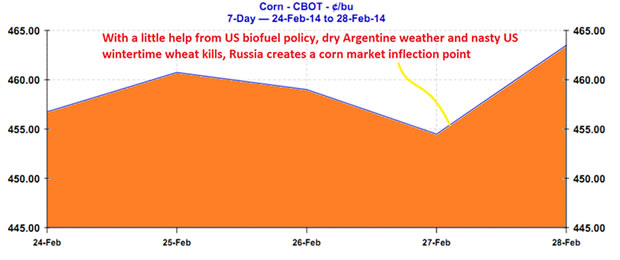 The jitters extend to the feed grain market, where corn jumped around 3%, from US$4.60/bushel to US$4.74/bushel at the time of writing. Even before the crisis, the International Grains Council forecasted 2014-15 world corn output to fall 5 million tonnes on the expectation of lower, more normal yields after 2013's exceptionally good crop year.
One bright spot in that picture was supposed to be Ukraine. From 12.7 million tonnes of corn exports from September 2012 to August 31 2013, Ukraine's 2013-14 exports over this same time were expected to increase 45.6%, to 18.5 million tonnnes. Of course, the prospect of Russian troops approaching critical ports, highways and rail lines used for export could greatly upset this expected export volume. -And all that happened saw dry South American weather curtail estimates for Argentina's corn crop and exports.
In fact, there are also reports that some Ukrainian farmers are using this crisis to hold back their corn in hope of obtaining a higher price; something which has apparently already started to happen. According to Jaime Nolan-Miralles, a commodity risk analyst at FC Stone's Dublin, Ireland office, the crisis, "...is already firming up cash-market prices in Europe and raises notable questions for grains-flow potential out of the Black Sea."
Just as in oilseed markets, the substitute side of the feed crop equation is also threatened: Ukraine is also the 6th largest wheat exporter, accounting for a little over 5% of the world market. But the Russian invasion also puts its anticipated 39% rise in wheat shipments, from 7.19 million tonnes to 10 million tonnes in 2013-14 (ending August 31st) also into doubt. -And just like the uncertainty of Ukrainian rapeseed supplies coincided with droughts in Latin America and Southeast Asia, the uncertainty over Ukrainian wheat exports comes after a cold-weather diminished US winter wheat crop.
Moreover, after much talk of US ethanol production "hitting an output wall," there is now much speculation that instead of cutting America's ethanol production by 10% or more, America's EPA will, within several days, yield to political pressure and keep the US mandated ethanol production quantity near constant. That in turn would translate into 10 million fewer tonnes of US corn being available for feed, and for the world export market.
The volatility itself is volatile
Thus, a combination of drought, biofuel production and Russia's response to Ukraine is having synergistic, inflationary knock-on impacts across a wide swath of feed inputs. Although it was a singular geopolitical move that had nothing whatsoever to do with agribusiness, Russia's invasion of a key, emerging feed grain and oilseed producer coincided with weather events and biofuel policies in a manner that produces shockwaves across the entire feed grain and oilseed complex.
Just remember one thing: The factors causing market volatility are themselves volatile: Both the Ukraine situation and Southeast Asia's drought could get a lot worse. Or the crisis could be resolved and rain could fall on both Malaysia and Indonesia like the entire crisis never happened. Much money can be lost -or made- on such unusual circumstances.


All rights reserved. No part of the report may be reproduced without permission from eFeedLink.