China Broiler Weekly: AA broiler prices stable (week ended Dec 29, 2008)
An eFeedLink Exclusive
Price summary
AA broiler prices were stable in most regions.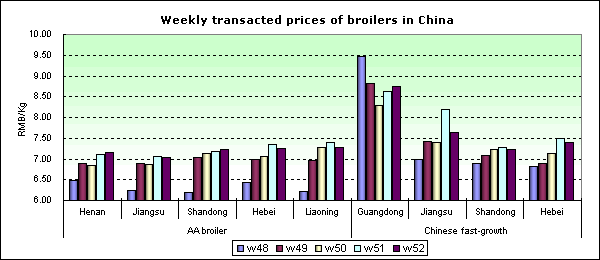 Market analysis
AA broiler
AA broiler prices were relatively stable. Demand was generally weak although prices edged up in some regions.
Consequently, prices of day-old-chicks failed to pick up and breeding farms were mostly unprofitable.
China breed broiler
Prices of China breed broilers were also stable in most regions, except for Jiangsu which fell rather significantly.
Meanwhile, the market in Sichuan was weak as demand remained flat.
Market forecast
In the near term, festive demand may prop up broiler prices which are seen stable to higher .
RMB1= US$0.1461 (Dec 30)


eFeedLink offers monthly China hog and poultry market trackers, including analyses and on-the-ground information from Guangxi, Guangdong, Hunan, Hubei, Sichuan, Jiangsu, Henan, Shandong, Hebei and the whole of China. These provinces cover at least 70% of the total hog, poultry and related feed production or consumption in China. For more information, visit: /eFLResearch

All rights reserved. No part of the report may be reproduced without permission from eFeedLink.