The woes of an efficient poultry producer: Bird flu, a rising dollar trump US broiler meat exports
By ERIC J. BROOKS
Rapid domestic consumption growth, fear of US trade retaliation against comprehensive bans on

American chicken exports allowed output to grow even during the bird flu years

World export market share still fell from 32% before bird flu hit to 27% this year

Due to a rising dollar, US broilers will not regain their old world market share any time soon

Warped exchange rates are as responsible as bird flu for creating a situation where the world's most productive poultry sector keeps losing market share
The good news is that America has completely recovered from its damaging 2014-15 bird flu epidemic. The bad news is that contrary to the idea of free trade, American poultry's world leading productivity is not translating into a higher export market share. That's unfortunate since the industry has handled a very serious bird flu crisis far better than anyone could have expected.
On one hand, both a strong domestic market and America's strong international power worked to save the industry. Thailand by comparison, saw its 2004 bird flu epidemic get all its frozen chicken exports banned from Japan, the EU and other large markets for over eight years.
Fearing America's power to block their own exports from its large market, most countries were scared to impose a decade-long blanket, Thai style ban on US chicken. Only China and South Korea imposed complete bans on US chicken and Korea has already lifted it. All other countries banned broiler meat from a state suffering an outbreak until it was free of the disease for at least 90 days. This helped minimize the epidemic's disruptive impact on broiler exports.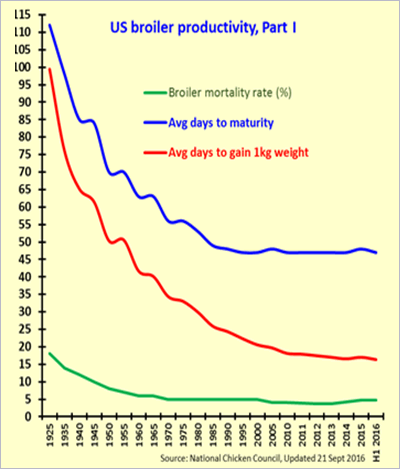 While the resulting 14.2% drop in exports over two years was steep, the damage was minimal compared to the 60% drop suffered by Thailand's broiler industry during its bird flu crisis. Moreover, Thailand's bird flu crisis caused domestic consumption to drop steeply, in the two years that bird flu plagued America, domestic chicken consumption rose 10.2%, from 13.691 million tonnes in 2013 to 15.094 million tonnes in 2015.
While this partly reflects the high beef and pork prices of the time, it is also because US consumer confidence was never damaged by fear of consumers getting bird flu the way it was in Thailand, Vietnam or China.
These favourable circumstances made output rise 1.9% in the year bird flu hit, to 17.31 million tonnes in 2014. In 2015 when bird flu did its worse damage, a double digit drop in exports was counterbalanced by soaring red meat prices. This made domestic chicken consumption rise 7.6%, bird flu be damned. It made for an overall output increase of 3.8%, to 17.97 million tonnes in 2015.
The bird flu outbreak is fading into history but even so, chicken consumption growth again came in ahead of initial USDA projections, rising 1.9% to 15.38 million tonnes in 2016. Going forward, 2017's projected 1.8% increase to 15.66 million tonnes is slightly faster than the country population growth. It implies a record per capita chicken consumption level of more than 46kg in the coming year.
With exports staging a partial recovery of 4% on the previous year, 2016 saw a more tepid 1.9% rise in domestic consumption lead to 1.7% increase in production in output to 18.28 million tonnes.
For 2017, a mix of consumption falling back to its 1.8%, near=average rate of increase and accelerating 5% export recovery is expected to make for a 2.2% increase in output, which will total a record 18.69 million tonnes. –In sum, for output to grow at an above trend 2.5% annual rate over three years encompassing a severe bird flu outbreak is an impressive achievement, especially given the US market's mature, near saturated state.
On the other hand, significant damage was done to the American broiler sector's trade standing and there may be more to come. From 50% of the world market in 2000, the US share fell to 38% in 2008 and 32% by 2013, and 28% by 2015.
Hit by intermittent bird flu bans and bad publicity, 2015's export volume of 2.867 million tonnes totaled less than 3 million tonnes for the first time since 2007. Last year, the 4% rise in exports lagged the growth in Brazilian and Thai shipments, and shipments still finished below 3 million tonnes.
This year, even though exports will top 3 million tonnes again, a rising US dollar is getting in the way of making a full world market recovery. 2017's resulting 5% projected export increase (to 3.128 million tonnes) is slower than that of Brazil or Thailand. It will cause the US share of world broiler exports to fall to 27%, which is its lowest level this century.
Between bird flu and a rising currency, the market vacuum created by a very steep, two year collapse in Turkish and Argentine chicken meat exports has been entirely filled by Brazil and Thailand. America was simply in no position to capitalize on the situation.
Going forward, China which once imported chicken almost exclusively from America continues to ban most of its chicken exports. Moreover, with the incoming Trump administration being avowedly protectionist, Beijing probably sees no reason lift its ban on US chicken. This has resulted in Brazil taking the lion's share of a growing Chinese appetite for imported chicken.
These misfortunes have made America's broiler sector noticeably more domestic oriented. From 5% in 1980 and 6% in 1990, the proportion of US broiler meat output exported rose to 16% in 2000 and peaked at 20% in 2012. Thereafter, America's 2014-15 bird flu outbreak was followed by the US dollar's rise 60% against its main rival Brazil. This has brought the proportion of US broiler meat that is exported back to the year 2000 level of 16%.
Going forward, Thailand's tier two export rivals such as Turkey and Argentina are poised recover their previous world market standing over the next few years. Having allowed Brazilian chicken into its market for the first time during the 2015 avian flu outbreak, Mexico looks to be sharing its once NAFTA-driven, US dominated poultry market with Brazil. Hence, it will be very difficult for the US to get its export market share back to the pre-bird flu level of 32%, never mind the 40% to 50% of the world market it enjoyed a little over a decade ago.
This is unfortunate: By any physical productivity measure (as opposed to unit cost, which depends on currency fluctuations), the US broiler industry is the world's most competitive. Over the last fifteen years, it has, if anything, widened the efficiency gap between itself and all other major poultry meat exporter except Thailand.
Perhaps there is a method to the incoming US president's protectionist madness: In the case of US poultry, radical currency devaluations of competitors like Brazil and just plain bad luck have 'trumped' (if you will excuse the pun) this industry's world leading productivity.


All rights reserved. No part of the report may be reproduced without permission from eFeedLink.