December 20, 2016
VIV Asia 2017 introduces e-Novations Gallery and Awards
Press release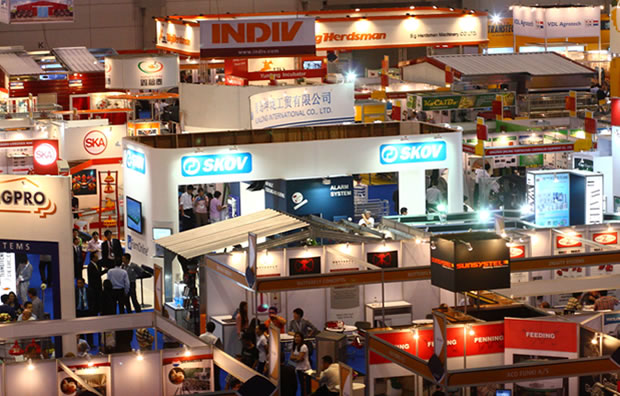 Prospective visitors will not have to wait until March to discover in detail what VIV Asia 2017 – 15 – 17 March in Bangkok - has to offer. VIV worldwide introduces the e-Novations Gallery and Awards at VIV Asia 2017. The video contest is a new feature focuses on showcasing innovative products and services online, pre-show as well as onsite.

A digital pathway is being created through the newly-relaunched VIV Asia website and social media channels. As from January 2017 the array of online pre-show content will grow with the addition of a new video innovations contest called the e-Novations Gallery, which presents short video clips about products and services that exhibitors are introducing for the first time in Asia.

Voting for Awards

Visitors will have chance to vote for their favourite innovation, either online or while at the show, in each of the main show categories of farm production, breeding and hatching, processing and handling, nutrition products, feed manufacturing and animal health. The winning entry per category is to receive a special e-Novation Award in a ceremony on the second day of the show.

New record number of exhibitors

There are a thousand great reasons to visit VIV Asia 2017, says show manager Zhenja Antochin. A significant growth in demand for stands at the March 2017 event has meant that the available space is effectively sold out and that there will be a new record of about 1,000 exhibitors - top names from around the world in supplies and services for the businesses of animal protein production and processing. "We are inviting everyone to begin by checking out the new vivasia.nl website where they will find clear pre-show information," Zhenja Antochin comments. "The website also provides all they need to pre-register as a visitor, which we really hope they will do because it puts them on the fast track into the show."

Visitor-friendly show layout

Where before VIV Asia was divided into separate halls, now it is occupying a single large space at BITEC in which the only sub-divisions are by signs to mark the groups of exhibits according to category. When visitors walk in from the newly built entrance they come to a broad boulevard path running the full length of the exhibit area. This has been specially designed to provide easy access to each individual section and make sure that all parts of the show are fully visible. What is more, the so-called Grand Boulevard leads to two Squares that have been named Utrecht and Abu Dhabi in honour of the VIV flagship trade shows VIV Europe and VIV MEA. Each Square has its own digital screen and it will also act as a convenient stage for some exhibitor events during the show.

Seen on screens

He reveals that the digital influence continues when VIV Asia 2017 opens for business at the BITEC showground in Bangkok. Six big screens are planned for strategic locations around the exhibit floor. Besides continually giving alerts about news or special features and advertisements of companies, at regular intervals throughout the day each screen will display a short compilation of the e-Novation video clips.

Special segments

The edition of March 2017 sees the return to VIV Asia of Specials on the themes of DairyTech and Aquatic as the satellite event called Pet Health and Nutrition. DairyTech and Aquatic will have a package of conference, seminars and an expo pavilion. The arrangement of the Specials within the show's layout has been changed. Previously, they were stand-alone segments combining the stands that referred directly to their part of the animal protein story. In 2017 they become integrated. The satellite event is a conference-only feature, covering the pre-show conference PETSConnect Asia (jointly organised with Pets International), the Pet Health & Nutrition Conference and the Post-show Pet Health & Nutrition Course.

Show benefits from VIV worldwide network

The organisers at VIV worldwide are confident that the show in 2017 will be bigger for attendance as well as for the number of exhibitors. "We have set ourselves a target of receiving 40,000 visitors over the three days," Mr. Antochin comments. "This would compare with an attendance of 38,425 people in 2015 and 33,229 in 2013. Having around 1,000 exhibiting companies would be about 14% more than two years ago, when we had 867 exhibitors. "For me, another exceptional set of numbers about the 2015 show was that our visitors came from 124 countries, while the exhibitor list contained companies from 47 countries. It will be hard to increase such numbers even higher, but strong promotion campaigns have been running in China and other parts of Asia, and also in places such as East Africa. In addition to that we have the added benefit that VIV now has a network in the Middle East and North Africa with the creation of VIV MEA as its newest international hub event, plus an enhanced Latin American presence with the first Poultry & Egg Summit Latin America recently held in Argentina."