December 7, 2021
Adisseo's methionine plant in China celebrates one million tonnes milestone

Adisseo reached its milestone of one million tonnes of its liquid methionine Rhodimet®AT88 being produced at its Nanjing plant in China on December 2.
A ceremony was held to celebrate the achievement and was attended by industry players including Yang Shihao, vice president of Sinochem Holdings Corporation Ltd.; Hao Zhigang, chairman of China Bluestar Group Co., Ltd and Bluestar Adisseo Company; Chen Jianning, director of Nanjing Jiangbei New Area New Materials Science and Technology Park.
Wang Hao, executive vice president of Adisseo Greater China, was congratulated for the Nanjing plant's achievement during the event.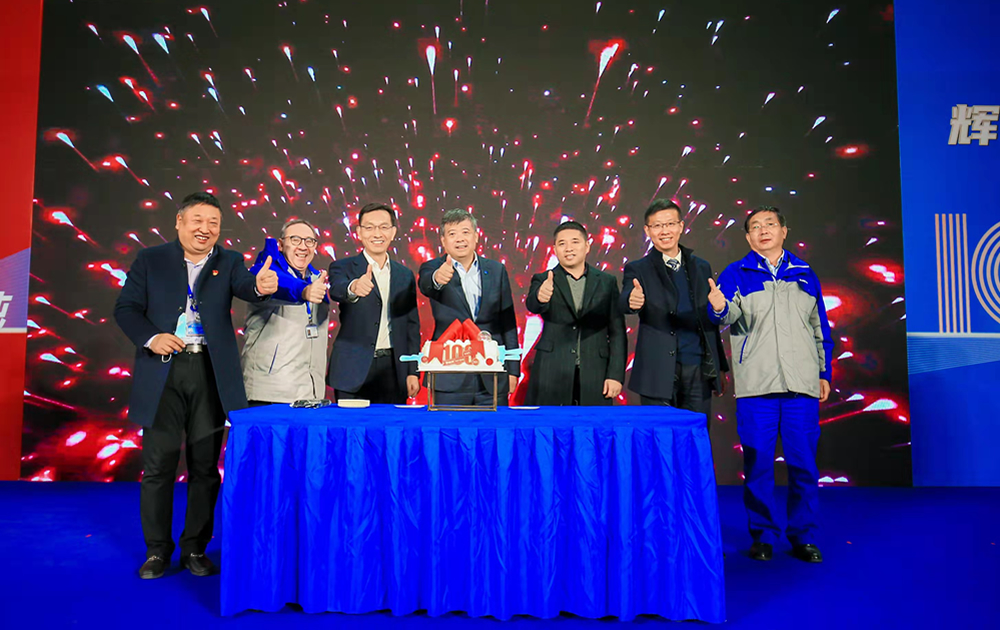 Yang Shihao (center), Hao Zhigang (third from left), Chen Jianning (third from right) and Wang Hao (second from right) pose for a photo with leaders of Adisseo's Nanjing plant, Ru Chengjun (first from left), Francois Mailhos (second from left) and Hao Dexin (first from right).
Adisseo is one of the core companies of SinoChem Holding Group and is the only one that is specialised in animal nutrition. It is one of the world's largest producers of feed additives and the world's second-largest producer of methionine, as well as being one of the very few enterprises that produces both liquid and solid forms of methionine.
The first phase of the Nanjing Adisseo Liquid Methionine Project — the largest and most advanced liquid methionine project in China — was selected as one of the most critical construction projects in east China's Jiangsu Province in 2010.
With a fully integrated production process and world-class manufacturing technology, the Nanjing plant has become a world leading liquid methionine production base in terms of production scale and cost effectiveness. It has made remarkable contributions to the development of Adisseo in the world, especially in China.
During the ceremony, Sinochem's Yang noted that green and low-carbon development has become a global consensus. As a global leader in animal nutrition, Adisseo is committed to providing innovative and sustainable products and services for the feed and food industry, which are of great significance to the application of the 'low-protein diet' technology that addresses food security and is advocated by China's Ministry of Agriculture.
Yang expressed hope that Adisseo would continue to consolidate its strengths and deliver quality products to play a vital role in ensuring food security and promoting green, low-carbon and high-quality development of China's feed and food industry.
China Bluestar's Hao said that the company's acquisition by Bluestar was a model example of "Go overseas and introduce back to China".
After joining Bluestar, Adisseo went on to carry out the construction of the Nanjing plant and is currently doubling capacity with its BANC2 project — the company's second liquid methionine plant in Nanjing. So far, Adisseo has contributed to the building of a modern breeding system in the Chinese market and enjoyed development opportunities in the country as it achieved sustainable growth, the company said.
"Since its operation started in 2013, Bluestar Adisseo Nanjing Co., Ltd. has been ranked top among the enterprises in the Nanjing Jiangbei New Material Science and Technology Park in terms of comprehensive strength," said Chen, the director of the tech park.
With its milestone of producing one million tonnes of Rhodimet® AT88, Adisseo will continue to overcome challenges to play a leading role in the park's development.
Executive vice-president (SBU Methionine) of Adisseo Group Herve Alexandre sent a congratulatory video message to attendees at the event.
Alexandre described the Nanjing plant's achievement as a great success and a new start, reaffirming that Adisseo would further consolidate its leadership in the methionine market and remain committed to becoming the most preferred partner in this area.

Adisseo Greater China's Wang also noted that a second plant in Nanjing would start its production in the second half of 2022 and Adisseo is confident of further reducing the production cost of liquid methionine by realising economies of scale and technological improvements, thereby maintaining its lead in the sector.
Guided by the philosophy of "In Science, We Trust", Adisseo will further roll out its strategy in China, in becoming China's top feed additive producer.
Customers and partners said in video messages that they are looking forward to continued cooperation with Adisseo to achieve sustainable growth.
Employees of the Nanjing plant expressed delight in their service at the facility and with Adisseo over the past 12 years.
With the future completion of the BANC2 project and the opening of the Adisseo China Research and Innovation Center, Adisseo's production base in Nanjing is expected to strengthen its position as one of the company's most important global production platforms.
- Adisseo