Kohshin: Towards a circular approach in manure management
Japan-based Kohshin have been developing new technologies and products to support the poultry and livestock industry and to meet the needs of the next generation since 1972. The company is one of the leading manufacturers of composting machines for waste treatment which converts animal manure into organic fertiliser. eFeedLink finds out more from Mr. Hiroki Sumiya, president of Kohshin, at a time when environmental sustainability is in the industry spotlight.
eFeedLink: Under the current COVID-19 environment, farms are very concerned about their immediate production costs and bottom line. What additional value can poultry owners gain from composting their birds' manure?

The components of organic fertiliser are not always the same. When applied on farmland, adding chemical fertiliser is still necessary. However, mixing the fully composted manure with chemical fertiliser will complement the advantages of both the organic and chemical fertilisers, turning them into a valuable fertiliser with good quality soil improvement composition.

Please share with us more about your thoughts of organic versus chemical fertilisers.

I think the most important factor in making agricultural products is soil preparation. For that it is necessary to add chemical fertiliser, but the most important thing is to add a high-quality organic fertiliser on soil. I think this will help support a pollution-free environment.

In my opinion farm owners understand the importance of a good fertiliser. And they tend not to use a manure that was only dried for one to two weeks but instead they take time to produce a high-quality organic fertiliser.

Our goal is to develop a system not only to process farm manure but also produce a product that could be mixed with chemical fertiliser.

What are the perspectives of farm owners regarding manure management?

In terms of machines, it should be affordable and durable. And the final product must be fully composted, odourless and of stable quality. Poultry owners in particular started to realise the importance of not just processing the material but also the importance of producing a product that they can sell.

What is Kohshin's view on a circular approach towards manure management? Are some of your customers already using a circular approach?

Many of our customers are engaged in circular (recycling-oriented) agriculture, and we support the production of high-quality organic fertiliser through composting. We have customers that use the composted livestock manure to produce food crops including orange, broccoli, coffee, rice, grapes, corn, cassava, and carrot.

We understand that Kohshin has composters for different farm sizes - KNLL, KSLF and KN series. Please tell us more.

We have different types of composters that are adaptable to different farm scales. All of them could produce a uniformly-sized (below 10mm) and pelletised final product. Also, we continue our research on composting and we think that our know-how on supplying air in the composting process could be a factor in satisfying our customers.

Where are of your main export markets or countries?

Our composters are being used and has a good reputation in 38 countries around the world (excluding Japan) not only on poultry farms but also on cattle and swine farms. We develop machines to address the manure produced and help the farm owners to dispose and process the farm waste in a correct manner.

Regionally, our machines are currently being used in Southeast Asia, South America, Europe etc.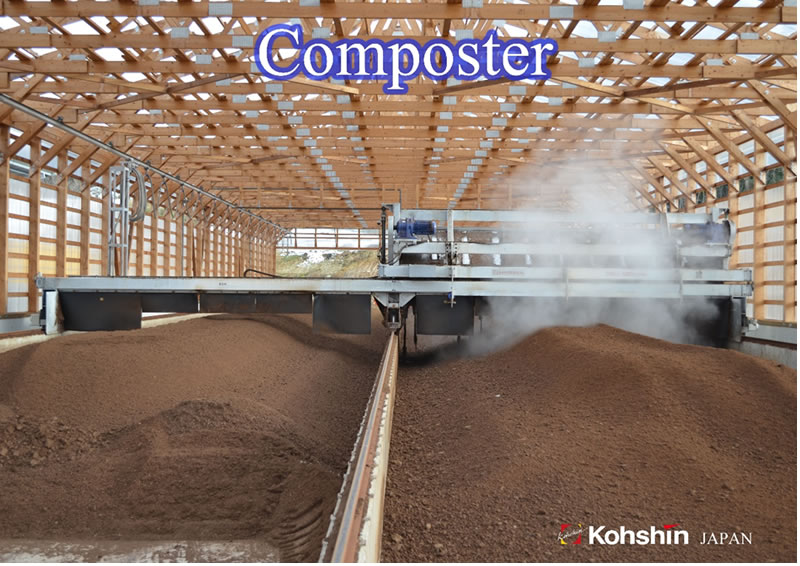 All rights reserved. No part of the report may be reproduced without permission from eFeedLink.