China's swine market gets off its rollercoaster
After the hyperinflation of 2007 and deflation of 2008, China swine inventories, prices and profits are set to rebound. However, a slowing economy, fatter hogs and bigger farms mean that the market rally will be muted.
by Eric J. BROOKS
The rise and fall of swine prices
After rising by nearly 100 percent from mid 2007 to early 2008, the last six months have seen China's hog markets undergo an equally profound deflation. After peaking at about RMB18/kg late in the first quarter, hog prices fell by approximately third to a little over RMB12/kg. While still up by a third over their April 2007 bottom, hogs gave up almost 50 percent of their previous 88 percent price gain. Piglets, which earlier rose faster in price than hogs, fell more rapidly, declining by over 50 percent during the last two quarters.
Of course, falling swine revenues have no respect for hog production costs, which increased during the first and second quarter's record highs in feed grain prices. Consequently, hog rearing profits, which peaked in the first quarter of this year, fell sharply.
Here however, we see a sharp divergence in hog farm, performance, depending on its size and scale. On one hand, large, integrated hog farms saw profits cut from exceptionally high levels to somewhat above average returns.
In October alone, profits at large-scale farms declined by 30.41% from September's level. Some large-scale farms reaped lower profits due to high disease incidence rates and high labour costs. A number of large-scale farms that purchased piglets externally during a supply shortage earlier in the year incurred losses due to the fact that today's low swine prices cannot cover the high cost of these previously purchased piglets, which are now maturing. Overall however, large scale farms do continue to be profitable.
Piglet costs, inferior swine breeds impact small-scale producers
On the other hand, backyard farms went from a healthy rate of return to net losses over this time. The difference lies in piglet replenishment, which is done internally in integrated farms but which must be outsourced in backyard farms. Although replenishment costs are presently falling, they increased during most of the time that hog prices fell, putting smaller farmers into the red.
At small-scale hog farms, losses jumped from RMB0.79/kg in September to RMB1.23/kg in October. Moreover, many of the least capitalized small farms are now becoming victims of rising standards for pork quality. Consequently, backyard farms that reared inferior (though less expensive) swine incurred additional losses ranging between RMB0.40-1.00/kg due to a lack of demand for inferior hogs.
Losses for backyard farms increased from September's RMB0.79/kg to October's RMB1.23/kg. As this amount did not take into consideration other factors like labour costs and costs brought about by higher hog mortality rates. Consequently, actual losses incurred by backyard farms should be much higher. Backyard farms that were rearing inferior breeds of hogs incurred additional losses ranging between RMB0.40-1.00/kg due to a lack of demand for inferior hogs.
Trends in inventories, swine weight create apparent market anomaly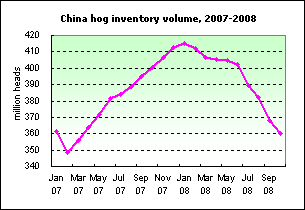 However, the most curious trend in this year's swine market is the appearance of a disconnect between inventories, prices and demand.
As a developing country enjoying years of uninterrupted economic growth of 10 per cent per anum or higher, China's per capita pork consumption has grown at a healthy rate over the last decade. It was inventories falling in 2006 and 2007 as demand took off that triggered swine price hyperinflation.
This year however, presents a more puzzling backdrop. On one hand, demand is higher than it was during 2007's swine hyperinflation. Yet, with inventories falling back to April 2007 levels that triggered price inflation, hog and pork prices only trended downwards. How could population and demand grow, supply appear to shrink and yet prices still fall?
High release rate, fatter hogs, economy enable supply to overtake demand
Shi Tao, eFeedLink's Shanghai based analyst explains the reason for this apparent disconnect between rising demand, falling inventories and down-trending prices. According to Shi, "Hog releases in 2008 are running about 8 percent higher than 2007's rate." While this accounts for much of the drop in swine numbers, it does so by bloating the supply of pork available to slaughterhouses. Over the short-term, this depresses average pork prices and with them, asking prices for finished hogs.
However, it is not just the quantity of hogs released that is depressing prices but also their quality and quantity of actual meat. New hog breeds that gain more weight more quickly have become the norm at integrated farms that account for the lion's share of national output. According to Shi, "the average weight of hogs released in 2008 is about 5 to 10 percent higher than the average weight of hogs released in 2007. This means that 2008's hog supply [expressed in the amount of pork meat available, rather than head of swine] is actually higher than that of 2007." He explains that, "all that extra pork meat per hog that has been absorbed by the market means that while demand is higher, supply has grown even faster."
In addition, the 2008 freak winter storms made for exceptionally intense hog disease outbreaks. According to Shi, "This influx of diseased hogs in the market affected the prices of healthy hogs and also contributed to the overall price drop."
Finally, there are many indications that the global financial crisis is impacting China's economic growth and with it, domestic pork demand. According to Shi, this is particularly true in the most export-driven regions of China's economy. He reports that, "The global financial crisis has resulted in the collapse of many corporations in Guangdong. Many residents in Guangdong have thus lost their jobs. Guangdong used to be the leader in hog prices in China. Hog prices in other provinces used to follow the hog price trend in Guangdong. With lesser spending power, Guangdong residents have cut down on pork consumption. Lower hog demand led to lower hog prices in Guangdong and consequently limited the rise of hog prices in the whole of China."
All these factors have worked to keep pork prices down in the face of declining inventories, with the economy representing a wild card factor that may exert an unexpectedly strong deflationary influence in 2009.
Rebound in prices, inventories going into 2009
While these trends explain China's swine market behaviour up to this point, going into 2009, we see a new set of factors emerging. First, a glance at the chart accompanying this article indicates that prices were forming a bottoming-out trough since late September. As the next three months are the build up to Chinese New Year, when demand for pork traditionally peaks, we can expect prices to turn upwards starting within a few weeks. They should trend upwards and widen hog farmer's profit margins until at least the end of the first quarter.
Second, hog farmers are in line to enjoy price relief from falling feed prices. Since peaking in early July, feed grain prices have fallen by anywhere from one third to one half. This will soon lower the cost of raising swine, restore normal profitability to backyard farms while returning integrated farms to a high level of profitability. Backyard farms will also begin to enjoy lower piglet prices. They have fallen in recent months, look set to stay low. As these lower cost piglets mature, they will help to restore small farms back to net profitability.
With profitability set to rise and demand about to turn upwards and releases have run ahead of replenishment for a number of months, the conditions are in place for a mild price rally. Such a set of factors will also lead to an upturn in hog inventories.
No repeat of 2007 hyperinflation in the cards
However, there are also several factors working against this otherwise bullish sounding forecast. First, with 80 percent of China's hog production now accounted by large, well-capitalised farms, should demand again overtake supply, hog producers will not be put into a position where they can't afford to buy piglets and meet high demand, as was the case in 2007.
That year, the pork demand of a modernizing, fast growing economy clashed with a traditional supply chain that was still stuck in the early 20th century. Integrated farms are capable of rapidly adapting to sudden swings in pork demand and adjusting supplies to match changing consumer tastes. As they breed piglets internally, high piglet prices do not prevent them from expanding swine herds in response to rising demand. Such large farms accounted for only 20 percent of China's hog supply in early 2007 but will make up between 80 and 90 percent of it in 2009.
Along with the fact that average hog weight has increased, supply will be able to catch up with demand much more quickly in the future than was the case in 2007. In a year when the global financial crash will impact China's economy, the coming rebound in Chinese swine and pork prices, while based on fundamentals, has a limited upside. Swine sector profitability can be assumed but there will be no repeat of 2007's hyperinflation.
All rights reserved. No part of the report may be reproduced without permission from eFeedLink.