November 17, 2016
Perstorp launches preservative product line at EuroTier breakfast
At their press breakfast at EuroTier 2016 in Hanover, Germany, Perstorp launched their ProMyrTM TMR-product line.
This line, based on organic acids, solves a long-lasting problem of declining feed consumption when the temperature of the feed is rising.
The ProMyr TMR range offers four new formulas of TMR preservatives.
"Total Mixed Rations are well known in the market. But we have raised the bar in this field. The new formulas meet the demand of the farmers. We see growing numbers of farmers coping with lower feed intake as the temperature of feed rises. Mixing ProMyr TMR with TMR lowers the temperature of the feed and improves the feed intake of the cattle," highlights Marc Kinjet, Perstorp Feed & Food Portfolio Director Preservation.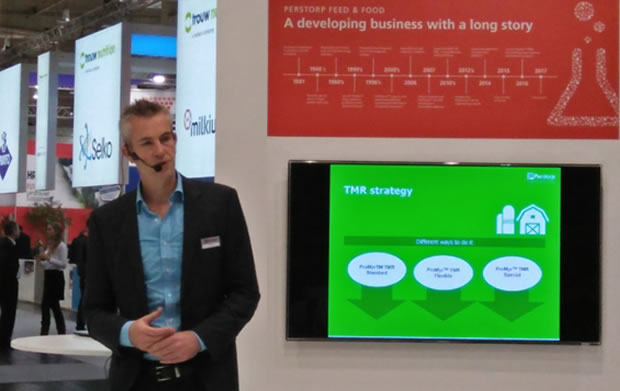 Specifically, by keeping TMR cool during feeding, ProMyr TMR reduces the growth of unwanted bacteria, moulds and yeasts and it increases the palatability of feed consumption. Palatable TMR improves milk production and growth.
The four new formulas match the most common feed compositions in Northern Europe: feed based on grass silage, corn silage or human food by-products. ProMyr TMR has a dry solution for easy handling, and three liquid varieties.
"The best part of the story is that we offer solutions for all TMR mixes. With this new product line we meet the demands of the farmers and give them the opportunity to optimise feed preservation during warmer months," points out Kinjet.
Apart from ruminant species, Geert Wielsma, Perstorp Feed & Food Portfolio Director Gut Health also revealed that the company would be launching a new molecule for the feed industry for broilers, developed in partnership with the University of Ghent and the University of Georgia, at the ESPN (European Symposium on Poultry Nutrition) in Spain on May 8, 2017. The new molecule is also been investigated for application in swine.
Geert Wielsma