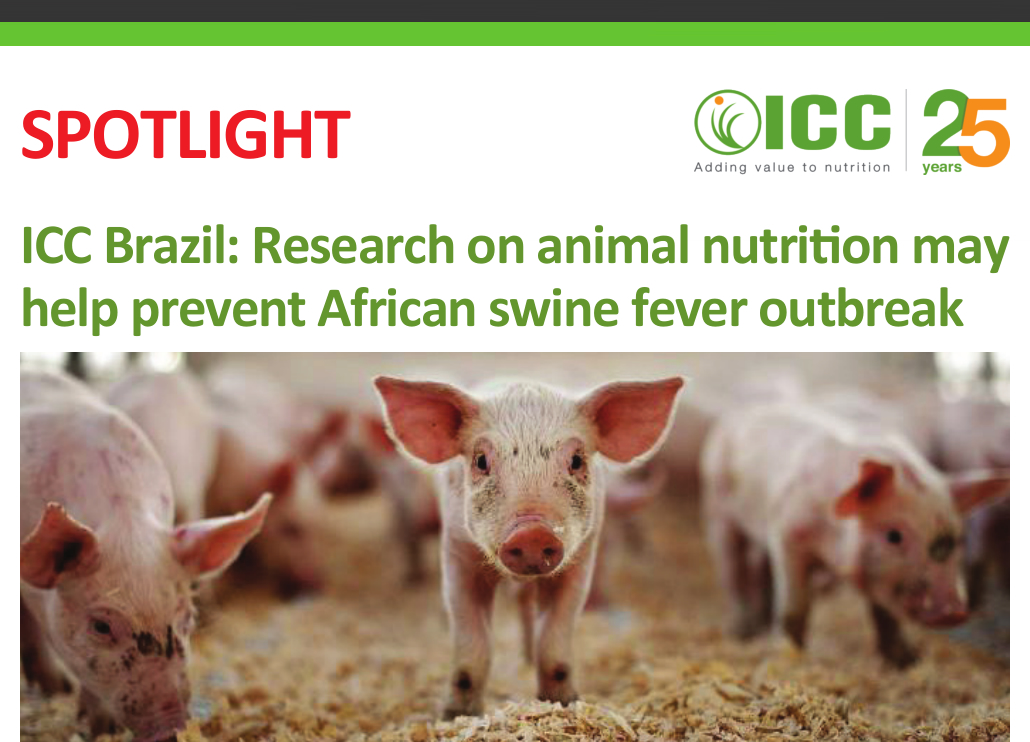 T

he Brazilian Confederation of Agriculture and Livestock (CNA) believes that the chances of African swine fever entering Brazil are very low, according to ICC Brazil.

However, pig farmers may still consider adopting sanitary measures that ensure safe handling and living conditions for the animals, starting from nutrition, the animal nutrition company said.

Recently, ICC Brazil has entered into a partnership with a commercial swine farm, located in the countryside of São Paulo, in Leme. The primary purpose is to prove the effectiveness of animal nutrition products in practice.

"This partnership will allow ICC Brazil to carry out even more advanced scientific research related to their products. This is quite important since experiments carried out under actual field conditions improve the reliability of experiment results," said Ricardo Barbalho, national sales manager at ICC Brazil.

The farm has about 1,700 swine matrices and three installations for the nursery phase. The first installation has 48 stalls, while the other two have 50 stalls each.

The farm also has maternity installations, in addition to facilities for growing and termination phases, a feed manufacturing plant, and silos to distribute the feed in the nursery installations. The automated feeding equipment installed on the farm allows for simultaneous experiments and for the use/evaluation of employing different diets simultaneously. This is the third farm in Brazil to receive an automated feeding equipment.

ICC Brazil invests R$1.5 million (US$375,867) per year in the research and development of new solutions for animal nutrition and is expanding its team of researchers and technicians to increase its product line.

The company has also partnered up with universities in Brazil and abroad to prove the efficiency of each product and to confer credibility and reliability to the studies and experiments conducted.