Corn takes a beating but stays expensive amid tight supplies and strong export demand
Amid an EU-induced price crash, the world fails to rebuild inventories and China finally admits it needs mass imports.
An eFeedLink Exclusive commentary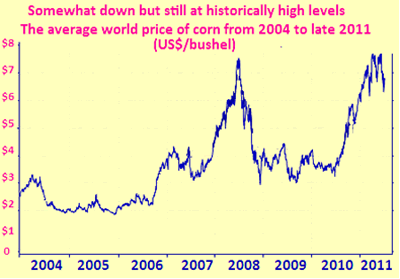 A variety of factors are softening markets for many feed grains but not the most critical one of all, corn. Battered by improving harvest forecasts for most major grains (except corn), the prices of soy, wheat and corn are down 13.3%, 17.2% and 17.5% respectively from their September highs. At the same time, corn's smaller but still significant fall shows another factor at work -that of the EU's financial crisis. Taking the world economy to the brink of insolvency several times over the last two months, it induced a downdraft across all commodities, super-tight world corn supplies were not exempted from its impact.
Ironically, corn has suffered the smallest two-month loss of any major feed crop, even though it initially suffered the greatest losses among all feed crops. While September saw corn suffer its worse monthly losses since 1996, it was almost entirely due to the European banking crisis and not because of any market fundamentals. According to French bank Société Générale, the EU financial crisis caused the value of Credit Default Swaps (CDSs) designed to protect Greek bondholders to jump by 4%. When that occurred, risk management procedures for covering funding shortfalls (and avoiding a financial meltdown) forced affected EU banks to sell off their commodity market positions, which were heavily invested in grain futures.
Société Générale concluded that, "Some outflows may have come from higher levels of risk aversion, but we think this was only a secondary cause", as the sell-off was triggered by EU banks selling off commodities to avert their own insolvency. A November 3rd report in Agrimoney.com article titled "Bank fears behind commodities bloodbath" similarly summarized that the early Fall meltdown in grains and metals was due to, "fears for [EU] banks being unable to pay up more than concerns for the raw materials themselves."
Corn, not wheat, now leads rallies

The macroeconomic element's chilling impact on grains was also manifested by the US dollar, which has climbed some 6%, as is its tendency during any serious financial crisis. A higher dollar normally deflates feed crop prices and the greenback's recent, crisis-driven upswing was no exception, with CBOT corn hitting US$5.80/bushel at one point. Having said that, after rebounding back to US$6.50/bushel, corn's price has stayed up at a higher level for a far longer time than it did during 2008's financial troubles. In fact, after suffering one of its worst monthly falls on record in October, corn prices remain more than 100% above their pre-2007 US$2/bushel to US$3/bushel range
Indeed, when we examine the grain complex's overall fundamentals, we are now seeing a reversal of the relationship between corn and wheat from a year ago. When the current rally started in 2010, Russia's drought pulled up wheat prices first, pulling up then-depressed CBOT corn futures in the process. Now, with the world on the path to bumper wheat harvest amid shortages of corn, the opposite is happening: Tight corn supplies worldwide are forcing an unusually high proportion of wheat to be used as feed, thereby keeping its price higher than would otherwise be expected. In this way, corn's enduring supply tightness is putting a floor under the entire feed grain complex.
Nor is the corn supply situation likely to improve anytime soon: At 315.8 million tonnes, the US harvest is at least 7% or 24 million tonnes below Spring 2011's hopes of a 340 million tonne harvest. With poor harvest reports coming in across America's corn belt, this forecast may be further downgraded in mid November's USDA report. While the Ukraine and South Africa enjoyed bumper harvests, their exceeding of expectations by several million tonnes cannot make up for a US crop more than 20 million tonnes below expectations.
In fact, Asian buyers have rushed to make purchases on every one of this year's price swoons and ground level reports imply that this behavior is continuing. The US Grain Council's ASEAN office recently quipped that, "South East Asia's regional feed millers have been sitting on the edge of their chairs watching the Chicago corn market", adding that, "millers are taking advantage of every temporary dip in the price of corn" Similarly, at a recent London commodity conference, FC Stone analyst Doug Jackson described China's grain importers as having "sweaty palms" while waiting for price drops to provide a corn importing opportunity.

Europe's banking crisis sell-off notwithstanding, such opportunistic buying behavior is usully not seen right after a grain has suffered one of its biggest market crashes on record. This implies that liquidity problems of European banking aside, corn supplies remain exceptionally tight and it simply cannot stay low in price for too long.
Mexico, China, Southeast Asia need more imports

Indeed, while the crucial American corn harvest continues to disappoint expectations, higher than expected corn export demand from China and Southeast Asia is causing many to conclude that the USDA's 40.6 million tonne American corn export estimate is at least 3% to 4% too low.
According to Rich Nelson, research director at analyst firm Allendale, "In addition we fell the strong export pace justifies a 50 million bushel [1.27 million tonne or 3.1%] increase over the USDA's latest estimate." Yet, if anything, such calls may underestimate export demand. For at this time, we see signs that the market is ready to significantly more corn exports than what the USDA has penciled in.
For example, an early frost in Mexico had been preceded by late rains and floods earlier in the growing season. This slashed Mexico's corn harvest size by 14.6%, from a USDA-estimated 24.0 million tonnes to just 20.5 million tonnes, which is less than last year's crop. With the country's own population and per capita meat demand both growing rapidly, the USDA concluded that it has no option but to boost its Mexican corn import estimate by 6.2% or 600,000 tonnes, from 9.2 million tonnes to 9.8 million tonnes. This will exceed Mexico's 2007 record import volume of 9.6 million tonnes. It also puts Mexico on track to overtake South Korea as the world's second largest corn importer after Japan.
If Mexico is boosting demand today, going forward, we also see the prospect at least several million more tonnes of corn imports required by China and Southeast Asia. The latter's demand is driven by Thailand over the short-term but by Vietnam and Indonesia over the longer-term. While not the region's largest corn importer, widespread flooding has wiped out a significant portion of Thailand's crop, requiring it to import more over the coming months.
But Thailand is actually a small part of Southeast Asia's rising appetite for corn. With Vietnam and Indonesia leading the way, the US Grains Council (USGC) reports that feed grain demand had grown strongly, "in every single Southeast Asian market." Adel Yusopov, the USGC's regional director for Southeast Asia reports that, "The region is expected to import a record 7.5 million to 8 million tonnes of corn in 2011," and that volumes have risen by 60% from 4.6 million tonnes just three years ago. Yusopov concluded that, "South East Asia's growing appetite for meat and shortfalls in local production will create a corn market bigger than that of South Korea or perhaps even Mexico within a few years."
China turns tail on its official corn trade position?

However, from my perspective as a grain analyst, the most fascinating news comes from the China National Grain and Oils Information Centre (CNGOIC). As someone who regularly attends Asian grain conferences, I have repeatedly heard CNGOIC presentations state that China will remain self-sufficient in feed grains at one industry event after another. Yet, in late October, CNGOIC suddenly turned tail, stating that China will need five million tonnes of corn imports in the year to come.
While this is a conservative estimate compared to US Grain Council estimates of up to 10 million tonnes, it represents a profound reversal of this government body's long-standing official position: As recently as June, Weilu Yang, CNGOIC's deputy director, told the International Grains Council that was it was "improbable" that China would ever become dependent imported corn.
CNGOIC's five million tonne estimate would vault China into fifth place among world corn importers, behind Japan, Mexico, South Korea and Egypt. Given the fast growing, large-scale nature of China's economy, it could easily jump to second or third place within a few years, turning the world corn market upside down in the process.
Moreover, ground-level market conditions give us an indication of why CNGOIC reversed itself –and why China is poised to start importing corn in a big way. Superficially, from June to early November's harvest collection time, Dalian corn futures cash corn fell by 6.8%, from RMB2,420/tonne (US$9.55/bushel) to approximately RMB2,260/tonne (US$9.00/bushel) [Please note: percent changes in Chinese yuan and US$ vary due to exchange rate fluctuations].
China imports and the CBOT-Dalian price spread

While China's prices have fallen, as is customary during harvest time, a recent eFeedLink report states that, "Corn has limited downside, as farmers may be reluctant to sell if prices fall below RMB2,100/tonne (US$8.37/bushel)." -In other words, despite a steady but limited inflow of purchased imports and two years of continuous state reserve sell-offs, China's harvest time corn price remains stuck firmly north of US$8/bushel –and exceeds CBOT corn's all-time highs.
Given China corn's surprisingly inflationary bias at harvest time, FC Stone senior risk manager Troy Lust commented that, "The market is telling me that demand is much larger than China or the US Department of Agriculture is telling us they are using." With China having sold off 30 million tonnes of corn from reserves since 2010 and prices staying stubbornly high, Lust concluded that the country's corn users were, "operating at the bottom of the bins." Lust went as far as state that if China really is harvesting official government estimates of 180 million tonnes of corn this year, then for this behavior to persist, its real corn demand must exceed 200 million tonnes.
Furthermore, this high price persists in the face of rising feed wheat auctions from state reserves and mass feed wheat purchases from Australia. Along with record corn imports, CNGOIC forecasts 1.5 million tonnes of wheat imports, the highest volume in seven years. Hence, it is increasingly apparent that China's capacity for substituting alternative grains in place of corn is nearing its limits.
China's need for more corn (and not alternative feed grains such as wheat) can be seen in the relationship between corn import volumes and the price spread between Chinese and international corn prices: Early February 2011 saw Dalian futures approximately 21.9% above CBOT corn. After China's late first quarter and early second quarter import purchases, by early June, this price spread narrowed to a mere 21.9%.
Then, China surprised everyone by importing far less corn than was expected during the third quarter. Sure enough, with insufficient foreign corn coming in, by the first week of November, Dalian futures stood 38.5% above the price of CBOT corn. It is possible that China's policymakers noticed this relationship between imports and Dalian futures, took a look at their soaring meat price inflation and opted to open the import window much wider than it has been.
Among most private analysts, China's inflationary corn market behavior has discredited bountiful official USDA and Chinese government estimates of China's corn inventories. Credit Suisse analyst is one of a growing number of observers to compare the behavior of China's corn prices against such optimistic inventory estimates. Credit Suisse concluded that, "Given how Dalian front-month futures have moved, we think that the latter may be more accurate in representing actual corn stocks [than official government estimates]."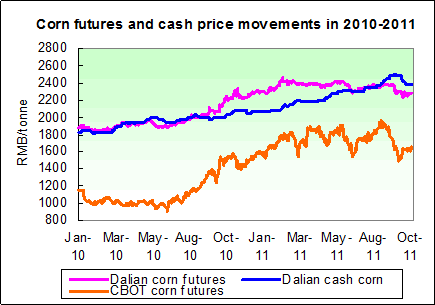 Even without CNGOIC's admission of five million tonnes of corn imports being required, these circumstances have gotten many market observers excited. FC Stone grain analyst Doug Jackson is one of many observers who believe that China has only 15 to 25 million tonnes of corn, far less than the USDA's 50 million tonne figure. In fact, it stands to reason that only corn reserves of less than 25 million tonnes could account for China's sudden reliance on feed wheat auctions this year. Speaking at an International Commodity Outlook Conference, Jackson opines that "They would like to buy 40 million tonnes of corn," explaining that, "They would like to have three months reserves of corn. They have less than one." This is a drastic change from ten years ago, when China had over a year's supply of corn in reserves.
Can US supply demand until Latin crop is ready?

Meanwhile, amid fast rising demand in China and Southeast Asia, America's official corn inventory estimate has swung wildly back-and-forth from 17 million to 24 million tonnes and back all year long, with the stock-to-use ratio scuttling along at a little over 5%. Given such strong export demand, it is difficult to see how America's inventories can close out the year above 20 million tonnes.
All this means that until next year's Latin America's harvest is ready, razor-thin US corn inventories and a relatively disappointing American harvest will have to accommodate growing world feed demand. The implied chronic imbalance between supply and demand greatly limits corn's downward potential –and puts a floor below the entire feed grain complex too.
Steve Wilson, CEO of fertiliser maker CF, "If [corn] prices were to fall further, more feed and export demand would develop, as we actually saw in October. This would drive stocks to an even more unsustainably low level…It's for this reason we do not see risk to corn prices in the near term."
Input costs put floor below prices

Finally, the odds of grains falling to their financial crisis 2008 or even early 2010 slump bottoms remains low for yet another supply-side reason: Rising input costs. The last few weeks has seen Syngenta hike agrichemical prices and even fertiliser prices did not soften as expected over the northern hemisphere summer. Fertiliser supplier CF Industries noted that, "contrary to normal seasonal patterns", fertiliser prices remained strong in the third quarter because of "constrained global supply and strong restocking demand." In addition, oil prices, while below recent peaks, remain above US$90/barrel and far above its early 2009 lows in the US$35/barrel range. This boosts both the cost of growing grain and its transport costs.
In sum, corn's bullish fundamentals have a scarce supply component and high demand angle underpinned by rising production costs.
The overall conclusion? The world entered this crop growing year with unusually low inventories of corn and wheat. While wheat inventories are recovering nicely, high demand and a disappointing American harvest means that corn supplies will languish at critical levels for at least another year. Furthermore, after a year of relatively high corn prices and plentiful feed wheat supplies, we are running out of room to substitute the latter in place of the former. Consequently, all signals point to strong CBOT corn futures above $6.50/bushel, with equal odds of shortages lifting prices much higher and financial upsets causing dramatic but short-lived price dives.


All rights reserved. No part of the report may be reproduced without permission from eFeedLink.