A temporary pause: US beef to resume export-led growth in 2020
Inventories are topping out and cattle prices are off their peak amid flat consumption and stagnant trade –but new trade agreements with South Korea, Mexico and Japan will drive export led growth.

By Eric J. Brooks

An ewFeedLink Hot Topic
Riding the momentum of the largest, longest sustained cattle inventory increase seen in many decades, US beef output keeps rising amid stagnating world output. With 2019's world beef output falling a USDA estimated 1.9% (to 61.306 million tonnes), America's beef production will increase 2.6%, from a USDA estimated 11.943 million tonnes to 12.256 million tonnes.
From 2015 through 2019 inclusive, US beef output will have increased 13.6% whereas world beef output rose by only 3.1% during this time. Among major exporters, only Brazil (+14.5%) enjoyed faster long-term beef production growth.
Other major producers including Australia, Canada, India and Argentina have their output constrained by drought, low returns, cattle slaughtering restrictions and the election of a new government respectively.
At the same time, this is less than the 12.725 million tonnes originally forecast for this year and reflects a sustained drop in cattle prices, which fell by more than 23%, from $1.30/lb in Q1 2019 to $0.99/lb this August before closing out October near $1.14/lb, their lowest average level since Q1 2017. With live cattle prices staying below $1.10/lb for half of the year, this motivated some farmers to postpone their release of maturing cattle to next year, as higher prices are anticipated in early 2020.
This should boost early 2020 cattle releases to market and finishing weights, making for rising beef production through H1 2020. That, in turn, should make for another year when US beef output and trade rise ahead of the world average.
Going forward 2020 world beef production will increase a nominal 1% (to 61.861 million tonnes), staying below its 62.48 million tonnes all-time high set in 2018. US beef output, by comparison, will jump 3% to 12.619 million tonnes, breaking the 12.427 million tonnes record established in 2002.
Despite strong export demand and surging US production, America's 2019 beef trade got off to a slow start. Lackluster cattle prices coincided with China's 37% import tariff on US beef, effectively blocking it from the world's fastest-growing market and upsetting expansion plans.
Moreover, a mid-summer fire at a large Tyson beef processing plant in Holcomb, Kansas resulted in sharply reduced August export volumes. The plant is expected to resume output in December, with other beef processors boosting their late 2019 output to make up for its lost output.
Compared to the first eight months of 2018, the USDA reported that January to August beef exports fell 3.8% in volume (to 952,535 tonnes) and 1% by value (to $5.44 billion). Reflecting Japanese market share losses for value-added cuts to Australian competition, average beef export per head of fed cattle slaughter ($309.85/head) was down 3% from 2018 levels.
All this is disappointing coming off 2018, when exports jumped 10.4% to a new record of 1.432 million tonnes, from 1.297 million in 2017. Value-wise, after average beef export per head of fed slaughter jumped from $280.70 in 2017 to $320.72 in 2018, 2019's lower trade returns per slaughtered cattle are also a disappointment.
On one hand, this reflects a steep 8.6% drop in January to August export volumes to number one customer Japan, from 606,482 tonnes in 2018 to 554,309 tonnes this year. Nearly flat Japanese beef demand and lower import duties on Australian beef allowed the latter to win back some market share from US beef.
After several years of aggressive growth, January to August beef exports to Mexico fell 0.8% from a year earlier, totaling 294,000 tonnes or 2,300 tonnes less than in the first eight months of 2018. With Canadian domestic beef consumption falling, exports to America's northern neighbor fell a sharper 12.8% or 25,750 tonnes to 177,037 tonnes.
For both Canada and Mexico, beef export growth was interrupted by a trade war and the subsequent renegotiation of NAFTA into the USMCA. That resulted in both Canada and Mexico lifting import tariffs from US beef in Q2 of this year. That implies that strong beef export growth to Mexico should resume soon.
Similarly, Hong Kong's political crisis-induced recession and China's crackdown on border smuggling across its land border caused a 30.5% or 57,000-tonne drop in January to August exports, to 130,000 tonnes.
All this was partly counterbalanced by aggressive export growth in other parts of East Asia. In particular, January to August beef shipments to South Korea jumped to 467,000 tonnes, up 8.1% or 35,000 tonnes. Just as unfavorable trading arrangements hindered exports to Japan, a new US-South Korea free trade agreement boosted beef exports to the latter.
Strong Asian beef demand resulted in a 10% or 12,130 tonne boost in January to August shipments to Taiwan, which totaled 132,933 tonnes, a 46% rise Indonesian shipments (to 18,750 tonnes), and 15% increase in exports to Philippines (to 29,400 tonnes), –Most surprising of all– an import tariff defying 23% rise in China's imports of US beef, though the 17,000 tonnes also occurred, though this is dwarfed by the roughly 200,000 to 250,000 tonnes of beef China will purchase from Brazil, Australia and Argentina.
US beef also faced a long-term threat from its number one competitor Australia. The latter negotiated a trade deal that would let Australian beef enter Japan at far lower tariff rates than US beef from the early 2020s onwards. This would have been very bad news, as Japan is not the largest importer of US beef but also accounts for a high proportion of high quality, expensive cuts.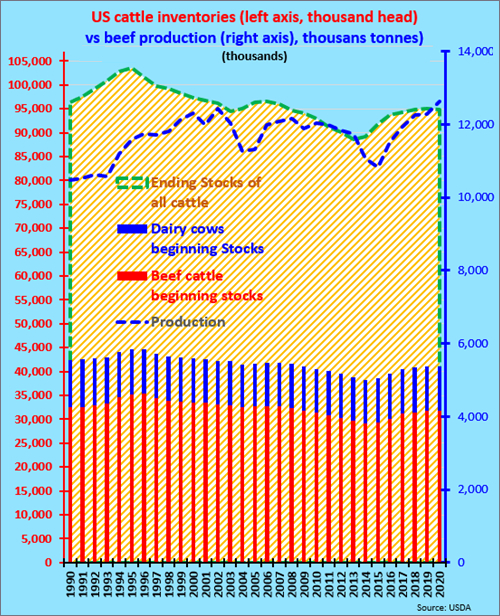 Fortunately for beef producers, H2 2019 brought a lot of welcome news. Despite slapping a heavy import tariff on American beef, China's ASF epidemic boosted its beef demand and prices enough to divert exports that were once shipped to Japan, South Korea or other nations.
With several hundred thousand tonnes of beef once destined for East Asian or Middle Eastern nations now being bought by China, the former had no choice but to step up their H2 2019 purchases of US beef. This is boosting H2 2019 demand for US beef in both Japan and South Korea.
Moreover, early October brought saw the signing of a new trade agreement between America and Japan. Under its terms, US beef will enjoy exactly the same low, declining import tariffs levels as its Australian competition, thereby removing a serious threat to American beef's long-term price competitiveness. It also means that US beef should continue taking a larger portion of both South Korea and Japan's beef market, mostly at Australia's expense.
US Meat Exporters Federation president said "The U.S. beef industry is extremely excited at the prospect of lower tariffs in Japan, as 38.5% is the highest rate assessed in any major market. As we've seen in [South] Korea, where the tariff rate was once 40% but has been reduced by more than half, lower tariffs make U.S. beef even more affordable for a wider range of customers."
Consequently, while the loss of China's large market remains a serious problem, the Q2 resumption of export growth to Mexico and subsequent trade liberalization with Japan means that from late Q3 onwards, American beef producers will enjoy a sharp upturn in export demand, that will extend into 2020.
America will also see a bigger rise in beef exports than any other nations except Brazil and Argentina, as the latter offset falling Australian and Indian production and China's African Swine Fever epidemic boosts red meat imports.
With anticipated higher early 2020 US cattle slaughter making more beef available and China spearheading a sharp rise in Asian red meat imports, exports will rise 5.7%, exceeding an estimated 4% rise in world exports, and total approximately 1.5 million tonnes. This will enable America to equal or exceed Australia as the world's second-largest beef exporter after Brazil.
It should be noted that whereas Australia is a net exporter of beef, America imports almost as much as it exports. This is due to a US consumption anomaly: Despite having a high per capita consumption of 24kg, 60% of US beef demand is accounted for by ground beef products such as tacos or hamburgers.
This results in America importing low-cost ground beef and exporting a very high proportion of high-value cuts such as steak. It is also why in 2018 the US ranked third in export volume but was the leading beef exporter when measured by revenue earned.
Behind all this is the end of a key inflection point: After falling to their lowest level since the late 1950s, high mid-2010s cattle prices made for a 7.4% recovery in inventories over four years, as a multi-year pastureland drought finally broke.
Amid record high cattle finishing weights, the largest sustained inventory increase in decades coincided with faltering beef production in every major production region except South America and the fastest rise in world beef demand seen in decades. The coincidence of a secular rebound in American cattle numbers and production constraints allowed American beef to regain some of the world beef market share it had lost during the previous, mad cow disease-stricken decade.
The higher output coincided with an economic boom that saw beef consumption grow by over 2.3% annually since 2015, which was its fastest demand growth in decades. Finishing weights also increased as farmers sought to take advantage of high prices. While the rising cattle herd and higher grow out weights boosted beef production faster than consumption, this has not been a problem.
Going forward, world beef demand will keep rising strongly but 2019 and 2020 is seeing US cattle inventories top out at just under 95 million head. A mature market where domestic beef consumption cannot grow faster than 2% annually, future investments in US beef production capacity expansion will depend on access to large importing nations more than they will on short-term feed and cattle price fluctuations.
Over the medium term, new or revised trade agreements with Mexico, South Korea and Japan will allow America's beef cattle sector to enjoy export-driven growth into the first few years of the 2020s. Beyond that point, access to the large, fast-growing China market needs to be negotiated.


All rights reserved. No part of the report may be reproduced without permission from eFeedLink.