India Oilseed Weekly: Soymeal prices crash on new arrivals (Week ended October 25, 2008)
New crop arrivals in the market have caused soy prices to crash by Rs.300 and settled at Rs.24, 000 as compared to closing rate of Rs.24, 300 last week.
However, the biggest drop came from soymeal Indore due to fresh arrival of meal in the market. The price of soy meal Indore was Rs.14, 000 as against last week's price of Rs.17, 500; a difference of Rs. 3, 500 per tonne.
Rapeseed meal prices rose Rs.100 and settled at Rs.10, 350.
Similarly, prices of peanut kernal, soymeal 48 % and sunflower meal may continue to decline due to fresh arrival of meal in the market.
Other commodities including rapeseed, sunflower seeds and peanut meal were stable in the market.
Soy arrivals in agriculture markets (Mandis) have dried. Reports reaching after the closure of markets on Wednesday indicate that there is a deficit of more than 100,000 bags.

Soy prices gained at NCDEX on Saturday with the November contracts rising by 1.3 percent at Rs.16, 420 per tonne.

The Solvent Extractors Association of India has urged the Centre to impose at least 40 percent duty on crude palm oil and 37.5 percent on RBD palmolein and 20 percent on crude soybean oil from the current level of zero duty on crude oils and 7.5 percent duty on refined oils.

In a memorandum to the Union Agriculture and Food Minister, Mr. Sharad Pawar; Union Finance Minister, Mr. P. Chidambaram and the Commerce Minister, Mr. Kamal Nath, the association has also sought the lifting of the ban on export of edible oils.

"Considering the drop in price in the global markets and rupee depreciation in the last three months, we strongly recommend to the government to re-visit the import duty structure and help raise the price of edible oil to near October 2006 level," said Mr. Ashok Sethia, President of the Association.

Edible oil prices to drop sharply with new oilseed arrivals

Expressing concern over sharp decline in edible oil prices by between Rs.8, 000 and Rs.20, 000, a tonne, Mr. Sethia said in the memorandum that with arrivals of kharif oilseed crop rates of soy and groundnut could drop to the minimum support price levels or even lower.

The Centre should come up with measures to arrest the fall in prices and improve the marketability of crops during heavy arrivals.

Stating that landed prices of imported vegetable oils were lower than 2006 levels, Mr. Sethia said tumbling global financial markets, higher oil seeds production and stock of palm oil besides declining crude prices resulted in the global edible oil markets crashing.

Removal of stock limits to help oilseed farmers

Besides revisiting import duty and lifting ban on exports, the association called for removing the stock limits in states such as Maharashtra, Andhra Pradesh and Karnataka. "This could help the industry to buy oilseeds and support the farmers," Mr. Sethia said.

He also sought the removal of the ban on futures trading in soy oil, market intervention operations by the National Agricultural Cooperative Marketing Federation and aligning the tariff value of vegetable oils to the current market prices.

Soy

Prices may ease due to increase in fresh arrivals amidst steady demand.

Harvesting has commenced in parts of Madhya Pradesh and Maharashtra and will pick up pace as weather remains dry and sunny here.

Good rain this season and optimum sunshine has helped to boost output and acreage.

Ground Nut

For ground nut, good arrivals and low buying may keep prices weak. Expected bumper out put in oilseeds will further pressurize prices.
Sowing is complete in Karnataka. While rain-fed sowing has commenced in Tamil Nadu.
Weather is congenial for crop in major belts like Gujarat, Andhra Pradesh and Maharastra riding on good rain.
Optimum supplies and low buying interest may keep the groundnut prices weak.
Weather outlook also remains favorable for the crop in South India.

Market forecast

Groundnut
Good arrivals and low buying may keep prices weak. Expected bumper out put in oilseeds will further pressurize prices.

Guar seed

Prices are firm across major markets on account of good domestic demand and optimum arrivals. Prices are steady to mildly firm at most of the centers in absence of fresh arrivals.

Soy

Prices may ease due to increase in fresh arrivals amidst steady demand.

In the week ahead, oil meal and oilseed prices may remain stable with almost same status or slightly downward in comparison to current week's level.
The comparison rates of nine commodities like Soy/ Peanut/ Rapeseed/ Sunflower and their meals

Commodities

Prices as on Oct 18

Prices as on Oct 25

Difference

Soy (Indore)

24,300

24,000

-300

Soy Meal 48%

14,850

14,500

-350

Soymeal Indore

17,500

14,000

-3,500

Peanut Kernal

31,250

31,000

-250

Peanut Meal

15,250

15,250

Stable

Rapeseed

30,000

30,000

Stable

Rapeseed Meal

10,250

10,350

100

Sunflower

28,000

28,000

Stable

Sunflower Meal

10,850

10,800

-50

US $ 1 = Rs. 49.700 (Oct 28)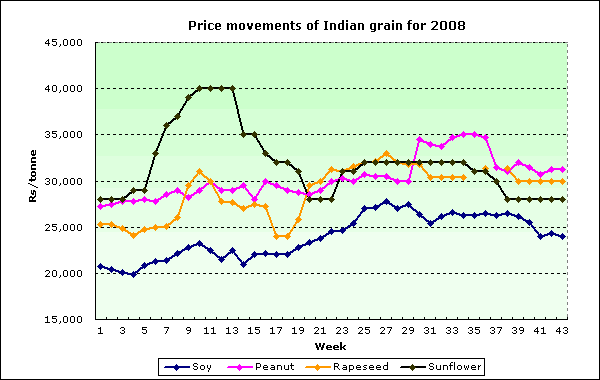 All rights reserved. No part of the report may be reproduced without permission from eFeedLink.