October 14, 2011

Shrewd Chinese traders and USDA inventory roller coasters
Corn is in much shorter supply than recent price movements would lead you to believe. Why strategic Chinese corn trading tactics, dodgy 'official' statistics and unstable South American weather make for an explosive combination.
An eFeedLink Exclusive Commentary
by Eric J. BROOKS
Autumn has livestock farmers everywhere wishing for bountiful corn harvests to bring down the cost of their feed. While prices certainly softened up, corn's supply situation did not improve. Over the short term, American farmers' creative use of feed grains has marginally augmented corn supplies. Over the longer term however, the evidence points to a further deterioration in the supply situation.

Superficially, September and early October saw CBOT corn take quite a beating, falling nearly 25% from US$7.65/bushel to barely US$5.80/bushel. Since then, it has rebounded some 10% to near US$6.40/bushel. On the way to doing so, it revealed that for now, this price swoon has much more to do with financial meltdowns than an improved supply situation.
As we shall, statistics are unreliable but there is considerable wisdom in the market behavior of shrewd buyers.
September's near EU financial catastrophe aside, the USDA's monthly survey found significantly more old corn in the United States than it had anticipated. This coincided with a significant expansion of wheat imported into America from Canada and there lies the explanation. Usually known for its high quality wheat fit for human consumption, cool, wet growing conditions reduced much of this year's Canadian wheat harvest to feed quality.
With Canadian wheat priced cheaper than America's own wheat or corn, American farmers substitute it in place of corn to the maximum extent possible. This resulted in several million tonnes less corn being used than was anticipated - and boosted USDA estimates of its end-of-year corn inventories from 17 million tonnes to 22.0 million tonnes. It also accounts for a recent grain market mystery: how, with higher feed demand than last year and poor wheat and corn harvests in the cards, did both US corn and wheat inventory estimates rise? With Canada's suddenly large stock of feed wheat being substituted in place of US corn, it all makes sense.
Do you ride the USDA inventory roller coaster?
While this is a plausible explanation for the sudden rise in the USDA's corn estimate, the number itself is much more in doubt. This is because the USDA's own end-of-year corn estimates have jumped wildly back and forth by up to one-third in a manner too inconsistent to be explained by actual market events.
After the 2010's harvest ended and long before this year's crop could even grow, the USDA entered 2011 by slashing its estimated end-of-year corn stocks by 20%, from 21.1 million tonnes in December to 17.1 million tonnes by February. It then jacked up it corn inventory figure up by a whopping 34%, to 22.9 million tonnes in June. Thereafter, the USDA proceeded slashed its corn inventory estimate by 25%, back to 17.1 million in August. Then, in October's WASDE report, the USDA zoomed its end-of-year corn estimate by 29% back up to 22.0 million tonnes.
In sum: Before this year's new crop could even be harvested, the USDA has repeatedly raised and slashed its corn inventory estimate by 25% to 35%, from 17 million tonnes to 22 million tonnes and back –no less than three times in the last 10 months. Amid such dodgy, unstable statistics, Agrimoney.com wryly commented that, "Corn consumers would be wise this time too to keep the champagne on ice until it is clear extra stocks really mean extra supplies."
Frankly, the following approach is the most practical: If one averages out the USDA's wildly swinging high and low estimates, it is reasonable to assume that America's year ending corn inventory and stocks-to-use ratio will be approximately 20 million tonnes and 6% respectively. Whatever numbers you may believe, they remain a far cry from 2009's 43 million tonne end-of-year corn inventory –or postwar stocks-to-use ratios in the 20% to 40% range.
Amid such statistical confusion, the market ignored the USDA's additional cut to this year's corn harvest, which has fallen from 342 million tonnes in June to 315 million in early October. The fact that US corn exports have been slashed to 40 million tonnes and that La Nina is threatening Argentina's crop has also been overlooked. The USDA still expects that country to harvest 19.5 million tonnes of corn, even though its exports have fallen by a third during La Nina induced drought years.
Of course, good statisticians can justify almost any number but market movements do not tell lies: The behavior of traders, particularly buyers, always says a lot about a market's underlying direction. So far, every single time prices fell by a wide margin, Asian buyers rushed in to take advantage of the bargains. That hardly implies a bear market in corn.
Impressive Chinese trading history carries implications
Moreover, in October, as was the case with every other major price correction during this 15-month rally, smart buyers took advantage of the situation –and none more so than China. It purchased 1.5 million tonnes in the second week of the month. Consisting of 900,000 tonnes purchased from the United States and 600,000 tonnes from Argentina, its was second largest volume of American corn ever purchased by China.
And it must be said that there is a solid economic rationale for China importing corn at this time. According to eFeedLink, even before CBOT corn futures had bottomed out, after adding in transport and import taxes, US corn went from being an average of 11.6% more expensive than domestic Chinese corn in August to 5.2% cheaper in September.
Nevertheless, this sudden, aggressive buying on China's part carries with it several implications.
First, China has put together a rather impressive history of purchasing corn on price bottoms, whether it was Spring 2010's pre-rally price low, the post-Japanese tsunami's price swoon or late June's price softness, the latter being the last time corn was seen below US$6.50/bushel before now.
Indeed, supply tightness was evident the day before China's corn purchase was officially announced, when CBOT corn jumped its entire 40cents/bushel daily trading limit amid rumours of Chinese procurement activity. Given China's reputation for shrewd trading, unless there's a monstrously large US or Argentine harvest or a financial crisis freezes up markets, corn should stay above the US$6/bushel floor that China's traders have evidently etched into their own charts.
Second, what this import purchase means for China must also be carefully evaluated. While the statistical signals are mixed, ground level market movements tell a more consistent story.
eFeedLink vs. USDA China corn statistics: Which are more realistic?
On one hand, with 1.5 million tonnes of corn already on its way, the USDA's current projection of 2 million tonnes of 2011-12 Chinese corn imports can be safely tossed into the dust bin. By comparison, eFeedLink recently upped its China corn import estimate from 3 million tonnes to 4 million tonnes and this appears to be a more realistic estimate at this time.
On the other hand, the USDA also upped its China corn harvest estimate from 173 million tonnes to 182 million tonnes. – But we must take this upward revision with a grain of salt. - Always keep in mind that the USDA's China corn estimates are only second to those of China's own government in being unrealistically optimistic.
With a team of ground level analysts observing China's good corn growing weather first hand, eFeedLink's most recent corn report upped its China harvest estimate by a far a more conservative 3%, from 167 million tonnes to 172 million tonnes.
Compared to last year's 162 million tonnes or 2010's disastrously low 140 million tonne harvest, 172 million tonnes is a good crop, but still insufficient for China's growing needs. The USDA estimates China's 2011 corn demand at 186.5 million tonnes. So the difference between eFeedLink and the USDA is whether China will be four million tonnes or fourteen million tonnes short of corn.
Personally, we believe that China's corn crop is closer to 172 million tonnes but the USDA is overestimating China's corn demand by about 7 million tonnes, leaving a deficit of roughly 5 to 7 million tonnes. Irregardless, both eFeedLink and the USDA state that the entire increase in China's harvest would be used for feed and none for processing into starch, corn syrup or other by-products.
In practice, even if China's corn harvest somehow equaled demand, with old harvest inventories depleted, the new harvest probably could not come in time for mid-Autumn's livestock production, which rises sharply in the run up to January's Chinese New Year holiday.
Depleted inventories and number coincidences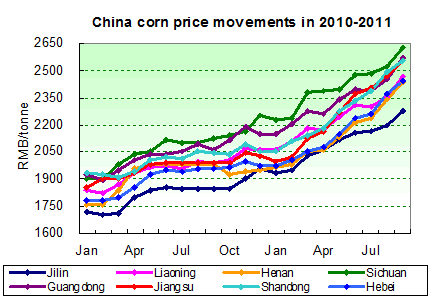 To bridge this looming fourth quarter supply deficit, eFeedLink recently noted that, "Beijing plans to release 3.7 million tonnes of state corn reserves (equivalent to about two weeks of the country's feed corn use) before November to improve market supply and ease demand. Policymakers hope that this release from reserves will keep spot corn prices in check."
At somewhere between 20 and 30 million tonnes, China's state corn reserves are at razor thin levels for a country of 1.3 billion people. (The US by comparison has approximately 20 million tonnes for a country of 303 million people).
Meat price inflation is already a serious political problem. For this reason, China's corn reserves cannot fall below the 35 million tonne level without using imports or other means to restock them as soon as possible. That is why according to Terry Reilly, commodity analyst with Citigroup, "The 900,000 tonnes [US purchase] is to build up a little bit of their reserves after clearing out old inventories, as they plan to do in November."
In fact, one finds many number coincidences in China's rising corn import figures. For instance, China's 3.76 million tonnes release of state corn dovetails with an eFeedLink's report which states that, "China has purchased around 3.7 million tonnes of US corn between January and September of this year."
In addition, while China disappointed many analysts by only importing a million tonnes of corn this year, it is destined to import much more next year. In contrast to the 3.7 million tonnes of corn ordered, "recorded corn import arrivals at Chinese ports between October 2010 and August 2011 totaled 800,000 tonnes." This is because many of this year's imports were purchased late in the 2010-11 marketing year and will only arrive in the months to come. Total imports are rising as analysts projected, except that they were pushed from one marketing year into the next.
In fact, once the shifting of imports from one marketing year into the next is taken into account, China is on track to becoming a mass corn importer second only to Japan before 2015. From 2012 to 2020, you can expect China to do to the corn market what it did to soya beans in the previous decade.
Indeed, for many observers, when China's recent 1.5 million tonne purchase is put against its pushing forward of this year's imports, it implies that China's day of mass corn imports has finally arrived. Matthew Pierce, a trader with GrainAnalyst stated that, "the 1.5 million tonne import figure was "an impressive number the trade was looking for to substantiate the recent rally", concluding that, "Corn [prices] should get a boost from the Chinese deal, with more expected in weeks ahead."
Implications and conclusions
From all this, several conclusions can be drawn.
First, corn's recent price behaviour is yet another case of markets over-reacting to the latest (and highly dubious) upward revision in USDA corn numbers.
Second, this upward revision in corn inventories, like previous ones, coincided with EU-induced financial panic. This made corn's market tumble worse than it should have been.
Third, in this market fall, as in the previous others, China found opportunity to buy corn on the cheap. It is getting to a point where China's entry into the market automatically signals a price bottom. The game of shifting imports from one marketing year has been maxed out: The veil is coming off China's strategic behavior and its permanent, net importer status will be confirmed in the months ahead.
Fourth, with the US exporting only 40 million tonnes of corn this year, price relief will come from two fronts, but only one is for certain. Given this year's bumper wheat crop, we can expect it to be substituted wherever possible and act as valve releasing some of the upward price pressure on corn.
Fifth and most critical, with America exporting up to 10 million tonnes less corn than two years ago, the world badly needs a bumper Latin American harvest. This year's La Nina-induced arid growing conditions are starting to imply that instead of getting a large Argentine crop, the world may be forced to live with a shriveled southern hemisphere harvest. If a disappointing 2012 Latin America crop were to coincide with dwindling Chinese post-harvest corn supplies, we could see corn market fireworks early in the new year.


All rights reserved. No part of the report may be reproduced without permission from eFeedLink.