October 6, 2018
BIOMIN presents B.R.A.I.N. Award at 2018 World Nutrition Forum

In the presence of 800 delegates, Prof. Dr. Konrad Domig of the University of Natural Resources and Life Sciences, Vienna (BOKU) was awarded the biennial B.R.A.I.N. award on the final day of the 2018 BIOMIN World Nutrition Forum held in Cape Town, South Africa.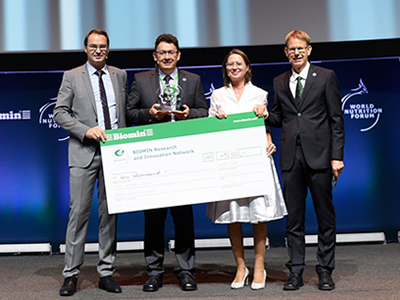 The award selection committee cited his ongoing lifetime achievement in the field of research in food and feed safety, with a strong focus on antibiotic resistance.

Dr. Eva Binder, Chief Research Officer at Erber Group, Dr. Gerd Schatzmayr, Research Director at BIOMIN Research Center and Franz Waxenecker, Vice President for Development and Innovation at BIOMIN, presented Dr. Domig with the B.R.A.I.N. award and a cheque for US$10,000.

Dr. Domig's achievement and longstanding work with BIOMIN has earned him esteem throughout the research and development functions of BIOMIN at its Research Center in Tulln, Austria. He has also supervised the thesis work of several BIOMIN scientists.

"Dr. Domig is a very positive, knowledgeable and supportive person. I appreciate the encouragement and guidance he provided during my PhD work that allowed me to learn and grow," said Nataliya Roth, Development Scientist at BIOMIN.

"I have had the pleasure of knowing Dr. Domig for eight years. When I started my PhD at BOKU in 2011, Konrad accepted me into his lab and introduced me to microbial ecology," said Mahdi Ghanbari, Scientist at BIOMIN.

"He has challenged me to ask scientifically-driven questions, draw connections between my research and the "bigger scientific picture", and explore new concepts and methodology, which is how I ended up becoming a computation biologist. His assistance, support, and advice have not only improved my research, but also made me a stronger, well-rounded scientist," Dr. Ghanbari added.