Hungry dragons and a two-speed world market: Booming beef's China import dependence
An ASF induced re-acceleration of Chinese red meat imports is giving the world beef market its strongest growth in decades. From 0.3% of beef imports in 2000, China will buy purchase 27% of the world's beef imports in 2020.
By Eric J. Brooks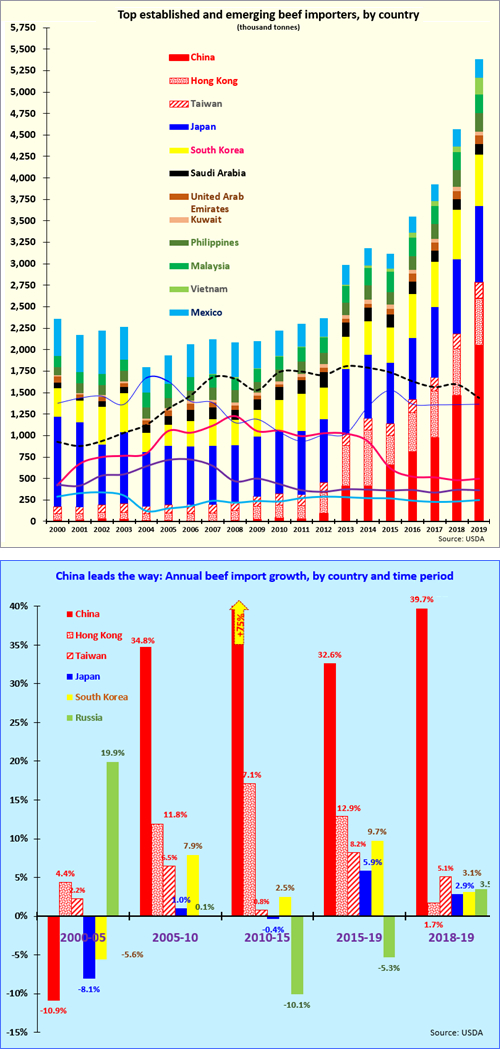 Partly boosted by rapidly expanding Asian consumption, partly due to extraordinary circumstances, the last four years have been good ones for the world beef market. Based on USDA statistics, the 5.1% average annual growth in world beef imports from 2015 through 2019 inclusive clocks in significantly above the average 2.4% annual increase seen from 2000 through 2018.
2018 was particularly fortuitous, with a 50.6% increase in Chinese imports powering an import increase of 8.6% to 8.609 million tonnes, from 2017's 7.929 million tonnes.
The late 2010s should have ended with slowing Asian economic growth decelerating the world beef trade's growth, but fate intervened: With African Swine Fever (ASF) boosting consumption of all non-swine meats, 2019 will see world beef imports rising an eFeedLink estimated robust 8.0%, to a record 9.300 million tonnes. This is significantly above even the USDA estimate, which itself had been revised to 8.96 million tonnes a few months earlier.
With ASF pushing Chinese pork prices closer to those of beef, it has encouraged consumption of the latter. As a result, H1 2019 Chinese beef import volumes were 53% above last year's level. Totaling 898,000 tonnes, they exceeded H1 2018's import volume by 311,000 tonnes.
Nor is there any sign of any letup in Chinese consumption: Retail beef prices stayed firm at historically high levels throughout this summer, when consumption is usually at its seasonal weakest. This is because ASF has coincided with faltering domestic beef production to give a new growth spurt to Chinese imports, which had previously been forecast to level out.

After growing from almost nothing in 2008 to 1.47 million tonnes in 2018, the USDA initially expected China's economic slowdown and rising beef production to make 2019 imports fall back 10% to 1.32 million tonnes. That would have been the first time they declined in eight years and should have put the brakes on world beef import growth.
Instead, the ASF crisis profoundly boosted Chinese beef demand ahead of domestic production, forcing the USDA to revise Chinese –and world– beef import estimates two times. Instead of declining as initially projected, the USDA now expects 2019 Chinese beef imports to jump 40%, to a record 2.05 million tonnes, followed by a 36.6% increase to 2.8 million tonnes in 2020.
--And make no mistake, it is the whopping 730,000-tonne difference between the USDA's initial 1.32 million China import estimate for 2019 and its revised 2.05 million tonne estimate that turned what should have been stagnant 2019 world beef import volumes into an 8%, 700,000-tonne year-on-year expansion. While some Chinese demand will be met by the diversion of existing trade flows, most of it will come from the inventories or higher production of western beef producers.
Having taken over from Japan as the world's largest net beef importer in 2016, ASF is pushing China into overtaking America is the world's largest overall importer of beef. With Chinese pork production still several years away from recovering, aggressive Chinese import growth will continue for several more years.
By the end of 2020, China will be importing roughly 100% more beef every year than America does. All this actually understates China's appetite for beef imports, as several hundred thousand additional tonnes are smuggled in illegally overland from Hong Kong and Vietnam.
Nor is China the only nation whose import demand has been stimulated by ASF: It is also responsible for a 100,000 tonne, ASF-induced revision in Vietnamese beef import volumes. Going forward, new ASF outbreaks in neighboring countries including South Korea, Japan and Cambodia may further boost Pacific Rim demand for beef and other red meats going into 2020.
Who is benefitting from this profound turnaround in world beef market conditions? With American beef facing 25%+ import tariffs, Indian beef banned, Australian, New Zealand and Canadian cattle inventories at multi-decade lows, Latin America is enjoying the benefits of China's surging beef consumption. After many years of being China's top beef supplier, Australia has been relegated to fourth place.
China imported 151,000 tonnes of beef from Argentina in H1 2019, up 126% from 66,700 tonnes in the first half of 2018. That edged out former top exporter Brazil, which shipped 149,000 tonnes, followed by Uruguay's 141,000 tonnes. Australia's 137,000 tonnes rounded off the top four Chinese beef suppliers, with volume up 65% from 83,000 tonnes in the first half of 2018.
For 2019, China is on track to import approximately 350,000 tonnes of beef each respectively from Brazil and Argentina, 300,000 tonnes from Uruguay and up to 280,000 tonnes from Australia. The remainder of China's beef imports are accounted for by several hundred thousand tonnes each from New Zealand, Canada, Paraguay and several EU nations respectively.
Among the Latin nations, Argentina is the greatest beneficiary. Thanks to China, Argentina's beef exports have more doubled in just two years, from 293,000 tonnes in 2017 to 580,000 tonnes this year. At over 300,000 tonnes, China's imports of Argentine beef exceed Argentina's beef exports to all nations in 2017.
--But China's blessing is also a two-edged sword: While Chinese imports of Brazilian beef amount to around 15% of the latter's export volume, it now buys up to 50% of Argentine, Uruguayan and Paraguayan beef exports, putting them in a very vulnerable position should they ever fall out of favor with Beijing's politicians.
Canada, for example, will see beef exports to China fall from 398,000 tonnes in 2018 to barely 100,000 tonnes this year, after placing a politically connected Chinese telecoms executive under house arrest
Even so, the fact China reinvented the world beef import business cannot be denied. Based on USDA projections the years 2000 through 2019 saw world beef exports rise at an average 2.5% --but if one excludes China, the years 2000 through 2019 saw world beef exports rise by only 1.2%.
Similarly, from 2015 through world beef imports increased at a 5.1% rate but if China is excluded, they only increased by a much slower 1.1% pace. This because outside of China and East Asia, world beef imports are not growing by much.
Japan, which was the world's biggest beef importer during the 1990s and early 2000s, will import 15% less or 155,000 fewer tonnes of beef in 2019 than the 1.045 million tonnes it did in 2000. From 18.6% of the world beef imports in 2000, Japan's share has fallen by nearly half to 9.6% this year, as stagnant incomes, rising unemployment and negative population growth took their toll on Japan's meat consumption.
Similarly, the early 2000s saw Russia taking over from Japan as the world's biggest importer. It imported 1.23 million tonnes of beef and bought 18% of world beef imports in 2008. Thereafter, government import substitution policies, stagnant population and a serious recession slashed Russia's beef import volume to 500,000 tonnes this year, with its world market share falling to 7.5%.
The Middle East/North Africa (MENA) region also looked promising at one time. MENA import volumes doubled from 0.57 million tonnes in 2000 to 1.17 million tonnes by 2010. Thereafter, political turmoil and the oil price crash caused MENA region beef imports to level out into the 1.0 to 1.2 million tonne range, with no volume growth this decade.
South Korea was the only major North Asian importer to maintain its share of the world beef market, its share growing from 5.7% and 333,000 tonnes in 2000 to a USDA estimated 600,000 tonnes and 6.5% of world beef imports this year. –But none of these large, established importers experienced sufficient consumption growth to account for world beef's present state of good health.
By comparison, from 2000 through 2019 inclusive, Chinese beef import volumes increased by 29.1% annually. The pace accelerated to 75% annually from 2010 through 2015, and an estimated 40% annually from 2016 through the end of 2020.
From 0.3% of world beef imports and 16,000 tonnes in 2000, China will account for 22% of beef imports this year, totaling over 2 million tonnes. In 2020, China's USDA projected 2.8 million tonnes of world beef imports will singlehandedly account for no less than 27% of the world market. As the accompanying graph shows, no other countries share of the world beef market comes close.
Collectively, the Greater China geographic region consisting of Mainland China, Hong Kong and Taiwan went from buying 3.0% or 162,000 tonnes of beef imports in 2000 to 2.8 million tonnes or 30% of beef imports in 2019 and a projected 3.6 million tonnes and over 34% of world beef imports in 2020. –In other words, the world beef market as we know it today would no longer exist without China's participation.
Occurring alongside the emergence of smaller scale but comparably rapid Southeast Asian consumption growth, the world beef market has effectively split into two very different segments. Of the roughly 9.3 million tonnes of 2019 world beef imports, approximately 4.5 million tonnes will be accounted for by large but slow-growing markets such as the United States (1.3 million tonnes), Japan (890,000), Canada (250,000), the EU (365,000), South Korea (600,000), and the MENA region (1.08 million tonnes). Due to their high per capita consumption levels, political instability or recessionary economic conditions, these once fast-growing beef import markets are now stagnant.
This is also the case with slightly over one million tonnes collectively imported by over 100 smaller nations. As the accompanying graph shows, these large mature markets and dozens of smaller ones are collectively importing hardly any more beef today than they did at the turn of the century.
Counterweighting these stagnant importers are a handful of nations in Southeast Asia (510,000 tonnes) and Greater China, which includes the Chinese mainland (2.05 million tonnes), Hong Kong SAR (550,000) and Taiwan (185,000). From roughly 3.3 million tonnes in 2019, we can expect the collective pork import volume of Greater China and Southeast Asia to jump approximately 24% and total at least 4.1 million tonnes in 2020.
With China at least two years away from a pork production recovery, its beef imports will continue rising aggressively into the 2020s. This coincides with the spread of ASF into Southeast Asian nations such as Vietnam and Cambodia, which are now experiencing the same rapid income growth that China once did. By the early 2020s, this China-dominated family of nations will account for approximately 40% of world beef imports.
Consequently, the future appears increasingly certain: With a little help from Southeast Asia, China will be a dominant, price setting fixture on world beef markets, with the Western Pacific Rim accounting for a majority of export destinations.


All rights reserved. No part of the report may be reproduced without permission from eFeedLink.