September 18, 2023
Taiwan to get rid more than 54 million imported eggs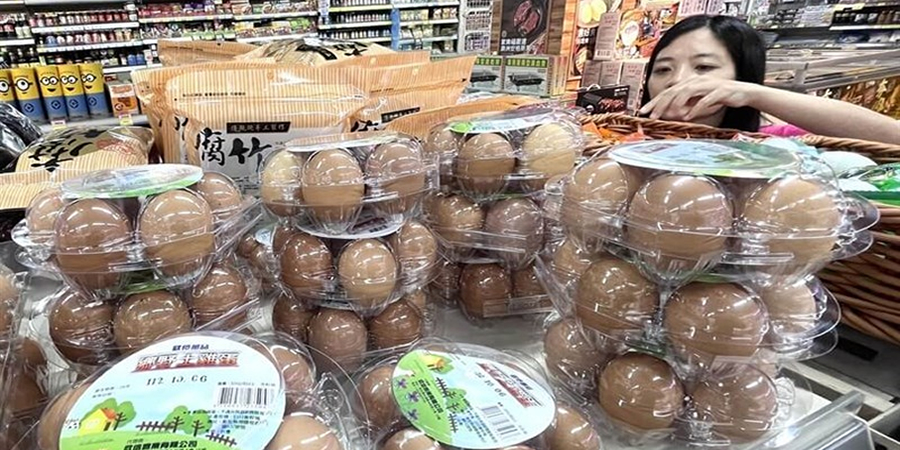 More than 54 million imported eggs will be disposed in Taiwan, as their expiration date has passed, the country's Minister of Agriculture, Chen Chi-chung, said on September 16.
Chen made the remarks at a news conference in Taipei, explaining the flow of imported eggs following recent controversies concerning the products.
The agriculture ministry introduced a special egg import programme to address a nationwide egg shortage earlier this year. Chen pointed out that the programme allowed people to pay NT$2 (US$0.06) less for each egg, thus suppressing inflation and black market prices.
However, controversies have risen in recent weeks. These included an accusation that the Taiwanese government helped some egg importing companies over others, eggs imported from Brazil that had an incorrect expiration date and egg shipments from Brazil that were found to contain florfenicol and chloramphenicol residues.
Chen said that about 145.31 million eggs were imported from March to July, which included 17.14% of washed eggs, 23.59% of processed eggs, 4.3% of reserved shell eggs, 17.78% of reserved processed eggs and 37.18% of damaged or expired eggs.
While importing eggs had helped to keep black market prices in check, domestic egg farmers' livelihoods must also be attended to, Chen said, adding that more than 50 million damaged or expired eggs did not enter the domestic market, and would be composted instead.
Releasing all imported eggs into the domestic market would negatively impact the livelihoods of domestic egg farmers. The agriculture ministry therefore adopted a rolling-review method for releasing such eggs, which resulted in about 54.02 million eggs damaged or expired, the cost of each egg being about NT$5 (US$0.16) and a total loss of about NT$200 million (US$6.3 million), Chen said.
"(The programme) achieved the goal of domestic food security, and the cost was worth it," he said. He added that the global avian flu outbreak last year contributed to egg supply shortage and high prices in Japan, the United States and many other countries.
Domestic egg farmers also reduced the number of hens they raised due to increasing costs of feed, Chen said.
He stated that eggs were imported from seven countries — Australia, Brazil, Malaysia, Thailand, the Philippines, the US and Turkey — from March to July.

- Taipei Times