With a growing human population expected to drive an increase in fish consumption of around 1.2% yearly over the next decade, the United Nations' Food and Agriculture Organisation says in a new report that genetic improvement in aquaculture should help boost food production with relatively little extra feed, land, water and other inputs. The first-ever global report of its kind is based on information provided by 92 countries.
FAO highlights great potential of genetic improvements in aquaculture
Wider, appropriate and long-term application of genetic improvement in aquaculture, with a focus on selective breeding, will help boost food production to meet a projected increase in demand for fish and fish products with relatively little extra feed, land, water and other inputs, says a new FAO report launched in late August.
The report, titled "The State of the World's Aquatic Genetic Resources for Food and Agriculture", reviews the use of aquatic genetic resources both in capture fisheries and in aquaculture, in areas under national jurisdiction. The first-ever global report of its kind is based on information provided by 92 countries, together representing 96 % of global aquaculture production and over 80% of capture fisheries production.
Aquaculture is lagging far behind terrestrial agriculture--both crops and livestock--in terms of the characterisation, domestication and improvement of its genetic resources for food production. The report concludes that we have the opportunity to significantly enhance sustainable aquaculture production through the strategic management and development of some of the more than 550 species currently used in aquaculture.
According to the report, the world still largely farms wild fish, with 45% of cultured species being little different from their wild counterparts. The report also notes that just over half of the reporting countries consider that genetic improvement is having a significant impact on their aquaculture production, in contrast to the extensive use of improved breeds and varieties in livestock and crop production. The report stresses the potential for sustainable production gains through the genetic improvement of farmed aquatic resources.
"I strongly welcome this report which is the fruit of a multi-year, country-driven process of data collection and analysis," said FAO Director-General Qu Dongyu. "It highlights the pressures that a growing demand for fish and fish products will place on farmed species, their wild relatives, and the habitats they depend on, as well as the opportunities for sustainable growth".
According to FAO, a growing human population is expected to drive an increase in fish consumption of around 1.2% yearly over the next decade. Production of fish and fish products is estimated to reach over 200 million tonnes by 2030.
Given that production from the world's capture fisheries has stabilized at about 90-95 million tonnes per annum, with nearly a third of marine fish stocks being overfished, the report says that there is little scope for additional production in the foreseeable future except through loss and waste and efficiencies management. "The expected growth in demand for fish and fish products therefore needs to be largely met from aquaculture. In this context, the responsible and sustainable use of aquatic genetic resources will be essential to fulfill this role".
FAO recommends a focus on well-designed, long-term selective breeding programmes, which can increase productivity of aquatic species by 10% per generation.
The report notes that all farmed species still have wild relatives in nature but many of these wild species are under threat and need targeted and prioritised conservation. The report calls on countries to develop policies and actions to address this need.
According to the report, the most depleted wild relatives of cultured species are Russian sturgeon, huchen, beluga sturgeon, Atlantic salmon and brown trout.
The report highlights the need for greater awareness-raising and capacity-building to develop and sustain genetic characterisation and improvement, especially in developing countries, including training of geneticists to support selective breeding programmes.
---
Denmark puts halt to new sea fish farms
Denmark has announced that it is to put a halt to the development of new fish farms at sea in a bid to protect the environment. The move will also see curb the expansion of existing farms.
"Denmark has reached the limit of how many fish can be farmed at sea without risking the environment….We must be a green pioneer, when it comes to fish farming, and therefore we must focus on sustainable development of the aquaculture sector", Danish Environment Minister Lea Wermelin said as she made the announcement on Aug. 27, according to a report by European Views.
The levels of pollution associated with aquaculture were previously criticised, and the resulting concentration of waste from the sector and its impact on the marine environment questioned.
There are likewise concerns about uneaten aquafeed pellets and waste, which could pollute the water and smother animals and plants on the seafloor.
Other issues relating to aquaculture include the spread of diseases and parasites from farmed fish to wild fish.
"I am concerned about the state of our aquatic environment, and I do not think that we will have more or larger aquaculture in Denmark at this time", Wermelin said.
Denmark is the eighth-largest producer of sea-farmed fish in the EU with around 19 sea fish farms. The main aquaculture-producing countries amongst the EU member states, in terms of volume, are Spain, the United Kingdom, France, Italy and Greece.
Aquaculture, both sea and fresh water, is a significant activity in many European countries, producing around 1.3 million tonnes and more than €4 billion (US$4.4 billion) in value. In the total world aquaculture production, EU aquaculture occupies a share of 1.23% in terms of volume and 2.82% in terms of value.
Mediterranean mussels make up around one fourth of the total volume farmed in the EU, while Atlantic salmon and rainbow trout together represent more than a third of the total value.
According to the Allied Market Research Aquaculture Global Opportunity Analysis and Industry Forecast, 2014-2022, the aquaculture market was valued at US$169 billion in 2015 and is forecast to reach $242 billion by 2022.
---
SIGNIFICANTLY BELOW JULY 2018 AND 2017
Shrimp landings in Gulf of Mexico in July comparatively poor
The US National Oceanic and Atmospheric Administration (NOAA) Fisheries reported that shrimp landings in the Gulf of Mexico in July, at 7 million pounds, were significantly below those in July 2018 and July 2017 (7.9 and 8 million pounds, respectively), according to the Southern Shrimp Alliance.
Commercial shrimp landings were 37.8% below the prior 17-year historic average of 11.3 million pounds for July.
Just 1.6 million pounds of shrimp was reported as landed in the state of Louisiana, the third-lowest volume for the state for a July in the last 18 years. All told, landings in Louisiana were 62.1% below the prior 17-year historic average of 4.2 million pounds in July.
In Mississippi, only 415,000 pounds of shrimp were reported as landed, the second-lowest total reported for any July from that state in the last 18 years.
For the year, landings of shrimp in Louisiana and the west coast of Florida are at the lowest levels they have ever been through the first seven months. Outside of 2010, the landings reported in Mississippi for the year are the lowest they have been in the past 18 years.
Shrimp harvests at historical levels in Texas and significantly above historical levels in Alabama have somewhat offset the low numbers from the rest of the Gulf, but landings in the region, at 35.6 million pounds, are the second-lowest volume reported in the last 18 years.

---
REFUSALS DROP TO 2 FROM 3 IN JULY
US refuses antibiotic-contaminated shrimp imports from India, China in August
From 3 in July, the number of shrimp imports refused entry by the US due to antibiotic contamination dropped to 2 in August, the Southern Shrimp Alliance (SSA) reported.
The shrimp refusals were among a total of 72 seafood entry line refusals for that month.
The two shrimp entry lines refused in August for veterinary drug residues were from two different exporters in India and China:
The shipment of shrimp refused from the Indian exporter Ram's Assorted Cold Storage Limited was the 27th entry line of shrimp from India refused so far this year for reasons related to banned antibiotics. It is the highest this year for any country.
August is the second month this year for China to have shrimp exports rejected by the US. In July, three shrimp entry lines were refused for veterinary drug residues. They were from two different exporters.
In the eight months through August, the Food and Drug Administration refused a total of 52 entry lines of shrimp for reasons related to veterinary drug residues, compared with 53 all of last year and 55 in all of 2017, the SSA said.
Earlier in August, the SSA said that 2019 may turn out to have the highest number of shrimp entry lines refused for reasons related to banned antibiotics since 2016.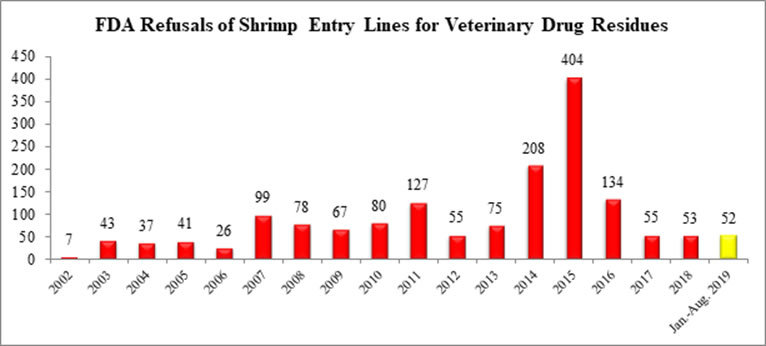 ---
Vietnam's pangasius exports fall for 5th consecutive month in July
Vietnam's pangasius exports in July dropped for the fifth consecutive month, down 12.7% year-on-year, the Vietnam Association of Seafood Exporters and Producers (VASEP) said.
The decrease during the seven-month period from January to July was 5.5% from the same period last year to US$1.13 billion.
Noteworthy was the 56.2% decline in the export of the fish to the US market to $25.6 million in July, bringing the seven-month figure down 34.3% to $167.6 million. Nevertheless, the US is still the second-biggest market of Vietnamese pangasius.
VASEP forecasts that the decline of shipments to the US market will continue in the remaining months, partly due to technical and trade barriers to imports of white fish.
Meanwhile, pangasius exports to China and Hong Kong surged 71.1% in July, resulting in a 10.4% increase in the export value of the seven-month period to $320 million.
The EU market showed signs of slowdown as pangasius exports to the UK, the second-biggest market in the 28-nation bloc, declined 10% in July, although the seven-month figure, at $33.3 million, showed a 36.3% increase.
Pangasius exports to Germany and Belgium in the first seven months also increased 39.6% and 32.5%, respectively, contributing to a 12.6% rise in the entire EU market to $156.7 million.
The ASEAN, Mexico and Japan markets also showed increases, but reductions were reported in Brazil and Colombia.
---
JAPANESE-STYLE SHRIMP PRODUCTS MADE IN VIETNAM
Growing Japanese communities worldwide a boon to Vietnam shrimp exports
The increasing Japanese communities in different parts of the world has given more opportunities for Vietnamese shrimp exporters to continue to thrive.
As per the Vietnam Association of Seafood Exporters and Producers (VASEP), there are nearly 3 million Japanese who live overseas and have formed communities in such countries as Brazil, the US and the Philippines, and the demand for seafood products in these communities is quite large.
"Vietnamese shrimp enterprises have been exporting shrimp products to Japan and overseas Japanese communities in the United States, South Korea, Australia, Singapore, Taiwan ... and, most recently, the EU market with increasing consumption", VASEP said, adding that Japanese chain restaurants have also attracted more and more native customers.
Japanese-style processed shrimp products are made in Vietnam, including nobashi shrimp, ebi fry shrimp, tempura shrimp, ebi katsu shrimp and pritter shrimp.
With the US-China trade war not abating, Vietnamese shrimp businesses have a great chance to replace the output of breaded shrimp from China.
"Breaded shrimp is great advantage of Vietnamese shrimp as [Vietnam] has a skilled labour force compared with other rivals", VASEP says.
"…Vietnamese shrimp businesses need to set early business planning and early synchronization solutions to take advantage of these chances", it adds.
While Vietnam's shrimp exports in the first half of the year fell 12% year-on-year to US$1.4 billion, according to VASEP, they are expected to pick up in the remaining months of the year when importing countries tend to buy more during this period.