August 1, 2018
Nutriad draws presidential interest at Indo Livestock

Press release
Nutriad participated in the three-day INDO LIVESTOCK exposition and forum in Jakarta, Indonesia in July. Nutriad was visited by no less than the President of Indonesia, His Excellency President Joko Widodo, who showed great interest in the application of specialty feed additives as part of a strategy to reduce, and in time eliminate, the use of antibiotic growth promoters.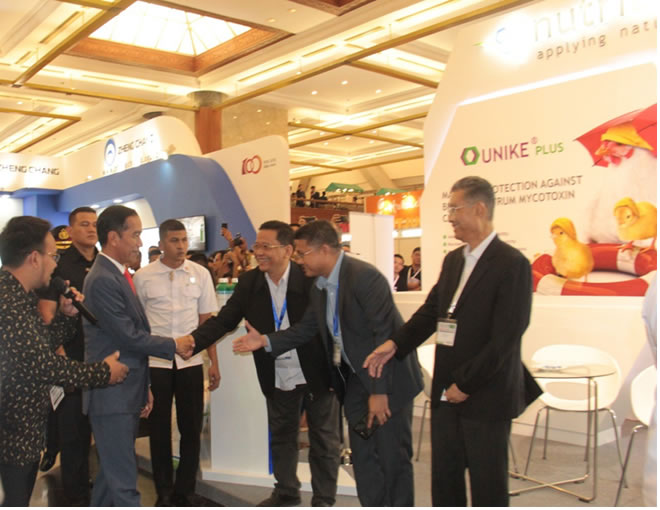 Erik Visser, CEO, Nutriad mentioned that "Whether one believes that agricultural use of antibiotics in livestock production has fostered an environment that spawns antibiotic resistant super bugs or that excessive prescribing of antibiotics in human medicine has dealt us the same fate, our industry must take steps to mitigate the potential of a looming healthcare crisis. Our continuous research on gut health and joint approach with customers and universities around the world, confirms Nutriad's commitment to the industry."

For decades Nutriad has been supporting producers towards achieving a responsible use of antibiotics. In the Asian market its line of DIGESTIVE PERFORMANCE products such as SANACORE® EN, ADIMIX®PRECISION, ADIMIX®EASY, and APEX 5 are available, that allows producers to formulate a diet that makes responsible use of antibiotics possible. Furthermore, the company's complete practical approach to MYCOTOXIN RISK MANAGEMENT (TOXY-NIL®; TOXY-NIL®PLUS & UNIKE®) supports producers in finding alternatives for AGPs.

Added Visser: "We see a growing interest in Asian markets to learn more about alternatives for AGPs. Not only driven by government regulations and pressure from consumer groups, but as evidenced by the visit of high level Indonesian officials with our technical staff, a genuine interest to introduce novel solutions into the market."

Dr. Glenn Alfred S. Ferriol, Nutriad Area Manager for Indonesia, Malaysia and Philippines presented "A Review of Gut Health Challenges in a Non-AGP Environment" where he focused on the importance of a Precision Delivered Soidum Butyrate as an Alternative for the use of AGPs and on the influence of Mycotoxins on Gut Health and Vaccination Efficacy.