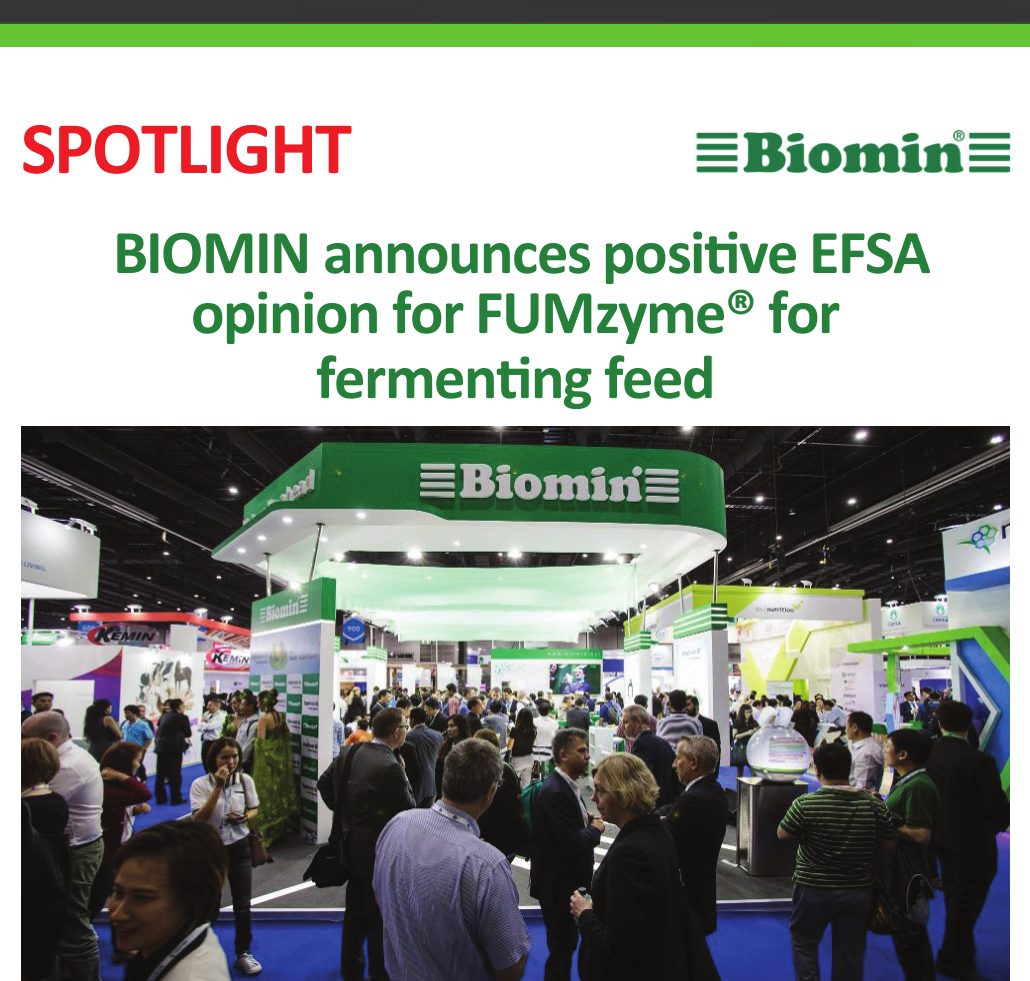 B

IOMIN has reached a key step in the EU registration of FUMzyme®, the only commercially available mycotoxin-deactivating enzyme and component of Mycofix®, for application in fermenting feed including silages.

On July 21, the European Food Safety Authority (EFSA) Panel on Additives and Products or Substances used in Animal Feed (FEEDAP) published a favorable Scientific Opinion on the safety and efficacy of FUMzyme® in fermenting feeds in all species.

FUMzyme®, a fumonisin esterase, is a purified enzyme that detoxifies fumonisins - a category of mycotoxins produced by Fusarium fungi - into non-toxic metabolites. Previously, FUMzyme® had received EU authorisation for application in pig and poultry diets.

According to the new scientific opinion, "The additive has the capacity to degrade fumonisins in fermenting feed (with a fumonisin content within the guidance limits operating in the EU) when used at the minimum recommended dose of 40U/kg feed. This conclusion is based on the results from three studies in which statistically significant fumonisins reduction was recorded in treated silage."

"This represents an important step in achieving EU authorisation of FUMzyme® for use in silages," said Ursula Hofstetter, head of global product management (mycotoxins) at BIOMIN. "We appreciate the rigorous scientific work of the FEEDAP Panel in reaching its conclusions," she added.

Additionally, the opinion noted the safety of FUMzyme®, stating: "The FEEDAP Panel concludes that the use of additive under the proposed conditions of use is safe for target animals, consumers and the environment."

The latest BIOMIN Mycotoxin Survey reveals that fumonisins occur in 80% of over 6,000 corn samples analysed worldwide. Climate change creates a more favorable environment for the spread of Fusarium fungi, contributing to a rise in fumonisin contamination of crops.

"Fumonisins and mycotoxins in general are becoming a concern for the dairy industry," noted Hofstetter. A scientific recent study at the University Piacenza has shown that low levels of fumonisins and deoxynivalenol, another Fusarium mycotoxin, can significantly lower average daily milk yield, reduce dry matter digestibility and contribute to liver damage in dairy cows.

"The challenge for dairy farmers stems from the fact that fumonisins pass through the rumen largely intact," said Hofsteffer. "They have been proven to damage the intestinal epithelium, which decreases nutrient absorption and causes leaky gut. This translates into impaired performance and higher susceptibility to disease."