A lost decade for China's broiler sector
By ERIC J. BROOKS
2016's chicken production is 21% below initial USDA forecasts for this decade. Even under the most optimistic scenario, in 2020 China will produce nearly 20% less chicken than was forecast
Since 2012 broiler inventories have been 'boxed in' between 0.93 billion and 1.35 billion head, with successive crises repeatedly decimating flock numbers
Stagnant broiler meat production played the main role in this decade of flat Chinese feed output
Production now constantly exceeds consumption, whereas they were roughly equal prior to this decade
With consumers switching away from expensive pork, 2015's high poultry demand pushed flocks up to a record 1.4 billion head but the production recovery was aborted by a ban on US grandparent stock
With grandparent stock replenishment falling 50% over two years; this is causing yet another serious downturn in broiler inventories and chicken meat production
While outbreaks depressed consumption over the short-term, measures like the closure of wet markets adversely impacted consumption over the longterm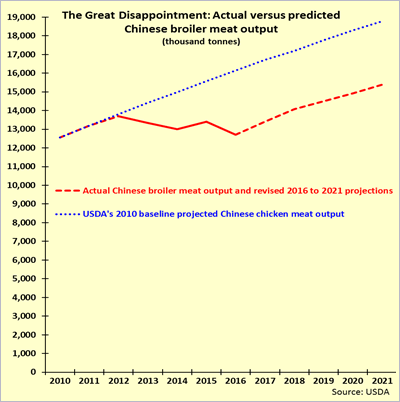 Chinese agribusiness has an illustrious history and its vast, growing markets have a dynamic reputation. By vastly improving the eating habits and nutrition of hundreds of millions of Chinese, its success has been felt in every major global agribusiness market. Which is why you might be surprised to find an article focused on Chinese agribusiness dealing with a protein line whose performance can only be described as disappointing.
Even with China's economy continuing to grow at a 6% to 7% annual rate, the country is producing less broiler meat than before for the third time in four years. 2016's 2.5% drop in output pushes production below 13 million tonnes and to its lowest level since 2010. While a drastic plunge in grandparent broiler stock imports induced this year's production fall, this medium-term performance must be seen within the wider context of what can only be described as a lost decade.
At one time, China's per capita consumption was projected to be 11.5kg by 2015, 11.9kg this year, 13.5kg by 2020 and in the 15 to 18kg range by 2025. Having peaked at 10kg in 2012 and fallen back to 9.5kg since, this optimistic forecast. In its latest forecast, the USDA now only predicts China's per capita chicken consumption to be at best, 10.7kg by 2020.
While the low consumption is a deeply rooted problem, the past decade has seen a multitude of serious, supply-side problems bedevil the industry. The trouble began in late 2012, when Liuhe Group, which supplies chicken meat to several fast food chains including McDonalds, was caught using high levels of supplements including antibiotics and banned antiviral drugs.
That caused a predictable, short-term industry consumption drop and supply recession, with output falling 2.6%, from its 2012 all-time high of 13.7 million tonnes to 13.35 million. Then, just as they thought the worst was over, the first of several waves of bird flu outbreaks hit. Plaguing the industry from 2013 through 2015, the nastiest epidemic caused broiler inventories to fall by 25% in two months in early 2013.
This was then followed by several new food safety scandals, several involving banned supplements; alongside one food safety scare involving the use of expired chicken in McDonalds and Starbucks food products. Not surprisingly, health concerns created by disease outbreaks and food safety abuses made Chinese consumers lose their appetite for chicken. After falling in 2013, new scandals and repeated H7N9 outbreaks depressed production yet another 2.6%, to 13 million tonnes in 2014, jettisoning an expected rebound to 14 million tonnes of output for that year.
Together with the discovery of the use of expired chicken in fast food, the recurring, seemingly intractable bird flu outbreaks changed the psychology of Chinese consumers towards chicken and its consumption: Unlike America's recent bird flu epidemic, these avian flu outbreaks repeatedly jumped into the human population, causing scores of deaths.
Eventually, this necessitated the closing of wet markets, where many domestic breed chickens are purchased for festive occasions such as Lunar New Year or the Mid-Autumn Festival. Alongside the inevitable impact on commercial white feather chicken meat, these measures dampened demand for the 20% of native breed chicken meat that is usually purchased from traditional markets.
Consequently, prior to 2010, Chinese broiler meat consumption roughly equaled and often even exceeded production. Since 2012 however, consumption has consistently fallen short of broiler meat production by 100,000 to 200,000 tonnes. To this oversupply can be added imports consistently exceeding exports by anywhere from 130,000 to 180,000 tonnes annually.
Wedged in between low, disease-and-scandal depressed consumption, stagnant broiler inventories and low broiler rearing returns, the industry has never been able to equal its peak 2012 output of 13.7 million tonnes. At 12.7 million tonnes, this year's output is 21% below the 2010 USDA forecast, which expected this year's production to total 16.14 million tonnes. Instead, China has been overtaken by Brazil and is no longer the world's second largest chicken meat producer.
Last year, record high pork prices caused consumers to switch their consumption away from red meat and towards chicken. The resulting higher broiler rearing returns stimulated production to rebound for the first time since the 2012 peak, rising 3.1% to 13.4 million tonnes.
Unfortunately, the US suffered a bird flu outbreak. Even though it usually procures 90% of its grandparent white broiler stock from America, China banned all US broiler breeding stock imports, lest they cause a resumption of its own recent bird flu woes. This is unfortunate, as China is almost completely dependent on imported grandparent stock to replenish its white feather broilers, which account for over 80% of chicken meat output.
With its main supplier of broiler imports removed from the equation, New Zealand, France, Poland and other suppliers could not make up the difference. –And things were made even worse in late 2015 when France, the largest alternate breeding stock supplier, was itself banned after suffering a bird flu outbreak. As a result, grandparent stock imports fell from a USDA estimated 1.17 million head in 2014, to 694,000 last year and a projected 500,000 in 2016.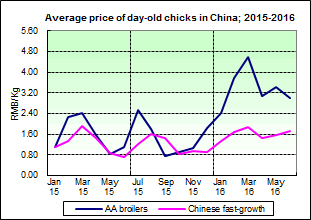 To make up for the loss of grandparent stock and shortage of breeding hens, poultry integrators have resorted to have utilized induced-moulting to extend the breeding span of both grandparent and parent stocks.
At the same time, the breeding of native China broiler breeds has also been stepped up, such that their share of the total chicken meat supply rose from its usual 15% to 20% range to 30% in 2015 and over 40% this year. All this resulted in record high chick prices, particularly AA white feather chicks.
Even so, despite high pork prices boosting poultry rearing returns, declining replenishment is causing a new inventory downturn. After peaking at an eFeedLink estimated 1.4 billion head in 2015, stepped up replenishment of native breeds kept the overall broiler inventory decline to an eFeedLink estimated 8,6%, to 1.28 billion head by the second quarter of this year.
Even so, with production of meat from AA white feather broilers falling 10% this year, overall chicken meat production can't help falling by 5.2%.
Should China fail to lift the ban on US and French grandparent stock, the proportion of chicken meat accounted for by native breeds will rise towards 50%. This is problematic for the industry too: With the pork market downturn, high chicken prices are now a thing of the past. Compared to AA white feather broilers' 1.8 feed conversion ratio (FCR), native breed's 2.5 FCR boosts unit production costs by 35% to 40%. Such a profound boosting of unit costs has of course, a devastating impact on industry profitability.
A change in marketing strategy will also be required: AA chicken meat had a lock hold on the rapidly expanding fast food sector and food processors; native breeds only appeared in wet markets and as pricey, high-end whole chickens at supermarkets. New marketing channels have to opened for native breeds, and their higher wholesale and retail cost is gradually being noticed at the supply chain's retail end.
All this has jettisoned Chinese policymakers' objective of topping out per capita pork consumption slightly above 30kg and making chicken consumption rise to 20kg by 2030. Instead, pork consumption currently stands at 42kg and chicken consumption would be lucky to achieve one-third of this total by that time.
China's declining chicken output and consumption also plays a large role in one of the most unexpected agribusiness surprises of our time: A decade of flat, falling Chinese feed output. At one time, the agribusiness community expected that by the middle of this decade, China's feed output would exceed 210 million tonnes. Instead, 2015's feed output was an Alltech estimated 179.3 million tonnes, some least 15% or 30 million tonnes below expectations.
While recent shrimp disease outbreaks and aquaculture industry problems played a role, the main culprit is the disappointing performance of China's broiler sector. Since peaking near an eFeedLink estimated 58 million tonnes in 2012, broiler feed output fell back to 49 million tonnes by the middle of our current decade.
The current fall in broiler inventories has put China on track to produce 46 million tonnes of broiler feed this year. This is the lowest volume since the previous decade. With this year's poultry feed output at least 11 million tonnes below what was expected for this year, it plays a large role in China's feed industry stagnation.
All this is unfortunate because, from a technological point of view, the industry is hardly a failure. In the way that China's feed industry consolidated and boosted its productivity and FCRs to levels comparable to those of the west has a lot to teach a rival mass market like India.
When China opened its doors to foreign investment in the early 1980s, Thai poultry integrator was the very first multinational approved for investment. The early imports of leading edge technology and competitive environment created by CP's early entry has made broilers the best managed, consolidated and technically up-to-date of China's traditional livestock lines.
Notwithstanding the food safety scandals which are more of an institutional issue, on a technical and macroeconomic level, China did everything right in its poultry sector. The disease outbreaks which followed chicken food safety scandals were an unfortunate coincidence, but there was also bad luck in that, unlike America's bird flu epidemics, the Chinese avian influenza cases killed people.
But having said that, the banning of US grandparent poultry stock is by any measure, a self-inflicted wound. America's bird flu epidemic was non-lethal and is now under control. Moreover, China's imposes avian influenza-related import restrictions on breeding stock are World Organization for Animal Health (OIE) guidelines. These do not require breeding stock bans on low pathogenicity notifiable avian Influenza detection. Or it could merely have banned breeding stock from afflicted US states and farms, as did most other countries.
Instead, in a country that has always been biased towards red meat consumption, this decade of disasters implies that entire new poultry consumption campaigns and marketing efforts.
All the best marketing efforts however, will not work if the stimulation of demand is not met by a supply side response. China is already a net chicken importer and if demand is boosted without making it possible to efficiently produce more chicken meat, only foreign exporters will win. The longer China goes without removing the bans on American and French AA white feather breeding stock, the longer the industry will be mired in stagnation.


All rights reserved. No part of the report may be reproduced without permission from eFeedLink.