July 16, 2012
China - Update on recent industry developments (week ended Jul 13, 2012)
Note: Click on story title on map to read contents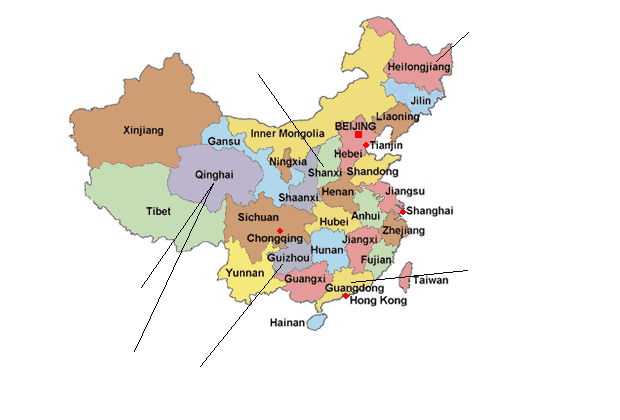 ---
Shanxi's largest dairy cattle breeding farm completes construction
Sifang Gaoke Agriculture and Animal Husbandry's completes construction of Shanxi's largest dairy cattle breeding farm in Datong. The RMB180-million farm occupies an area of 600 mu with 5,000 Holstein cows milked, using rotary milking equipment to produce 27 million kilogrammes of fresh milk annually.
---
Heilongjiang invests RMB2.5 billion in 100,000 pig breeding base, biogas project
Heilongjiang's Haerbin Bayan invested RMB2.5 billion to build 100,000 commercial pig breeding base and a supporting biogas project.

The construction has started in June this year. Upon completion, there will be a pig breeding base, an annual 300,000-tonne feed processing facility and 1.5-million live pigs and meat processing facility with supporting amenities: Agriculture and Animal Husbandry Training Promotion Center, disease prevention and control center, information management center and cold storage logistics center. The estimated annual output value will reach RMB6.05 billion.
---
Guangdong Wens Food Group builds 20-million broiler breeding base
Guangdong Wens Food Group signed an investment agreement with Yingde City People's Government to build 20-million broiler breeding base, situated at Yingde, Qingyuan with a total investment of RMB120 million.
---
Guizhou's largest beef cattle slaughtering-processing facility starts operation
Zunyi Yuniu Industry Co. Ltd's largest beef cattle slaughtering facility has started operations in Zhengan county, Guizhou. The RMB120 million slaughtering facility occupies 3000 sq. metres, uses American and German slaughtering equipments, European-style slaughtering and processing line to slaughter 400 cattle daily, producing 40 tonnes of chilled beef.
---
Zangbao Resource starts 600-tonne dried yak meat production base in Qinghai
Qinghai Zangbao Resource Co Ltd's 600-tonne yak meat production base starts operation in Qinghai's Huangyuandangaer folk craft industrial park.

The RMB25 million industrial -tourism base comprises a museum, an exhibition centre and a restaurant to expand the company's sales channels and to develop Qinghai's tourism industry.
---
Cococili builds largest Tibetan yak-meat processing line in Qinghai
Cococili Company invests RMB240 million in China's largest Tibetan yak meat processing line in Xining, Qinghai. The 10,000-tonne integrated operation is expected to produce 18,000 tonnes of yak meat, occupying about 10% of yak meat produced in Qinghai. Once fully operational, the modern automated production line is estimated to achieve RMB1 billion in output values. It will integrate food, travel, lodgings and entertainment businesses to become an industrial-tourism hub.
---