June 19, 2019

BioMar, Chinese trout producer sign agreement for high performance fish feed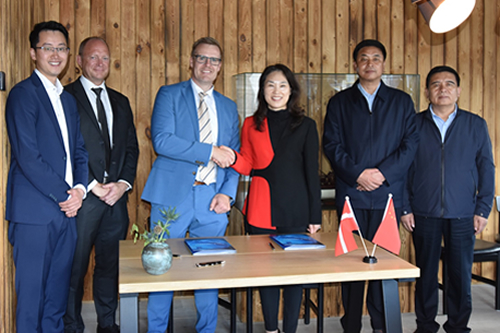 In BioMar Brande Denmark, a Chinese delegation led by Yan Jinhai, the vice governor of The Peoples Government of Qinghai Province, gathered to witness the signing of a cooperation agreement between BioMar and Minze Long Yang Xia, the largest trout farmer in China, to supply high performance fish feed with almost half the environmental footprint compared to local Chinese feed.

Over the last two years, the BioMar BioFarm teams of China and Denmark have been collaborating closely with Long Yang Xia on technical onsite trials that consider the daily conditions of the water and the fish. The ideal recipe solution that was discovered considered the parameters of growth performance and fish welfare while limiting the discharge of nitrogen and phosphorous into the local ecosystem.
"Our extensive knowledge on nutritional requirements of trout as well as a strict selection of raw materials according to their characteristics and contribution to sustainability impacts, have together made it possible to discover an optimal feed recipe and feeding strategy. Through the onsite trials, we have been able to demonstrate a better total performance", said Carlos Diaz, CEO of BioMar Group.
Creating a low impact feed recipe by varying the ingredients plays a crucial role in reducing a farmer's overall environmental footprint, BioMar said.
Conventional aquaculture feed is responsible for up to 80% of the environment impact of raising fish due to feed ingredients and production operations accounting for most of the mass energy flows in the value chain.
The Chinese government is rolling out a new guideline to accelerate green development of its aquaculture industry, which outlines a set of policies to reduce fish farmers' overall environmental footprint and promote transformation of the industry.
"The importance to our environment for protecting ecosystems can't be underestimated. Long Yang Xia is leading the way in the Chinese market by significantly reducing their environmental footprint with a diet created by BioMar that delivers on growth performance but is also considerate to the local ecosystem", said Diaz.

Long Yang Xia is a green pioneer in China who has also invested in modern aquaculture technologies. It is expected that other farmers in the Chinese market will look to more sustainable feed solutions as the Chinese government implements their new initiative, Green Development of Aquaculture.

- BioMar