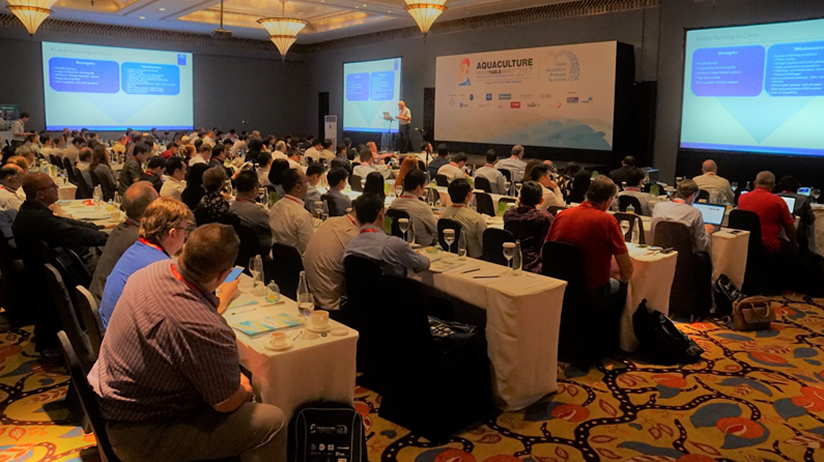 TARS 2017: A panoptic peek at fish farming's sustainable, marketing driven future
Sustainable intensification, new feed formulations and consumer-centric communication strategies keynote this year's event.

by Eric J. BROOKS

Held in Bali, Indonesia's Conrad Hotel and organized by AQUA CULTURE Asia Pacific and Corporate Media Services, 2017's edition of The Aquaculture Roundtable Series (TARS 2017) explored a wide array of aquaculture health, supply chain and marketing challenges. Themed "Finfish Aquaculture: Strategies For Growth", it painted an ecologically friendly but challenging future where change is the only constant.

An opening speech by Einar Wathne, President of Cargill Aqua Nutrition Norway emphasized that," "Fish health affects more than production cost; it is fundamental for market access and license to grow," adding that, "Transparency is a prerequisite from feed to plate." All this is part of a larger, emerging challenge called "reputation management", which he considers, "A critical skill in a transparent market with speed and borderless information." Wathne cautioned that cost based Asian producers may find it difficult to adopt this new mindset. It means that, "We have to go to our partners in the supply chain and address issues they may not want to talk about." These encompass everything from feed ingredient quality to eliminating the use of child labour.

Having put everyone's attention on the finfish supply chain, four successive speakers explained the challenges of whitefish farming in Indonesia, Malaysia, China, Vietnam and the Mediterranean Sea. Laura Khor Li Imm, Quality Control Manager at Malaysia-based KS Aquaculture contrasted the rising ineffectiveness of conventional aquaculture disease control practices with the challenge of moving to more sustainable methods.

On one hand, "Previously at our older farms we had antibiotic representatives trying to promote their products but under the certification scheme, we have to report if we are using antibiotics and follow an SOP". On the other hand, "When ponds reach 40 years of age, bio-waste accumulation, high bacterial loads and disease outbreaks become increasingly problematic."

In his survey of Indonesian whitefish farming, Erwin Suwendi, Head of Nutrition and Quality Control at Japfa's Aquaculture division said that a linear relationship between intensification and production growth broke down after 2015 because, "Local farmers do not have standard operational procedures and are not familiar with a scientific approach to solving problems."

The misapplication of modern farm technology was further expanded on by Niels Alsted, BioMar's Business Relations and Technical Director. Several years of working in China made Alsted conclude that its aquaculture sector, "Is caught in a negative spiral" of self-reinforcing expectations. Aware that mills "water down" aqua feed, producers demand low prices. Haunted by the expectation of low prices, feed mills economize by using poor quality ingredients.

Poor fish performance re-enforces the loss of confidence and makes the whole cycle repeat itself. Breaking this negative spiral requires, "A change in focus from feed price/producer cost to production performance" and that, "Antibiotic use be done with transparency and documentation." Alsted also concurred with Wathne that communication and branding strategies are required to address growing consumer awareness of these issues.

Olivier Decamp, INVE Thailand's Product Manager for Farm and Feedmills pointed out that the misapplication of modern technology went beyond aqua feed and spanned the entire supply chain. Pointing out that, "You can have the best genetics, but if you mess it up in the hatchery, what is the point?", Decamp made it clear that for new approaches to be effective, they must be applied across the entire supply chain.

Hervé Lucien-Brun, a consultant with Jefo Aquaculture then gave an example of how an industry wide mindset change played a vital role in keeping European sea bream and sea bass economically viable during a decade of severe price deflation. Alongside a scientific approach to minimizing use of expensive inputs like fishmeal, it entailed, "Strategies that producers have adopted to remain competitive such as reducing the costs of production, marketing and branding."

Marketing and branding's natural synergy with downstream processing was demonstrated by Jonathan Wilson, Executive Director of Vietnam-based GODACO. Warning that, "You must be able to design a food product; not just freeze a fish fillet", Wilson said that Vietnam's export-driven pangasius farming, "Is not sustainable as the country grows to a middle-income level without productivity gains and/or downstream development." Out of 9,000 tonnes of raw Vietnamese pangassius imported into Britain, 7,000 tonnes underwent value-added processing into frozen ready-to-eat meals. Jonathan Wilson concluded, "That value added can be done in Vietnam" and that, "Food technical knowledge is a critical success factor."

Having emphasized the importance of achieving consumer-approved sustainability, the afternoon expounded on technical means of achieving this goal. Philippe Sourd, Global Technical Sales Director for Aquativ France explained how palatant influencing factors such as amino acids, fats or carbohydrate compounds interact with everything from water temperature to the number of taste buds per species. Some catfish species for example, have 12 times more taste buds than humans. On the other hand, salmonid and snakehead fish, for example, have a far simpler palatant needs.

Francisco E. Montero, Senior Lecturer at Spain's University of Valencia, explained that conventional parasite control methods are being undermined by, "The development of resistance and increasing restrictions on the use of chemicals." After describing various parasite types including fungi, bacteria, viruses and one-celled animals, Montero explained science-based methods of pathogen control that work with nature rather than fight against it.

Montero's conclusions were later complimented by those of French Aquaculture Consultant Alain Michel, who stated that, "Our new paradigm is not to kill the pathogens, but to learn to live with and control them." For Michel, "The objective is to maintain in a controlled way, pathogens at a low level… to allow the immune system to learn about them and induce an automatic live vaccination."

Such nature-based parasite control requires fish health optimization as much as it does an ecologically balanced environment. Thailand-based Aquaculture Nutrition Consultant Thomas Wilson made clear that achieving such an outcome requires a solid foundation of high quality, low polluting feed. He also illustrated some paradoxical misconceptions about sustainability. For example, while activists demand the elimination of fishmeal from aqua feed, Wilson stated that, "Greater use of plant ingredients or by-products from farmed animals increase the aqua feed water footprint, shifting the burden over to agricultural producer countries."

Wilson gave scientific explanations of how all efforts to increase intensification can be undone by low quality inputs. Pointing out numerous biochemical pathways by which poor feed quality induces everything from poor growth to disease outbreaks and a shortened pond life, Wilson stated that, "I hope we will stop using the words 'intensive aquaculture' and 'low-cost feed' in the same sentence."

Having established the critical role feed quality plays in successful intensification, the rest of the afternoon was devoted to this topic. Dominique Bureau, a fish nutrition researcher at Canada's University of Guelph asked, "How can aqua feed manufacturers approach these challenges?" Bureau then gave a formal, step-by-step approach to, "Customizing a feed quality solution to your species and fish farm's unique circumstances. "

Luís Conceição, CEO of SPAROS Lda explained the importance and benefits of designing high performance larval feeds. The day ended with BIOMIN Product Manager Michele Muccio discussing the challenges of replacing fishmeal with plant-based alternatives, describing each substitute input's mycotoxin contamination issues.

Discussions on reformulating aqua feed and boosting its quality continued into the conference's second day. Anant S. Bharadwaj, Nutrition Director for Integrated Aquaculture International (iAqua) USA noted that, "Replacing fishmeal has been notoriously difficult" and resulted in side-effects such as "growth depression, reduced feed intake, compromised gut integrity and poor nutrient utilization." Bharadwaj, who did his PhD thesis in fishmeal free diets, surveyed emerging fishmeal alternatives, their deficiencies and side-effects. Noting that it is more difficult to eliminate fishmeal from omnivore diets than carnivorous species like salmon, he declared it is now possible to raise tilapia, carp and catfish with no fishmeal.

For carnivorous species, Bharadwaj held out the hope of formulating an alternatives based on poultry meat, soymeal and palatants while using yeast or algae to replace trace components such as omega 3 fat. Even so, his presentation clearly implied that much work remains to be done. Hence why, "Despite advances in nutrition knowledge and feed manufacturing, fishmeal continues to be used at relatively high levels in fish feed formulations."

Having fully explored the challenges facing fin fish, Bent Pedersen, DSM's Global Category Manager for Aquaculture gave an overview of how the Norwegian salmon farming model succeeded. Pedersen focused on how constantly improving salmon feed conversion ratios, higher grow out weights and replacing antibiotics with vaccines could benefit Asian aquaculture lines.

Pedersen also contrasted the natural basis of fish farming with industrial consumer perceptions of the industry. While previous development was based on, "supply driven, bulk market generic marketing", future success requires, "communicating with consumers." For Pedersen, value-added branding requires, "developing appropriate, successful communication and company specific marketing."

A vibrant, comprehensive, two-day conference was cap stoned by breakout sessions on production efficiency, marketing strategy, feed and fish performance. By that time, one could see profound implications and new industry directions that extend far beyond this event's fin fish parameters. After five years of production challenges and marketing bottlenecks, TARS 2017 expounded innovative ways of growing, processing and branding fish that will become common place in the 2020s.
The Aquaculture Roundtable Series 2017 - Finfish Aquaculture: Strategies for Growth
Date: August 16-17, 2017

Venue: Bali, Indonesia

Organiser: Aqua Culture Asia Pacific and Corporate Media Services

Tel: + 65 6327 8825 / Fax: + 65 6223 7314

Email: conference@tarsaquaculture.com

Website: http://tarsaquaculture.com/

The Aquaculture Roundtable Series (TARS) 2017 will look at the growth potential of the finfish aquaculture industry in Asia, develop strategic approaches towards market-driven production, and address challenges such as food safety and environmental standards; industrialization, integration and production systems; genetics, health and diseases; risk management and investment opportunities. The meeting aims to promote positive image building and improve relationships and communication among key players in the finfish aquaculture sector – CEOs, geneticists, farm managers, integrators, feed producers, technologists, investors, marketers as well as governments, NGOs and academia.
The agenda for TARS 2017 will feature 16 plenary sessions with presentations by experts from the industry and academia; Hard Talk with Finfish Farmers on business and farming models, challenges, successes and opportunities; and 3 breakout roundtable sessions that will focus on Strategies for Growth, namely Production Efficiency & Industrialisation; Marketing, Image & Sustainability; and Performance & Functional Feeds. The conference will end with panel discussions on outputs from the breakout sessions.
We invite organisers of industry-related exhibitions, trade shows, product seminars, technical symposiums, training sessions, or any industry-related event, to make your announcements on eFeedLink. Posting is free-of-charge. Please submit your notice of events to events@efeedlink.com.