American broilers: A cushy domestic market followed by an export recovery
By ERIC J. BROOKS
Despite a high US dollar, the loss of Russian, Chinese and South Korean market plus a bird flu epidemic, unexpectedly strong domestic consumption, high prices boosted output strongly over the past two years
China, which once bought hundreds of thousands of tonnes of US chicken annually, is being taken to the WTO, as America alleges its import barriers are illegal under international law
Lower chicken prices, slower growth in the domestic market looks to be counterbalanced by a pickup in exports over the next year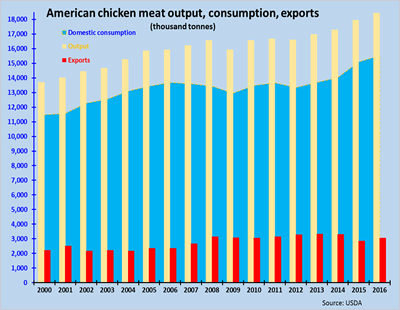 After two years of misfortune, things are finally turning upwards for America's broiler sector. The troubles started in mid-2014 when Russia, which was once US poultry's largest export market, banned all US meats from its market. Then, just as the US dollar's 40% rise against the Brazilian real was making hard to compete on cost, a succession of bird flu outbreaks wreaked havoc on its broiler trade.
A few countries like South Korea and China responded with a comprehensive ban on all US broiler meat imports. Many others imposed temporary 60 or 90 day bans on poultry exports from afflicted US states. Consequently, from their 2013 all-time high of 3.332 million tonnes, broiler exports fell by a 13.4% over two years, to 2.886 million tonnes in 2015.
Partly because there were no human bird flu deaths, partly because importing nations fear that America will avenge any poultry trade bans with trade barriers to her own market, the US did not suffer the fate of Thailand, where an avian influenza resulted in it being banned from major world markets for eight years.
With the major exception of China and Russia, most of the export bans were temporary and with the bird flu epidemic's end have been lifted. This year, with the US dollar falling slightly in value and Asian poultry demand rising sharply, exports are rebounding 5.9%, to a USDA projected 3.057 million tonnes -though due to the ban imposed by South Korea, this was revised down from the initially estimated 3.22 million tonnes.
Because the epidemic was contained without human bird flu cases or the need to undertake massive, country-wide poultry culling, the US market's poultry supply and demand fundamentals emerged from the crisis unscathed. In fact, with red meat prices hitting record levels in 2014 and 2015, consumers switched some of their meat consumption to poultry.
With America's population rising only 1.5% annually, domestic consumption rose 2.5%, from a USDA estimated 13.69 million tonnes to 14.03 million tonnes 2014, and a whopping 7.6%, to 15.10 million tonnes in 2015 -and this was revised from the previously estimated 6.9% increase. This year, with red meat prices falling, it is still expected to increase 2.8%, to a record 15.518 million tonnes and this too, has been revised upwards from the previously projected 15.233 million tonnes. In all, domestic consumption will have risen by 13.3% over the three years when export volumes declined, thereby making up for foreign market losses.

With domestic consumption accounting for nearly 83% of demand, the two year, 1.4 million tonne or 10.3% rise in domestic chicken meat consumption easily exceeded the 0.343 million tonne drop in exports. Hence, over the two years bird flu impacted America's poultry sector, overall broiler meat demand actually rose 1.43 million tonnes or 5.6% from 2013 to 2015. For a large, advanced, fully mature market such as the US, this is a healthy demand increase in even the best of times, let alone during a bird flu epidemic.
With demand rising and costly red meat supporting chicken prices throughout the bird flu crisis, production responded by rising through the bird flu epidemic years. It rose by 1.9% from 16.98 million tonnes in 2013 to 16.30 million tonnes in 2014. With US consumers taking no notice of bird flu during its peak year, output rose another 3.9% in 2015 to 16.97 million tonnes.
With domestic demand up by 1.827 million tonnes, it easily accommodated the 1.47 million tonne or 8.1% production increase over these same past three years, two of which were pockmarked by bird flu and Russia's economic embargo -the latter on its own causing a 138,000 tonne drop in exports in 2015.
This strong performance and resilience to market losses was actually predicted in advance by Jim Sumner, president of the US Poultry and Egg Export Council. In 2014, less than a year before bird flu hit, he stated that, "This record year demonstrates that the U.S. industry has become much more diversified and is no longer dependent on one or two export markets. Only a few years ago, losing a market like Russia would have been devastating. Now, it barely caused a ripple." -and indeed, compared to other embargoed, bird flu hit exporters, the US poultry sector did indeed sail through the crisis relatively unscathed. With bottom lines almost untouched, the only apparent side-effect was that exports share of production fell from its five-year average of 19% to 16% last year.
Alongside Russia, China is the other major export market where a ban has resulted in the total loss of a one-time major export market. From 613,000 tonnes in 2009, broiler exports to China (including chicken paws) plunged to 85,897 tonnes in 2010, when China slapped punitive tarrifs in retaliation for an American barrier against its car tire exports.
After bottoming out around 30,000 tonnes in 2011, broiler meat shipments to China rebounded back to 95,000 tonnes before 2015's bird flu-inspired ban made them plunge to under 10,000 tonnes last year and virtually nothing this year. On the other hand, Brazil, which used to only supply a tenth of China's broiler meat imports, now supplies over 80% or 215,000 of the 255,000 tonnes China will import this year.
Similarly, while a high US dollar had caused the US to lose half its once dominant share of South Korea's market for imported chicken meat. Things were made worse by South Korea's comprehensive ban following bird flu. From 80,000 tonnes in 2011, US poultry exports to South Korea fell to 10,000 tonnes in 2015. By comparison, Brazil's exports nearly doubled, from 115,000 tonnes in 2015 before bird flu hit America's poultry sector to 225,000 tonnes last year.
At the same time however, the US is also taking action to at least partly restore its chicken meat's overseas market position. In September 2013, the WTO had ruled that China's restrictions on American chicken meat imports were unlawful and for a time, exports to that country surged. In July 2014 however, China made a counterclaim that its restrictions on US broiler imports were justified, and this was followed by a bird flu justified near comprehensive ban on all shipments.
In May of this year, US trade representative Michael Forman announced that the United States is mounting a challenge Chinese Government's failure to bring its antidumping and countervailing duties US chicken broiler meat into compliance with WTO rules. If the WTO rules in America's favor, it could result in the reopening of China's market and a large boost to export prospects within one to 1.5 years.
Going forward, while industry conditions are improving, returns are falling. Led by a drop in breast meat (which accounts for the biggest share of domestic consumption), US chicken prices fell by 30% from the third quarter of 2015 through the first quarter of this year.
On one hand, with bird flu over, the US dollar trade weighted index has fallen by 6% since the start of this year. Although this brightens short-term export prospects, with chicken meat prices falling in tandem with the deflation in beef and chicken prices, this is cutting profit margins in its domestic market, which accounts for over four-fifths of its demand volume.
Nevertheless, even with its home market returning to lower prices and a normal, slower growth rate, with the US dollar having nowhere to go but down over the next few years, its poultry sector should gradually regain the competitiveness it lost over the last few years. With Brazil's own feed costs rising faster than those of the US, within a year, the number two poultry exporter should see its share of the world market stabilize and its export growth keep pace with that of its competitors.


All rights reserved. No part of the report may be reproduced without permission from eFeedLink.