May 24, 2019

African Swine Fever Infects The World Pork Market
Exports skyrocket, production nosedives and trade flows change as the world's largest swine market faces a 13 to 19 million tonne pork shortfall.
By Eric J. Brooks
After several years of stagnating in the 8.30 to 8.45 million range, China's African Swine Fever (ASF) epidemic will stimulate the steepest rise in world pork exports -and sharpest fall in swine meat output -seen in decades.
ASF's radical impact can be seen in world pork production estimates. Initially, the USDA projected world pork output to rise an ASF constrained 1.3%, from 113.1 million tonnes in 2018 to 114.6 million tonnes this year, with China accounting for over 54 million tonnes of this total.
With Rabobank now estimating a Chinese pork production crash of 25% to 35%, China's 2019 output fall to 40 million tonnes or less cannot be offset by increased output from other nations, as may exceed America's annual pork production by nearly 50%. The number of hogs killed by ASF exceeds the combined hog herd total for America, Canada, Brazil, Spain and Germany combined -and to this may be added a million or more hogs that could die from ASF's recent spread into Vietnam.
In the rest of the world, non-Chinese pork's 2019 output can at most be collectively boosted by only an additional one million tonnes above its already forecasted 1.7%, 1 million tonnes increase. An extra 2 million tonnes is an immaterial counterweight to Rabobank's recent projected 13 to 19 million tonnes 2019 Chinese pork output decline.
We can thus expect world pork production to nosedive an eFeedLink estimated 11% to 14%, into approximately 96 to 100 million tonne range. Rather than producing 50% of the world's pork, China's share of its output will be approximately 40%, its lowest proportion in decades.

To make up for China's yawning supply shortfall, the USDA projected world pork exports to rise by 7.5%, from 2018's 8.446 million tonnes to 9.083 million tonnes. -but this estimate was made before the Chinese ASF epidemic's true extent was known.
At that time, the USDA revised its China pork import estimate to 2.2 million tonnes. Now we know that instead of a 5.5 million tonne fall in Chinese pork production, a 13 to 19 million tonne decline is more realistic. One one hand, there is simply not enough pork in the world to bridge China's huge gap between supply and demand.
On the other hand, it is reasonable to revise China's projected pork imports into the 2.5 to 3.0 million tonne range. As a result, rather than 9.083 million tonnes, 2019 world pork exports may rise a whopping 11.3%, to a conservatively estimated 9.40 million tonnes.
This, in turn, will have bullish implications for world pork exports, with most additional supplies coming from North America, South America or a profit-driven change in existing trade flows. In the case of North America, most of the additional pork supply will come from Canada, as the world's second-largest pork exporting nation is not constrained by America's ongoing trade war with China. March 2019's Canadian pork exports of 33,456 tonnes were nearly 80% above 18,628 tonnes of the same month a year earlier.
On one hand, due to its small hog herd size and capacity constraints, Canada cannot take full advantage of China's blacklisting of US pork imports: Canada can only increase total 2019 export volumes by slightly over 100,000 tonnes; from the USDA projected 1.39 million tonnes to around 1.5 million tonnes. That still makes for a fine 12.8% increase from 2018's 1.33 million tonnes.
On the other hand, while total Canadian pork exports can only rise by slightly over 100,000 above the previous forecast, Canada can boost shipments destined for China by 200,000 tonnes or more in two ways. First, by exporting less pork to Mexico (where US pork will take its place) and sending that pork to China, as the latter will pay a higher price for it. Second, Canada will import lower-cost US pork for domestic consumption while exporting Canadian pork that would normally be domestically consumed to China, where it fetches significantly higher revenues per kilogram.
It is due to the strategic re-direction of trade flows that will see US pork exports rise, even if it suffers trade-war market share losses in China. US pork will be substituted in place of Canadian pork in Mexico and Canada, as the latter's pork takes up a significant part of its former 7.2% share of China's pork import market.
On one hand, the trade spat between America and China seems destined to block anticipated US export growth to that country: After importing over 100,000 tonnes of US pork (despite its 62% import tariff) in the first three months of 2019, on Beijing's orders, a very large pork import order was canceled in May.
On the other hand, due to their serious domestic supply shortfall, Chinese buyers are expected to outbid Japanese and Korean importers for higher quality but increasingly scarce European Union pork, most of it from Spain or Germany and to a lesser extent, Netherlands, Denmark, Ireland and Poland. We therefore expect Korean and Japanese buyers to substitute additional US pork imports in place of European supplies diverted to China.
With China's strong import demand diverting European, Brazilian and Canadian pork from its traditional shipment destinations, America's market share gains in other nations will equal or outweigh its China market losses.
Rather than the healthy 5% increase initially projected, US pork exports are now projected to rise 6.3%, from 2.663 million tonnes in 2018 to 2.832 million tonnes this year -but due to the ongoing trade war, higher Chinese imports will not grow US exports by as much as those of other nations.
In this situation, we do not expect closing US pork inventories to stay stable near 250,000 tonnes but fall by up to 150,000 tonnes to take advantage of strong demand. This is very fortunate for US pork producers, which were forecasted to boost pork production by an unsustainable 4%+ even before the ASF crisis's full extent was known.
Surprisingly, with the ASF shortfall getting worse in H2 2019 and US pork production growing by 4% to 5% this year, excessive US pork production and inventory drawdown will enable US pork exports to exceed USDA expectations and jump a whopping 10% to 12%, to a record-setting 2.9 to 3.0 million tonnes.
The one major pork supplier that cannot take advantage of China's swine meat shortfall is the European Union, whose 28 nations are forecast to collectively export up to 3.25 million tonnes of pork this year. Superficially, this is an impressive
Europe's pork export history essentially has three chapters. The first is European, the second Russian and the third one Chinese. Prior to 2000 most export growth was between fellow EU members. Even today, over 80% of the exports of major EU suppliers such as Germany or Spain are shipped to fellow EU members.
Among non-EU destinations, before the 2010s Russia absorbed a large but declining proportion of its exports, as Putin's nationalist government pursue self-sufficiency in all major meat lines. After Russia banned all western meat imports in mid-2014, a large proportion of European meat exports were re-directed to East Asia, particularly China, just as it started becoming the world's top pork importer.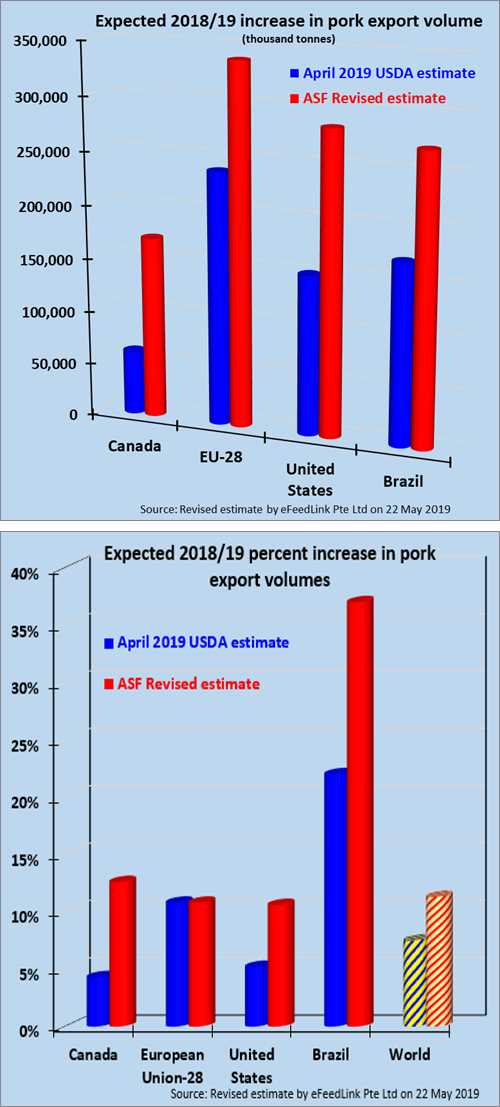 Fortunately for Europe, the closing of Russia's market coincided with China becoming the world's top pork importer. Unhindered by American trade war politics or Brazilian meat quality issues, the mid-2010s saw Europe become China's pork supplier of choice: From a mere 12,000 tonnes in 2007, EU pork exports to China grew exponentially, to a USDA estimated 495,000 tonnes by 2014
By 2015 with Russia's market closed off and Chinese demand booming, the EU exported 750,000 tonnes. The next year in 2016, EU exports to China almost doubled, totaling 1.4 million tonnes, when China imported a record 2.18 million tonnes of pork, before falling back over to 1.56 million tonnes in 2018, as China increased its pork self-sufficiency.
-
-But Europe has a dilemma: 2019 Chinese pork imports are headed to a record 2.5 million tonnes or higher -but EU producers cannot take full advantage of this. The USDA is forecasting EU pork exports of 3.25 million tonnes. While that is 10.8% more than in 2018, it is just 3.8% over 2016's record volume -with output having risen only 1.5% since 2016. Despite its strong world market presence, Europe's pork market is self-contained, keynoted by stagnant demand, with most nations coming off decades of falling hog inventories.
Hence, the EU's large but inelastic pork supply means that when its nominal, small production changes are challenged by high export demand, its swine trade becomes a zero-sum game: Instead of stimulating production growth, its pork shipment destinations must be bid away from wealthy Korean or Japanese buyers. Moreover, Europe's ability to boost exports 10.8% above last year's levels depends on whether it can contain its own ASF outbreaks. It assumes that the Continent's per capita pork consumption will continue falling, thereby freeing up an additional 100,000 tonnes+ for export.
At a time when China's pork import is rising by millions of tonnes, Canada and the US must partially rely on redirected shipment destinations and Europe lacks spare capacity, can any nation's collectively provide a rapid, elastic supply response of several hundred thousand tonnes additional pork that the EU is capable of supplying?
The answer is yes, and led by Brazil, which enjoys both low production costs, an abundance of inputs, low domestic demand growth and a highly elastic, demand-sensitive supply responses. Towards this end, China had already approved many new Brazilian pork processing plants for export over the past two years.

Hence, it is not surprising that last year saw Brazil's pork exports to China nearly triple, up 210% from 64,500 tonnes in 2017 to a USDA estimated 200,000 tonnes last year. This year, high prices will motivate Brazilians to boost output slightly above the USDA estimate of 3.975 million tonnes to a record 4.0 million tonnes. With the USDA estimating Brazilian pork consumption at slightly under 3.10 million tonnes, nearly 900,000 tonnes of Brazilian pork is available for export. That is 144,000 tonnes more than last year, which is destined for China.
To this sum of pork destined for China can be added another 100,000 tonnes of Brazilian pork which will probably be re-directed from Russia and several Asian markets by higher Chinese prices. All these imply that in 2019, Brazil should export 400,000 tonnes or more pork to China, overtaking Spain, Germany and Canada to become its biggest foreign supplier. It also means that rather that should high demand cause Brazilian pork production and inventory drawdowns to exceed expectations, China may help Brazil's pork export volume exceed a million tonnes for the very first time.
Over the short-term, all the above predictions are highly uncertain. ASF's final actual impact on China, its possible spread to Europe or America, swine sector conditions in exporting countries and trade negotiations could all deeply alter the above export forecasts.
Over the longer-term however, China will probably take until sometime between 2022 and 2025 to recover from ASF. Hence, ASF's impact on world pork exporters and the above-mentioned re-direction of swine meat trade flows are likely to become permanent. Hence, we need to carefully observe which pork exporting nations emerge winners and losers from China's ASF crisis. For now, the circumstances appear to solidly point in Brazil's favor.


All rights reserved. No part of the report may be reproduced without permission from eFeedLink.