How disease and recession rebalanced world swine meat supply, demand and trade
ASF decimated Asian hog herds more than it did consumption. Covid-19 dented western pork consumption, but not its production. The net result is a huge, China-centric increase in the global swine meat trade.

By Eric J. Brooks
It's a bad time to be an Asian hog farmer, a challenging time to farm swine in the Americas –but an interesting time to be a pork trader.

At 94.33 million tonnes, estimated 2020 world pork production is down 7.5% from last year's USDA estimated 101.97 million tonnes and 16.5% below its 2018 peak of 112.93 million tonnes. By the end of 2020 consumption will also have fallen 16.7% from 2018's 112.166 million tonnes to a USDA projected 93.4 million tonnes in 2020.
Although 2020's coronavirus pandemic slowed down Asia's recovery from ASF, it is turning out to have a deeper impact on the domestic consumption of western pork exporters –but not their production. Consequently, while pork consumption and production have both fallen by more than 16% in two years, world pork exports have skyrocketed by 27.1%, from 2018's 8.25 million tonnes to USDA projected record 10.48 million tonnes this year.
African Swine Fever (ASF) kick-started this new market reality by reducing China's swineherd by nearly 60% over 18 months before the start of 2020. It severely disrupted China's 2019 pork production (-22%) by more than it did consumption (-19%). With China traditionally accounting for half the world's hogs and 50% of global pork consumption, this had a globally disruptive impact.
ASF also reduced swine numbers by 10% to 20% in many Southeast Asian nations including Vietnam, Philippines, Cambodia, and Myanmar. In each case, pork supply fell by more than demand.
Thus, to China's 1.4 billion people must be added another 250 million Southeast Asian consumers who were similarly impacted by ASF. The resulting supply-demand gap was bridged through a combination of government pork reserve sell-offs and a massive inflow of foreign pork.

As a result, China's pork imports skyrocketed 68%, from 2018's 1.457 million tonnes to 2.451 million tonnes in 2019. Going forward, Chinese pork demand rebounded when policymakers "switched back on" China's heavy industries following the Q1 lockdown –unfortunately China's swine sector is too damaged to respond to official pronouncements.
On one hand with no cure for ASF on the horizon, Chinese swine production was already falling behind consumption. China's early 2020 lockdown then disrupted hog supply chain logistics, making matters worse. Consequently, Covid-19 dented both China's projected 2020 pork consumption (-16%) and production (-19%) but is having a stronger impact on the latter.
On the other hand, China's economy is rapidly recovering from its steep early 2020 recession, with employment, income, and consumer demand rebounding strongly. To prevent record high swine meat prices from rising further, Beijing's policymakers allowed an unusually large pork import volume in the period before and after Lunar New Year.
This caused hog prices to fall 6.7% in April. With hog farming revenues falling and piglets costing three times more than three years ago, this is holding back the restocking of herds at China's numerous, small, undercapitalized hog farms.
It also means that after falling 4.5% from March levels in April, the ongoing fall in Chinese pork production will continue throughout Q2.
All this can be seen in China's Q1 2020 swine sector statistics. Hog slaughter totaled 131.29 million head, 30%, or 57 million head fewer than in Q1 2019. Similarly, at 10.38 million tonnes, China's pork output was down 29% from 14.47 million tonnes in the first three months of last year.
Even so, ground-level reports indicate that Chinese pork demand is already rebounding. As a result, after rising 68% last year, China's pork import volume is projected to increase by another USDA estimated 57% this year to 3.85 million tonnes; and this might be too conservative an estimate.
–Even in Q1 when Covid-19 made China's economy contract 10%, pork imports jumped a whopping 118% on-year, totaling 1.2 million tonnes –considerably more than the 551,000 tonnes imported in the first quarter of 2018. While importing 1.2 million tonnes of pork during Q1, Beijing also released 0.33 million tonnes of pork from national reserves.

This can be seen in the recent trade figures released by the European Union and top pork exporting nations. The EU supplied 61% or 732,000 tonnes of China's Q1 pork imports with Germany, Spain, and the Netherlands all supplying between 210,000 and 270,000 tonnes each. With Europe in severe recession and its domestic meat consumption falling, 2020 EU pork exports are projected to rise by 12.7%, from 2019's 3.55 million tonnes to 3.9 million this year.
Shipping 290,000 tonnes in Q1 2020, second-ranked exporter Canada is now China's leading pork supplying nation, shipping 16% or 40,000 tonnes more than the 250,000 tonnes it supplied in the first quarter of 2019.
While poor Canadian swine rearing returns restrict its exporting potential, it should put Canada on track to export 1.4 million tonnes of pork in 2020, with 42% or 588,000 tonnes going to China. That is 9% more than it did in 2019. It would be the first time Canadian pork's top export destination was not the United States.
With China honoring its Phase 1 trade agreement commitments, Q1 2020 US pork exports shipped to China totaled 216,000 tonnes, 300% more than what was shipped in Q1 2019. They accounted for 42% of Q1 US pork exports, which totaled 668,000 tonnes –50% more than Q1 2019's volume.
By April 2020 American pork exports to China totalled 280,507 tonnes. With Chinese pork demand rebounding and domestic output floundering, by mid-year, they may already have broken their 2019 full-year record volume of 575,000 tonnes. It puts America on track to export a USDA estimated 3.4 million tonnes of pork, with one-third or 1.13 million tonnes going to China.
Similarly, Brazil Q1 2020 exports totalled 224,600 tonnes, 27% more than the 176,850 tonnes shipped in the first three months of 2019. Trade growth was accounted for by exports to China, which grew from 34,167 tonnes in Q1 2019 to 97,867 tonnes in the first quarter of 2020.
By April 2020 Brazilian pork exports destined for totalled 72,800 tonnes, with 170,667 tonnes shipped in first four months of 2020. All this puts Brazilian pork exports on track to rise from last year's USDA estimated 861,000 tonnes into a record 1.0 to 1.1 million tonnes this year.
It must be appreciated that China's economic recovery –and pork consumption– will accelerate in the months to come. With both economic and physical statistics (e.g. traffic, electrical use, pollution) pointing to a strong recovery, we can expect the pace of Chinese pork imports to accelerate in the coming months.
--But ASF and Covid-19 pork production woes, resilient Asian demand, and import surges are only half the story. While overall world pork production is falling, this is mostly due to China, whose vast output losses outweigh any output gains. But there is more going on than initially meets the eye: On one hand, with swine output in China falling at a whopping 9.2% annually since 2015, from 2015 through 2020, overall world pork output fell at a 3.3% annual rate.
Alongside China, this reflected large ASF induced drops in 2019 Vietnamese (-18.8%) and Philippine (-9.4%) output, which brought their pork production back down to 2015 levels –and sent their imports skyrocketing.
Vietnam, Asia's second-largest pork producer was unable to keep pace with pork demand. ASF devastated its hog herds and caused production to fall 20%, from 2.8 million tonnes in 2018 to 2.23 million tonnes last year –its lowest level since 2007.

Even before ASF hit, scarce domestic feed crop supplies made Vietnam's pork imports rise from 10,000 tonnes in 2015 to 116,000 tonnes 2018. Thereafter, ASF caused pork supplies to fall faster than consumption. The resulting supply-demand gap was bridged by an import flood, rising from 175,000 tonnes in 2019 to approximately 240,000 tonnes this year.
Similarly, from 1.6 million tonnes in 2018, ASF is causing Philippine pork output to fall to 1.45 million tonnes its lowest level since 2014. Against a backdrop of strong, steady economic growth, this is making Philippine pork imports rise 26%, from 220,000 tonnes last year to a USDA estimated 280,000 tonnes this year.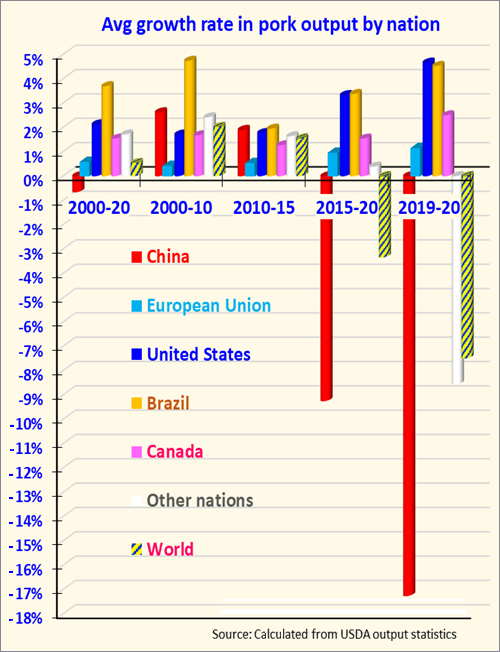 To supply this rising tide of Pacific Rim meat imports, falling pork production in East Asian importers has been matched by rising production in the Americas. During the same 2015-20 period when global pork output was falling (and Asian production nose-diving), in the United States (+3.3%) and Brazil (3.4%), pork output kept growing by more than 3% annually. Even if Canada and the EU (where consumption is in long-term decline) are included, the output of top pork exporting regions grew by 1.9% annually.
This juxtaposition of a 27% rise in exports against a 16% world pork output decline is nature's way of fast-forwarding trade flow and production changes that should have happened over a much longer time. The reality of the matter is that massive increases in pork production are an economically inefficient use of Asia's scarce land endowment and high population.
That has long been reflected in the difficulties in raising pork production first encountered in Japan and South Korea, later China and more recently, Vietnam.
Even before these plagues struck, trade liberalization was gradually making northeast and southeast Asia increasingly dependent on pork from Europe and the Americas. ASF created in two years as much trade dependence on western pork as was supposed to happen by 2030.
ASF did this by devastating East Asian swine meat production more than it did its consumption. Starting in late 2018, trade connected rising western pork production to declining East Asian hog herds.
While ASF's impact on Far Eastern hog herds is fading, Covid-19's impact on western consumers is just beginning. Thanks to coronavirus, we can expect three years of booming trade growth to resolve regional imbalances created by falling western pork demand, stagnant Asian swineherds, and hungry Chinese and southeast Asian consumers.


All rights reserved. No part of the report may be reproduced without permission from eFeedLink.