ASF, Covid-19 and Vietnam's beleaguered swine sector
Industry was struggling with ASF-induced swine inflation and shortages when corona virus struck, making matters worse. New price controls to extend an ongoing import surge.
By Eric J. Brooks
An eFeedLink Hot Topic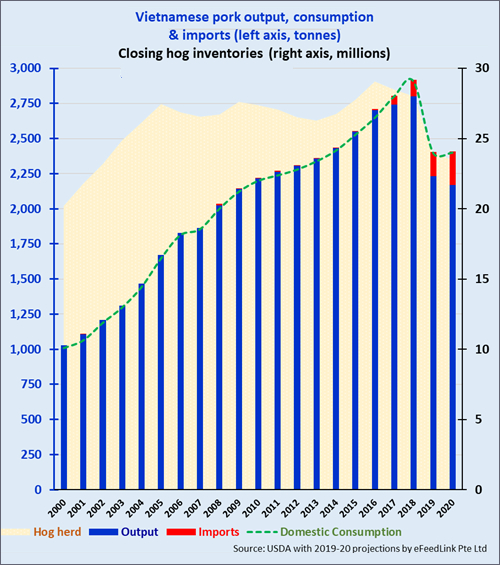 Whereas China's recovery from African Swine Fever is slower and taking longer than anticipated, Vietnam's recovering was moving along nicely –until coronavirus hit the nation. This is partly because Vietnam got ASF under control faster than expected, and also in part due to surprisingly resilient piglet production.
Both Vietnam's ministry of agriculture and rural development (MARD) and hog farms contacted by the USDA believe that inventories totaled 24 million head in Q1. This 14.3% decline (from approximately 28.0 million head entering 2019) is worse than the Vietnamese government's 11.5% official estimate –but significantly less than the 15% to 20%, 6 million head+ inventory decline estimated by many analysts.
It is also impressive partial recovery from August 2019, when MARD estimated the swineherd had fallen to 22.5 million head. How was this recovery achieved?
While sow numbers were badly decimated, those of grandparent stock (GPS) hogs fell substantially less than the number of sows or the overall herd. Over a quarter of the 5.9 million pigs culled over the last year were sows, but relatively stable GPS herd made possible the birth of nearly two million new piglets, partly counterbalancing an otherwise steep ASF-driven inventory decline.
Numbers-wise Vietnam's government officially says sow numbers fell by 31.8%, industry sources contacted by the USDA feel the real sow herd decline was in the range of 35% to 40%. With these sources estimating the current sow population at 2.7 million head, that implies that Vietnam's sow numbers were around 4.3 million head in early 2019 and fell by 1.6 million over the past year.
Despite this steep decline in sow numbers, grandparent stock (GPS) inventories only fell 9.6% (from 120,649 to 109,825 head). They were minimally impacted by ASF and more so by market forces: Even with record-high hog prices, only well-capitalized integrators with in-house breeding facilities could profitably use GPS stock to replenish their herds.
On one hand, Vietnam's Ministry of Agriculture and Rural Development (MARD) reports that well-capitalized integrators imported 1,808 head of GPS swine, mostly from the US and Canada in Q1 and are on track to import roughly 10,000 this year. This signals that Vietnam's most efficient, productive, cash abundant swine producers intend to continue rebuilding their herds.
On the other hand, fearing more ASF losses and with the market price of piglets 2.2 to 3.0 times higher than a year ago, backyard farms made no effort to restock their decimated herds. As they still account for a majority of Vietnam's hogs and pork production, this is holding back the national herd's recovery and that of pork production, particularly in light of the Covid-19 epidemic, which has the greatest impact on the smallest producers.
This was already true after mid-2019 when piglet prices hit record levels and became unaffordable for the swine sector's majority of backyard farmers. Late Q1 to mid-Q2's Covid-19 induced lockdown of Vietnam's economy further reduced the purchasing power of these informal, small scale farmers, flattening out a hog inventory recovery that was already decelerating.
Moreover, to avoid larger ASF losses, 2019's pigs were often culled before they could reach their finishing weights, causing pork production to decline 15.3% or slightly faster than inventories. Later in the year, many farmers brought their swine to market ahead of schedule to take advantage of high prices. This had the effect of reducing 2019's pork production decline at the expense of 2020's output.
From 2.81 million tonnes in 2018 it fell to a USDA estimated 2.38 million tonnes –but how accurate is this assessment? On 26 December 2019, Reuters reported that January to November pork imports had totaled 110,000 tonnes, up 108% from 53,000 tonnes in the same period of 2018.
In December, the government concluded that it would import 110,000 tonnes of pork from December through the end of Q1. Almost 44,000 tonnes were imported in Q1, implying that roughly 66,000 tonnes were imported in December. This would have made 2019 imports total approximately 177,000 tonnes.
Based on EU statistics, 53% or 94,000 tonnes of imported pork originated in EU nations, mostly Germany (20%), Poland (14%) and Spain (7%). Canada (25%), Brazil (10%), America (8%) also supplied significant volumes, with Russia (4%) and other EU nations (12%) accounting for most of the rest.
The good news is ASF is, for now, under control. In Q1, only an average of 11,686 hogs were culled due to ASF or other illnesses every month, compared to the average of 491,667 hogs/month during 2019. Together with the above-mentioned GPS imports, this will enable integrators to boost their herds.
At the same time, supply and demand countertrends are holding back inventory growth. Supply-wise, during last year's swine market hyperinflation, hog prices jumped from their 2016-18 average near VND45,000/kg (US$2.15/kg) to over VND100,000/kg (US$4.30/kg) at in late 2019 and early 2020. This easily drew in imports, which are more than 50% cheaper; thereby taking increasing market share from domestic producers.
This trend was encouraged by Vietnam's government. From late 2019 through the second quarter of this year, it decided to boost import level, so as to reduce pork prices back to their pre-ASF crisis levels. With piglet prices almost tripling, many of the latter could not boost production, especially given the risk of ASF losses.
Demand-wise on March 30th deputy prime minister Trịnh Đình Dũng and agriculture minister Cường reached an agreement with Vietnam's 15 largest hog farmers and integrators. Live hog prices were reduced to below VND 70,000 ($3.01/kg) starting April 1. Producers agreed to reduce them further to below VND 65,000 ($2.80/kg) on June 1st and below VND 60,000 ($2.55/kg) in Q3.
Along with Vietnam ending its coronavirus lockdown earlier than almost any other nation, the government's new hog price controls make sure that Vietnam's pork supply and demand will move further apart from each other.
On one hand, the artificially low prices will amount to a 35% to 40% hog farming revenue/kg reduction over four months with no commensurate drop in feed costs. This will make life difficult for large producers with low unit costs and almost impossible for small scale farms. Farming returns clipped by price controls means that instead of remaining stable or rising marginally, hog inventories may fall as much as 2.1%, to 23.5 million tonnes. With a larger-than-usual proportion of the new piglets being kept back as sows, the lower inventory will result in output falling 2.7%, to 2.17 million tones.
On the other hand, the hog price controls will restore the cost of pork to near its previous level. Hence, after falling 17% from 2.9 million tonnes in 2018 to 2.4 million tonnes last year, pork consumption will stay at this level. The resulting pork supply-demand gap will require imports to rise by roughly 35%, into the 2.35 million to 2.40 million tonne range.
Over the long run, this makes for an even murkier outlook. Vietnam's swine sector was already victimized by protectionist feed crop policies. That forced domestic producers to use more expensive locally grown corn rather than cheaper imported feed grain. Woes from Covid-19 and ASF had already made the swine sector's undercapitalized lower-tier nearly incapable of expanding herds.
Now, government price controls mean that even for larger, more efficient producers, the resulting lower returns may not make it profitable for their herds to grow as fast as consumption –whose own growth is being accelerated by pork's artificially low price level. The next two years look to be a difficult time for Vietnamese hog farmers but a good one for its pork importers.
Partly counterbalanced by little or no piglet replenishment on the part of Covid-19 impacted backyard farms, 2020 inventories will stabilize near 24 million head rather than increase.
All rights reserved. No part of the report may be reproduced without permission from eFeedLink.