Riding out adversity: Philippine aquaculture in recessionary times
Despite the many challenges it faces, aquaculture remains the country's most promising agribusiness line.
by Gemma C. DELMO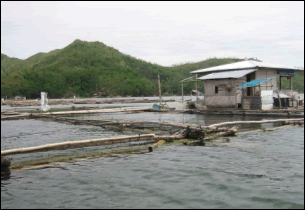 For years, aquaculture has been the stellar performer of Philippine agribusiness. Figures from the Bureau of Agricultural Statistics (BAS) show that in 2008, it accounted for 48 percent of national fisheries output, producing 2.4 million tonnes valued at P46.51 billion and registered an 8.71 percent increase from the previous year's levels.
Marine fish pens exhibited the highest growth, at 20.65 percent, followed by freshwater fish pens at 8.97 percent, freshwater fishponds at 6.07 percent, brackish water fish ponds at 3.82 percent and freshwater fish cages, at 2.98 percent.
The highest-yielding species was seaweed, accounting for 69 percent or 1.50 million tonnes of total output, with Palawan as the top producing province where farmers harvested 444,354.44 tonnes. The expansion in aquaculture production was partly a response to higher demand and rising prices, which encouraged operators to produce more during third and fourth quarters. The establishment of seaweed industries in ARMM (Autonomous Region in Muslim Mindanao), and a high fish survival rate in Central Luzon capped off the sector's exceptional performance.

Aquaculture species output that increased includes milkfish at 219,610.24 tonnes (0.31 percent increase); tilapia at 257,121.88 tonnes (6.61 percent increase); tiger prawn with 45,342 tonnes (13.85 percent increase); mud crab, 11,619.98 tonnes (25.29 percent increase); carp at 20,735.74 tonnes (3.88 percent increase); catfish, 2,695.26 tonnes (1.48 percent increase); and mussel, 23,017.22 tonnes (14.44 percent increase).
This year, experts believe that the sector can pull off another similar feat, assuming good market conditions and the foreseen continual uptrend in demand.
Mariculture parks and highways
To increase long run aquaculture productivity, the Philippine Bureau of Fisheries and Aquatic Resources (BFAR), are focusing on the development of mariculture parks and highways nationwide. A community-based marina type project, mariculture areas are designed to enhance aquaculture production through sea cage culturing of species such as milkfish, siganids, groupers, red snapper, seaweed farming, aquasilviculture, mussels, oysters and lobsters.
BFAR Director Malcolm Sarmiento dubbed mariculture as an "innovative business approach in aquaculture which has been strategically located in both the eastern and western parts of the country to form a network of output areas, where harvesting and production could be systemically timed to ensure a sustainable supply". BFAR has also provided added aquaculture supply chain services such as hatcheries, ice storage facilities, electricity, transport, market access, feed and many others in case investors are ready to fill fishes in these parks.
Apart from raising aquaculture productivity, Sarmiento said these mariculture parks were established foremost to provide an alternative livelihood to municipal and commercial fishermen who have been suffering from declining wild catches. Through fish farming, the BFAR director said traditional fishermen would have a more stable and sustainable source of income from aquaculture, as traditional fishing catches are falling due to overfishing, pollution and climate change. As world experts foresee that climate change would have a great impact on the migratory patterns of fishes and could cause bleaching and destruction of corals - the primary habit of marine fish - Sarmiento tells that mariculture can help fisher folk wean from dependency on natural sea stocks.
The BFAR reveals that there are already 40 operational mariculture zones with the biggest in Tawi-Tawi, which opened in May 29 last year. The mariculture park sits on two locations, one each for the municipalities of Sibutu and Sitangkal. Phase1A covers a 50-square kilometre area of Sitangkal's North Lagoon which is bordered by the islands of Omapoy, Sipangkot and Tumindao.
Phase1B is located in a 25-square kilometre area in the eastern side of Sibutu bordered by Tongsibalu, Tandu Owak and Sikulan Islands. This park is expected to generate about 50 tonnes of high-value fish with an estimated value of P100 million from its initial year of operation and is projected to escalate to 3,970 tonnes or P595 billion by 2010.
While it promises to open more local and foreign investments, mariculture parks are also starting to impact the environment. The Southeast Asian Fisheries Development Centre (SEAFDEC) warned that some mariculture areas already have higher sedimentation rates and elevated ammonia and phosphate concentrations arising from overfeeding. If left unattended, SEAFDEC believes that this can lead to fish kills which of course, could destroy investments in aquaculture. For this reason, SEAFDEC has created an early warning system to against the negative impact of fish cages to mariculture parks.
The system involves a simple technique of collecting sediments or the soil under cages wherein its colour will be compared to a reference colour chart which will let operators know how far off or how near they are from the ideal condition. This colour comparison, according to SEAFDEC researchers, is basically the same technique used by rice farmers to see if their rice needs additional leaf fertiliser.
Should sedimentation get worse, SEAFDEC suggests that a "fallow period" be implemented wherein fish cages may be moved into another area of the mariculture park, to allow the threatened area to recover. However, SEAFDEC advises that rather than allow wastes and pollutants to accumulate, it is always best practice prevention, which consists of avoiding overfeeding and monitoring mariculture movements, rather than seeking a late cure.
Other developments: Urban aquaculture, revival of shrimp exporting
Aside from mariculture, the BFAR is also developing urban aquaculture wherein fish culture can be done in highly-populated areas through drums and tanks (concrete, fibreglass or canvas). This project, which started in 2005, is designed to provide livelihood projects for people living in urban areas with limited space but sufficient fresh water supplies. BFAR seeks to produce the most quantity of fish within a small area through intensive feeding and proper system aeration, so as to optimise water flow and oxygen supply. The undertaking is already gaining popularity in the CALABARZON (Cavite, Laguna, Batangas, Rizal and Quezon) area. Having demonstrated urban aquaculture's viability, BFAR now aims to propagate this project in rural areas such as the countryside surrounding Metro Manila.
In addition, a revival of shrimp production in the country is also in the works. Keen on claiming back its position as one of the world's biggest exporters of shrimp, local trade players are optimistic that vannamei, which is more disease resistant than the black tiger prawn (penaeus monodon) species, will propel shrimp output to 100,000 tonnes within five years. It is believed that such an output volume can restore the Philippines market share among shrimp exporters.
According to SEAFDEC, vannamei gives farmers advantage from this species since this grows over 2.5 to three croppings per year compared to black tiger shrimp's once a year cropping, thereby giving farmers more income. Once banned due to its frequent disease outbreaks, vannamei is now the most cultured shrimp variety with provinces like Lanao del Norte, Zamboanga Sibugay and Pampanga registering output increases of 34.76 percent, 6.45 percent and 5.93 percent, respectively in the second quarter of 2008.
The Department of Agriculture believes that white shrimp production increase by a factor of five; from 20,520 in 2007 to 102,600 tonnes in 2011. Moreover, this will enable revenue to grow substantially, from P4.1 billion in 2008 to P6.1 billion in 2009, P8.2 billion in 2010 and P10.26 billion in 2011.
Dr Rafael Guerrero of the Philippine Council for Aquaculture and Marine Resources Development believes that vannamei will "definitely get us back on track," with top shrimp producing province Negros Occidental primarily shifting to vannamei cultivation in order to re-capture a sizeable chunk of Japan's premium market.
Aqua feed: Fishmeal versus other substitutes
The Philippines is still 99.9 percent dependent on fishmeal imports from Peru. As much as there have been attempts to produce fishmeal locally, the efforts were futile. "Mainly because of the falling marine catch, wherein we once used trash fish to produce domestic fishmeal. But trash fish is now eaten and consumed by poor coastal dwellers and the fact that we do not have the proper technology to manufacture fishmeal, of course, the country will always be dependent on imports," relays an expert. Though a few tuna and sardine canneries in Mindanao are manufacturing fishmeal out of fish offals, these are not sold commercially due to "inferior" quality.
In a paper by BFAR executive and fishery expert Sammy Malvas, the quality of local fishmeal compared with its imported counterparts, is generally low and inconsistent. Hence the risk of encountering health problems in fish species fed local fishmeal is generally high. Moreover, Malvas discloses that the prospects of local fishmeal manufacturing are even more uncertain today, given increasingly limited fish resources and a much higher price fetched by trash raw materials in human processed food markets.
The current lofty fishmeal price of US$900 to US$1,000 per tonne in world markets has forced industry members to look for other substitutes. Fishery officials in the Cagayan Valley Region have introduced duckweeds as a supplemental feed for tilapia, milkfish, pangasius and carp. Duckweeds are small flowering fresh water plants with a reported crude protein content of 18 percent to 42 percent. Based on a recent study, fish fed a 50 percent fresh duckweed diet have higher growth rate than fish given only commercial feeds.
Moreover, an 1,000-square metre, semi-intensive fishpond using a combination of both duckweed and commercial feed has been found to cut farm expenses by more than P10,000 or more than 20 feed bags in the four to five-month fish rearing cycle. According to researchers, more than P100,000 can be reduced on expenses of a one hectare fishpond. BFAR regional director Jovita Ayson said duckweeds can also help lessen dependency on imported corn as raw materials for aqua feed, which is currently 90 percent of the total requirement.
The janitor fish (pterygoplicthys pardalis) which is creating menace to local waters, particularly in Laguna Lake where aquaculture pens abound, is also seen as a potential fish feed. The species, which has been pesky as it competes for food with commercial species, contributes to the lake's filth by digging holes in pond dikes, river embankments and destroying fishermen's nets with its sharp teeth. It is also found to contain a high protein content based on studies conducted by the World Bank and the Laguna Lake Development Authority. The researchers say that chicken, pigs and fish fed janitor fish in their diets have exhibited significant growth. Although this needs more comprehensive study, connoisseurs believe that janitor fish can be a potential replacement for expensive fishmeal and other imported fish feed.
These developments clearly indicate that aquaculture sector remains one of the brightest industries in the Philippines. Although long term aqua feed and fishmeal sourcing dog this sector as much as any other country's aquaculture, innovative local solutions are being improvised.
Spanning a total coastline of 36,289 kilometres - one of the longest in the world - and blessed with some of the world's richest marine resources, the country is expected to sustain its strong aquaculture performance. With new developments in the offing, industry players are upbeat that Philippine aquaculture sector will be one domestic protein line that successfully weathers the global recession.


All rights reserved. No part of the report may be reproduced without permission from eFeedLink.