April 17, 2020
An eastward journey towards a prosperous, balanced dairy market
Covid-19 interrupted a market balancing process that has been underway for several years, thereby widening price disparities between dairy fats and powders. Led by China, Far Eastern dairy consumption remains on track to spark a new, early 2020s price boom.
By Eric J. Brooks
While the Covid-19 economic downturn is being felt in world dairy markets, other commodities have fared far worse. Moreover, there is reason to believe that a balanced market recovery lurks just over the horizon.
This is partly because even when Covid-19 struck, prices where far below recent historical norms. Global Dairy Trade's (GDT) index average peaked at US$3,434/tonne in late January –31% below its US$5,000+/tonne records set in 2013.
Covid-19 counterbalanced falling Q1 New Zealand milk production, dragging the GDT index down to US$2,956/tonne by mid-April –more than 40% below its all-time peak. With both America and Europe in an economic free fall, Western consumers are poised to cut their dairy consumption. This may force US and EU producers to shift unsold domestic surpluses into world markets. That could cause serious deflation, especially in the second half of this year.
On the other hand, compared to 30%+ price drops for beef cattle and many other commodities, the GDT index only fell 13.5% from mid-January to mid-April. At ground level, Fonterra has targeted a 2019-20 farmgate milk solids price of NZ$7.30/kg (US$4.38/kg), giving trend giving New Zealand farms good H1 2020 returns. With Covid-19 clouding the economic outlook, it could fall under NZ$6.00/kg for the 2020-21 season. That's far below the NZ$8.30/kg record but should the rains fail in Australia or New Zealand fail, feed costs are significantly lower than when GDT's price record was set seven years ago.

While short-term dairy prices have nowhere to go but down, world dairy demand is holding up well for the same reason it fell: China, Northeast Asia, and Southeast Asia. From just 2.6% of WMP, SMP, butter, cheese and fluid milk imports two decades ago, China bought 46.3% of world imports for these dairy goods in 2019. China, Japan, South Korea, and Southeast Asia now buy over 60% of these dairy commodities by volume –and this is very good news for dairy exporters.
Our focus article on beef already detailed how well Chinese, Japanese and South Korean beef import volumes have held up despite the ongoing Covid-19 epidemic, especially when compared to US or European beef consumption.
The same holds for dairy consumption: Even in its April, coronavirus adjusted projections, the USDA forecasts that China's dairy goods consumption will continue rising. This will lead to higher 2020 Chinese import volumes of WMP(+8.6%), SMP(+2.9%), butter(+12.5%) and cheese(+13.0%). Despite falling 4.4%, Chinese fluid milk imports will enjoy their second-best year ever (860,000 tonnes), some 27.8% more milk than what China imported in 2018.
For South Korea, Japan, and Southeast Asia, even after factoring in coronavirus, the USDA expects their 2020 demand to rise anywhere from nominally positive to several percent for almost all the above dairy lines. This means the combined volume increase of imported dairy powders SMP(+4.9%) and WMP(+3.8%) outweighs the imported volume change for cheese (+3.9%), butter (-2.0%) and milk (-3.3%).
With world dairy powder import volumes and aggregate revenues exceeding those for fatty goods, the world dairy market outlook remains positive over the longer term, despite the prospect of further deflation this year. With dairy powders getting noticeably more market support than fluid milk or fatty goods, the price gap between the two should continue narrowing –just as it was doing so, before Q1's coronavirus demand shock.
Unusually large post-2014 price disparities between product lines can be seen in the attached GDT graph. For most of the decade before 2014, prices for WMP, SMP, butter, cheese, and milk stayed close to the GDT index price average. Dairy powders usually traded above the GDT index average while fatty dairy goods sold below the average.

The reverse has been true since 2014 when China's appetite for fatty dairy goods started growing much faster than its need for dairy powders. This reflects long term demographic trends in both China and Southeast Asia. They favor rapid western fast food expansion and rising consumption of western dairy and bakery goods, all of which require fatty dairy commodities. Since 2014, butter and cheese have traded anywhere from 30% to 210% higher than SMP and WMP, whereas they once sold at up to 30% discounts to dairy powders.
--Even so, in the year before Q1 2020's market downturn, dairy powders, butter, and cheese had finally started converging closer to the GDT average price –approaching the same market balanced state they were in prior to 2014. Thereafter, with China's appetite for imported butter and cheese growing faster than SMP and WMP consumption, the latter slumped in price far more than the former.
When the dairy market crash ended, dairy powders slumped; fatty good and fluid milk rebounded to near their all-time highs while butter set a new price record. With the liberalized EU dumped its surplus SMP into Asian markets around this time, causing it to fall in price more than WMP.
All this also reflects China and The Far East's new role as a world dairy market driver. China's world market share of these five dairy commodities was 2.6% in 2001 and 3.7% by 2008 when melamine contamination was found in China's milk supply. At that time, China imported only nominal quantities of WMP and SMP, and almost no fatty dairy commodities or fluid milk.
Six years later when 2014's dairy market crash occurred, China's share of these dairy commodity imports had jumped to 35.0%, with most of it accounted for by WMP and SMP. This year it accounts for 46% of these five world dairy imports but it now dominates or co-dominates higher value product lines.
It still dominates world WMP imports (57.8%) but now it also rules the market for fluid milk imports (63.4%). When the imports of its North and Southeast Asian neighbors are added in, China co-dominates many other dairy markets. With help from Japan, South Korea, and Southeast Asia, China co-dominates world imports of butter (48%, China 27.8%), cheese (48%, China 8.7%) and SMP (76.6%, China 23.8%).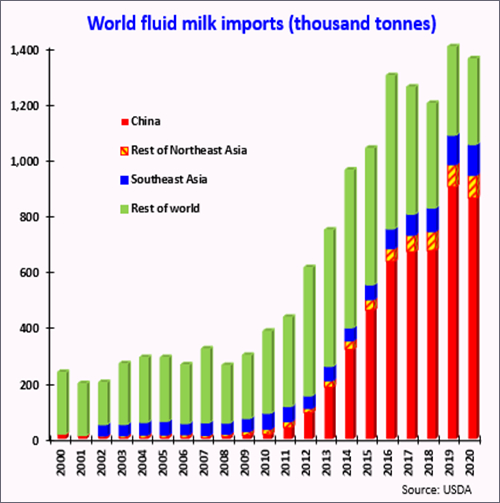 While imports of butter, cheese, and fluid milk grew aggressively since 2014, the growth was due to China, with North and Southeast Asia providing lessor shares –but demand in the rest of the world either was flat or fell. On the other hand, the years since 2017 have seen China's import volume for SMP surge to new highs while WMP demand is finally back at previous levels.
These Far Eastern dairy growth locomotives were far less economically impacted by the corona virus than western dairy exporting nations. They were the first to fall to coronavirus and the first to recover. By H2 2020, they will be in a position to need more dairy powders and fats –just as surpluses build up in western nations.
This will cushion the current ongoing fall in dairy prices, keeping exports of various dairy product lines growing or static in 2020. Going into 2021, with dairy powders once more leading import growth, we will see the beginnings of a new dairy market upturn: One where the price disparities between powders and fatty goods start to narrow considerably –and firmly dominated by rapidly growing East Asian consumption.


All rights reserved. No part of the report may be reproduced without permission from eFeedLink.