World feed crop markets diversify
Once defined by a few exporting nations and a handful of large importers, a dozen emerging economies will soon dominate corn and soybean buying.
By Eric J. Brooks
While world corn and soybean markets remain soft and chronically oversupplied, this state of affairs will not last forever, though at least until the early 2020s. What is interesting about our seven-year bear market downturn is the way these two key feed crops are gradually finding themselves new demand drivers.
A quick glance at the accompanying charts shows that world corn harvests are leveling out in response to soft prices. Even after the USDA's still controversial late 2018 revision of Chinese corn inventories, corn's stocks-to-use ratio is a slightly more bullish 27.8% if China's walled-off market is included in calculations –but in the actual world corn market (which mostly functions without China), corn's stocks-to-use ratio is a much tighter 12.8%. Corn's real market balance is somewhere between these two extremes, and probably at least two growing seasons from a genuine, sustained rally.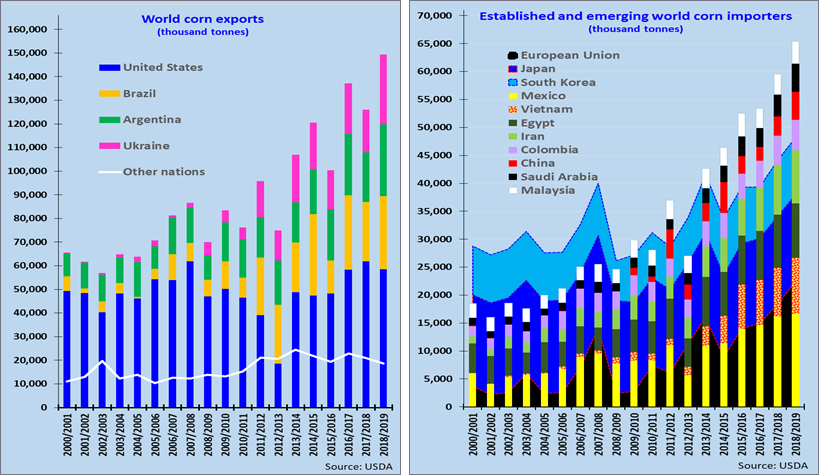 Due to a large discrepancy between soybean farming and crushing returns, it took longer for world soybean production to respond, making its oversupply worse: Based on the USDA's latest WASDE report estimates, soybeans will close the 2018-19 marketing year with a whopping 30.8% stocks-to-use ratio. Nevertheless, soybean supply growth is leveling off and will do so more, as dominant importer China demands less soybeans than before for the first time since it became an important buyer in the 1990s.
But the real action for both feed crops is taking place on the demand side. For corn, the 2011-12 marketing year stands as a pivotal point –and not just because its market cycle peaked: Prior to this year, Japan, South Korea and the European Union accounted for nearly half of world corn imports. That year, the collective corn imports of Latin American, Southeast Asian and Middle Eastern markets such as Mexico, Vietnam, Egypt, Iran and Malaysia exceeded the combined corn import volume of EU, Japanese and South Korean buyers.
Vietnam for example, went from being a net corn exporter in 2000 to import 1.5 million tonnes in 2010 and a USDA estimated 10 million tonnes this year. Mexican corn imports jumped from 6 million to 16 million tonnes over this time. Saudi Arabia and Iran both imported approximately 1.3 million tonnes in 2000 but are buying 5.0 million and 9.5 million tonnes of corn respectively in the current marketing year.
Over this time, Colombia's corn imports went from 1.9 million tonnes to 5.5 million tonnes. Those of Malaysia increased from 2.5 million tonnes at the turn of the century to 4.0 million tonnes this year.
By comparison, Japan's world-leading corn imports fell from 16.3 million tonnes in 2000 to 15.5 million tonnes this year. Those of South Korea initially grew from 8.7 million tonnes in 2001 to 10.4 million tonnes in 2014, but have stayed flat since. While China's corn import growth has been far below expectations, it too went from being a net corn exporter in 2000 to importing 5 million tonnes this year, with aggressive import growth forecasted for the 2020s.
Consequently, from buying a collective 10 million tonnes less corn than Japan, South Korea and the EU, these emerging economies will import approximately 20 million tonnes of corn than them this year. Rising Latin, Asian and Middle Eastern corn demand also coincides with the breaking of America's near-monopoly over world corn supplies: The US share of world corn exports has fallen from 64% in 2000 to a USDA estimated 35% this year.
A similar and more intensive transformation of world soy importing habits is already underway: China, which transformed the world soybean market from 1995 through 2015, is yesterday's news. It still accounts for over 55% of world soybean imports but its influence is in a gradual decline. From 2010 through this marketing year inclusive, Chinese soybean imports grew an average of 6.7% annually.
Whereas the combined soybean imports of North Asia and the EU expanded a healthy 5.8% annually, the collective soybean imports of Mexico, Egypt, Vietnam, Russia, Iran, Indonesia, Pakistan, Thailand and Bangladesh increased at an 18.6% rate. After 2015 Chinese, Japanese, South Korean and EU soybean import growth fell below 2% --but the import volumes of these emerging nations increased to a 31.9% annual rate.
From almost no soybean imports at the turn of the century, Vietnam (2.2 million tonnes), Russia (2.45 million), Pakistan (2.45 million) and Iran (2.45million) will collectively import nearly 10 million tonnes this year. From under 650,000 tonnes in 2000, Turkey (2.6 million tonnes) and Egypt's (3.35 million) will total almost 6 million tonnes this year.
Unlike corn, the soybean import volumes of emerging Southeast Asian, Latin America and Middle Eastern buyers remain below that of established North Asian and European importers –but that's partly because these nations could not construct bean crushing capacity fast enough to keep up with demand.
Even with the opening and subsequent expansion of two very large soybean crushing plants, Vietnam was forced to jack up it soymeal imports from 0.43 million tonnes in 2000 to 2.9 million tonnes by 2010 and a USDA estimated 5.0 million tonnes this year. Indonesia experienced similar explosive growth in soymeal purchases, from 1.6 million tonnes in 2000 to 2.5 million tonnes by 2010 and a USDA estimated 4.85 million tonnes this year.
Even after nearly tripling soybean imports from 1.2 million tonnes in 2000 to 3.3 million tonnes this year, Thailand's export-driven agribusiness sector was forced to also double soymeal imports from 1.4 million to 2.9 million tonnes over this same time. Mexico also boosted soymeal imports from 0.3 million tonnes to 2.0 million tonnes over these same eighteen years. Malaysia, Algeria, Iran and Colombia all found themselves more than tripling their soymeal imports from under half a million tonnes in 2000 to 1.5 million tonnes or more this year.
Consequently, these nations were forced to jack up their imports of soymeal faster than those of raw beans. On the other hand, the import volumes of mature markets with stagnant meat consumption including Japan, South Korea and the EU fell.
As a result, the marketing years 2010-11 through 2018-19 inclusive saw soymeal import volumes of the above emerging nations rising 4.9% annually, while the collective meal purchases of the EU, Japan and South Korea falling 1.8% yearly over this same time.
By 2012-13, the collective soymeal imports of these emerging markets exceeded those of North Asia and Japan, and the EU by over 6 million tonnes.
From all this, several conclusions can be ascertained. First, while the world continues to depend on a handful of nations in the Americas for its feed crops, the world market's corn and soy export destinations are rapidly diversifying.
The days when Europe, South Korea and Japan made up a majority of purchase volumes was upended by China's entry into the world market –but China's own role is changing. Its corn market liberalization and soybean trade war are coinciding with a significant, long-term levelling out of its once rapidly growing feed production.
For soybeans, China is now growing no faster than the large but stagnant North Asian and European importers that once dominated world oilseed markets. Much stronger growth is happening in Southeast Asia, Latin America and the Middle East –where a large portion of new, growing demand is being satisfied by soymeal imports, rather than raw beans.
On the other hand, emerging market economies are now dominating world corn markets to a much greater extent than they are those for beans. Moreover, whereas Chinese influence over soybean markets is in retreat, the gradual liberalizing of its corn sector implies that Beijing's influence over feed grains prices is just beginning.
One thing is for certain: In the next feed crop bull market, Mexico, Iran or Vietnam's need for corn or soy may mean as much to the world market as European or Japanese buyers do today.


All rights reserved. No part of the report may be reproduced without permission from eFeedLink.