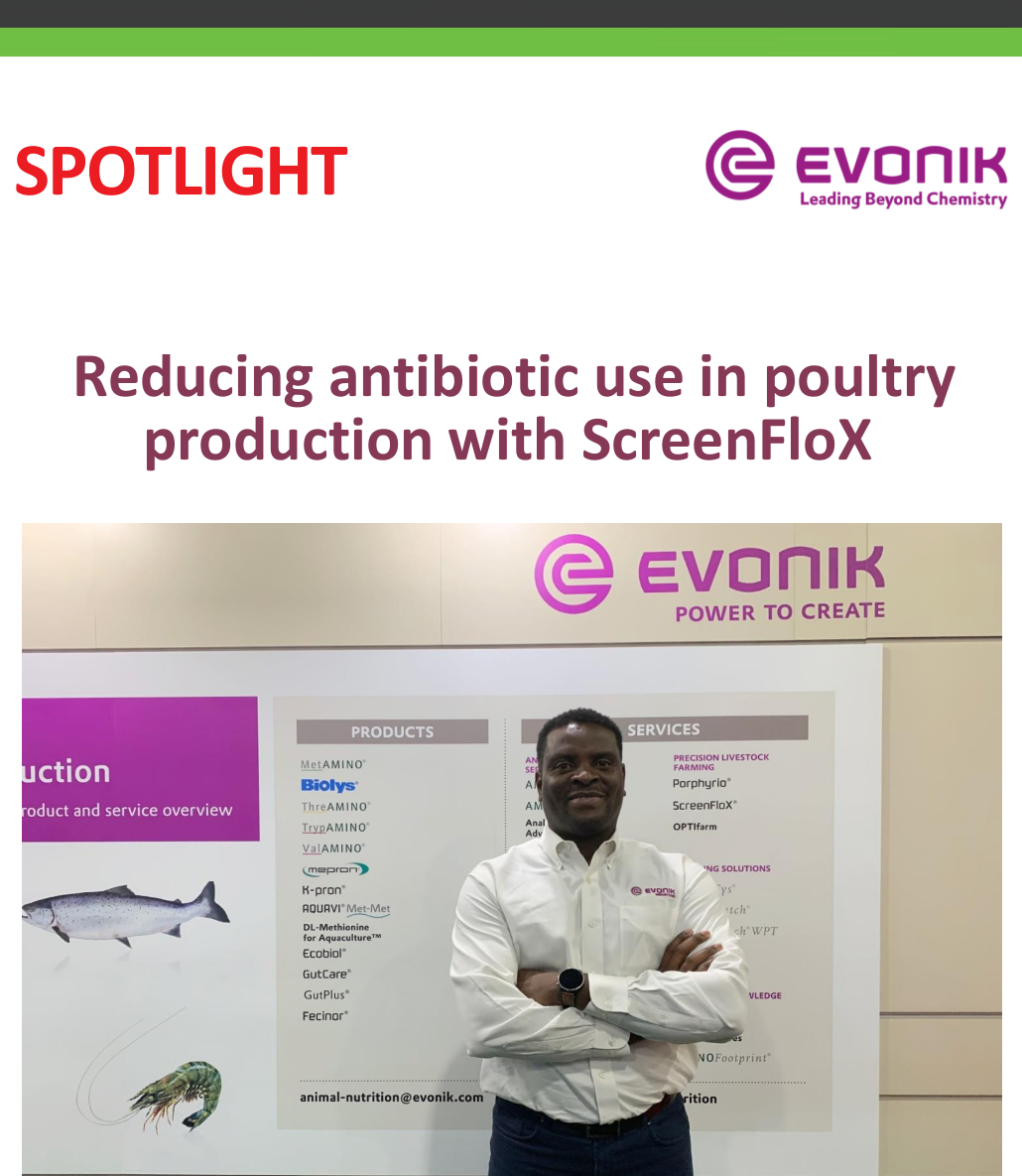 T
he World Health Organization has actively discouraged the use of antibiotics in livestock production. With demand for meat produced without the use of antibiotics on the rise and antibiotic growth promoters banned in the European Union and soon in China, it is imperative that producers look at alternative ways to protect their livestock's gut health and combat diseases that hamper livestock production.

ScreenFloX is a non-invasive, preventative platform by Evonik that can monitor the microbial status of flocks. With ScreenFloX, producers can optimize their livestock production by proactively engaging with the health of the flock before it's too late and adjust the production system accordingly.

We spoke to Bayo Sokale, Technical Service Manager, Evonik to learn more about the use of antibiotics among Evonik's customers and the benefits of ScreenFloX to Evonik's Precision Livestock Farming solutions.

The World Health Organisation has actively discouraged the use of antibiotics in livestock production. How widespread is the use of antibiotics in poultry production, particularly among Evonik's customers?

Looking at it from a United States perspective, I will say 10 years ago, about 90% of the industry was using antibiotics for various purposes – commonly, gentamycin in the hatchery, bacitracin methylene disalicylate and virginiamycin at sub-therapeutic levels in feed for prevention and growth promotion. Today, less than 50% of the broiler industry raises birds with antibiotics, and these are mostly bacitracin and ionophores for enteric disease prevention, and control coccidiosis infection. These antibiotics are not deemed medically important to humans.
Further to question 1, with demand for meat growing (especially with the African swine fever outbreak in Asia shifting consumer eating habits towards poultry), is the use of antibiotics expected to grow (at least in absolute terms) in livestock production, particularly in countries which have not banned or fully banned the use of antibiotics in animals?

Globally, there is growing consumer demand for meat produced without the use of any antibiotics. Therefore, the use of antibiotics in poultry production is probably not expected to grow. In the United States, consumer preference, I think will continue to drive this trend which will make the industry further reduce antibiotic use. In general, poultry veterinarians in the United States are already judicious about the use of antibiotics, but most also believe that the welfare of the animal is extremely important – so it's a balancing act. In addition, producers are becoming proficient in growing chickens without antibiotics. All these factors put together are already contributing and will further contribute to the downward trend of antibiotic use in the poultry industry.
How might it negatively impact animal health, as there have been such concerns in the industry?

At the early onset of the 'No Antibiotic Ever' trend, producers were reporting an increase in the incidence of necrotic enteritis, and in general, it was a steep learning curve. Today, many producers are getting growth performances that is equivalent to, or better than, antibiotics. I think the main contributor to this success is renewed interest in a holistic approach to managing flock health; good vaccination programs, flock management (e.g. general husbandry, longer downtime, dry litter, ventilation etc), biosecurity, and nutritional health. In addition, there are non-antibiotic feed additives that are available on the market – probiotics, prebiotics, organic acid, essential oils, phytogenics etc. which can support gut health as a gateway to overall health. With these non-antibiotic feed additives, producers have many options that can help subvert the use of antibiotics. Of course, the challenge is how to successfully apply these individual products or their combinations in commercial production – while this is a learning process, I think producers in the United States are doing a really good job and are constantly looking for ways to improve.
Evonik launched ScreenFloX in September last year at the World Veterinary Poultry Association Congress (WVPAC). Can you walk us through the full health monitoring process using ScreenFloX? What specific pathogens will ScreenFloX be able to detect?

ScreenFloX is a non-invasive, real-time monitoring platform that can monitor certain pathogens that are common to poultry. The ScreenFloX platform allows the farmer to measure the level of pathogens in the entire flock from a single fecal sample obtained at any point in the growth cycle. Currently, the platform can detect 3 pathogens – Clostridium perfringens type, Salmonella enterica, and Campylobacter jejuni. These pathogens either directly affect poultry or are pathogens which are of food safety importance. ScreenFloX is an expandable platform, and more pathogens common to poultry production will be added soon.

ScreenFloX is a monitoring tool, it doesn't diagnose diseases. It helps to monitor the pathogen levels within the flock so that farmers can make subtle changes, or what we call "soft-interventions" which allows them to grow their birds in a more effective manner. This tool can complement the producer's efforts in flock management.
How fast is the turnaround time for ScreenFloX?

In comparison to the traditional bacteriology method which could take up to five days or more to get results depending on the pathogen and type of analysis, the turnaround time for ScreenFloX is anywhere between 24 to 48 hours from the time the samples are received at the laboratory. The actual time may depend laboratory operations.
Do sampling methods vary for farms of different sizes? Is ScreenFloXsuitable for farms of all sizes?

ScreenFloX can be modified based on customers' needs. The sampling technique is essentially tailored to a flock approach. Therefore, it is suitable for all farm sizes. It is a process where we obtain representative faecal samples from the chicken house and apply a series of tests that help to quantity the target or pathogen of interest.

In my discussion with different producers, they see a lot of value in the use of ScreenFloX to detect multiple pathogens. It also gives them the flexibility to choose their testing, depending on the pathogen of interest or I should say pathogen that are common in their operation. For example, some customers have a lot of focus on Salmonella and Campylobacter, while others focus on pathogens like C. perfringens because it can cause necrotic enteritis and directly affect performance.
Can ScreenFloX be installed at the customer's facility? If it's external, where are the laboratories located?

It can be internal (at the customer site) or external. ScreenFloX is a complete workflow that includes a sample collection component and a PCR based analysis. If a customer has an equipped in-house laboratory including a PCR machine, the workflow could potentially be set up, and in fact we have done this at some customer locations.

However, the most common practice is to work with external laboratories which are equipped with running this sort of analysis. We work with the customer to coordinate the efforts – sample collection, laboratory analysis, and reporting results. In the United States, we have a couple of external laboratories partners and our customers can send samples to these laboratories for analysis.
Will ScreenFloX be available outside of the United States?

Yes. In fact, my colleagues in other parts of the world have conducted ScreenFloX validation studies at customers sites with good success.
How does ScreenFloX work together with Evonik's other Precision Livestock Farming solutions like Porphyrio?

ScreenFloX and Porphyrio, are both platforms within the framework of Evonik's "Precision Livestock Farming" solutions. While ScreenFloX helps producers determine what may happen to the flock from a health management standpoint, Porphyrio is a software-based approach using algorithms to predict the bird's weight, and other parameters of animal performance. By combining both approaches it helps producers to better determine their flock's behaviour in order to optimize overall production success. This will be a learning process but as we collect "samples" over time, we will get a better understanding.
Will ScreenFloX be effective in a disease outbreak? e.g. the current H5N8 bird flu outbreak in Europe.

I think the platform is robust enough as it is a PCR-based technology. Of course, the sample matrix and how it is processed will vary with different diseases. In this regard, I see ScreenFloX as a tool that could help with the prediction of a disease occurring which may help to achieve quicker responses to subvert an outbreak e.g. depopulating specific flock before a wide-spread outbreak, in the case of avian influenza. It is theoretical, but the potential is there.
What is Evonik's future plans for ScreenFlox? Will Evonik release similar preventive health monitoring products specialised for other species?

We're already working to create a much quicker approach to collecting samples, as well as improving ScreenFloX so it can monitor more pathogens that affect poultry. As for expanding ScreenFloX to other species – Evonik has expertise not only in poultry but also in swine. I am sure the platform will be expanded to meet the needs of swine production in the future.