VIV Asia 2017: Expanding the scope of agribusiness opportunities
VIV Asia, the top agribusiness trade show in the region last held in 2015, has returned to Bangkok, Thailand this year, and is expected to welcome more than 40,000 visitors on March 15-17.
Held within the confines of the Bangkok International Trade and Exhibition Centre (BITEC), the event began with an opening ceremony at the Abu Dhabi Square, featuring welcome speeches by VIV Worldwide manager Ruwan Berculo and VIV Asia project manager Panadda Atthakowit. Following which, the Asian Personality Awards was awarded to key figures involved in the poultry, swine and dairy sectors.
In addition to celebrating the best in the business, VIV Asia 2017 boasts some unique programmes illustrating the diversifying interests of the show as well as the expanding agribusiness industry in Asia.
PETSConnect Asia: Making distinction between animal feed and pet food
While most show attendants are concerned with practices pertaining to livestock management and food production, a niche group - as many as 4,000 in fact - were especially interested in the pet sector, based on surveys conducted in the 2015 event. This led to the development of the inaugural PETSConnect Asia, a conference attracting prolific companies such as Kemin and Sonac which possess expertise and products for pet food. By gathering experts who share their insights with players from the Southeast Asian pet food industry, PETSConnect aspires to link this sector with animal feed manufacturers. The relationship would avail the latter another lucrative market to invest their resources into, apart from servicing agribusiness producers.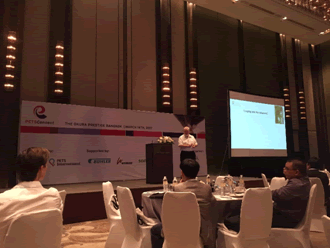 Nevertheless, venturing into pet food requires the distinction to be drawn between animal diets - namely livestock feed and pet food, a factor David Primrose of Synergy Food Ingredients Ltd took the pains to explain on the eve of the VIV show. Objective is the word: the focus of animal feed is feed conversion ratio while pet food is made for health longevity. As livestock are bred for food, pets are kept for companionship; hence the priority lies in the 'humanisation' of pet diets that would be palatable to these household animals, and appreciated as good food by their human masters, according to Primrose.
VIV Asia: Serving the rising Asian market
The promising prospects of the pet food market is a reflection of the burgeoning middle class populations in Asia as increased income enables people to pamper pets with better food, yet additionally also spiking the consumption of protein in the region. It is this two trends that VIV Asia had strategically fashioned itself to deal with by hosting experts and solution providers from two remarkable industries.
Furthermore, the event recognises China as a significantly vital market to future growths and this sentiment is clearly demonstrated through a "Welcome China" programme for executives from top Chinese animal protein companies. Organisers ensure that these visitors get the best out of VIV Asia by holding a Chinese-language seminar in BITEC, offering hotel assistance in Bangkok, and providing priority badges for the show, along with access to an exclusive meeting room.
Good solution providers, better partners
In a certain way, VIV Asia also serves as a 'brain-trust' platform of solution providers which would help to bolster the effectiveness, efficiency and general well-being of Asian agribusinesses with next-generation innovations.
Still, the onus would first rests on the solution providers themselves to be better partners to the agriculture and food production sectors as one senior executive points out. According to Christopher Omiecinski, president of incubator systems company Jamesway, adopting best practices and making technology that is easy to use will greatly benefit both parties.
"If you place quality first in your company, you would solve production efficiency problems. You solve serviceability problems for your customers, you provide a better experience to your customers. You will find more reliable and robust machines, and it all comes down to quality," Omiecinski says.
Such positive initiatives would likely culminate in a sturdy agribusiness industry utilising technologies of uncompromising standards to improve quantity- and quality-wise livestock and food productions. As industry players strive to become more reliable partners of the sector, VIV Asia would be well positioned to congregate the best from the field, thus ensuring that Asian agribusinesses receive the most competent expertise to drive progress.