A dark Year of The Pig for China's swine sector? Is something bigger at work?
Will the swine sector follow dairy and poultry and become the third livestock line afflicted by stagnant growth? What are the implications for world agribusiness?
By Eric J. Brooks
Even after these restrictions were enacted, the disease continued expanding into new provinces and authorities soon learned why: Pig-to-pig transmission is not the only means by which the virus is spreading. In late 2018, ASF virus was detected in nearly 80 tons of protein powder made using pork blood by a Tianjin-based feed additive supplier and incorporated into hog feed.

The virus was detected within both the protein powder itself and in the feed of 12 integrator hog finishing facilities. Having moved into swine supply chain's feed input end, culling and transport restrictions were not enough to contain ASF. From 22 provinces in December, as of late February, ASF had spread to 27 of China's 34 provinces and administrative regions. By then, it was apparent that early 2019 hopes that ASF was being brought under control proved premature.
Late February brought official reports of new ASF outbreaks in Shandong province, with 17 cases and 3 deaths on a farm containing 4,504 pigs, along with 2 cases on a 300-pig farm in Yunnan province. The month closed with new cases reported in Hebei province (near Beijing) and Inner Mongolia.

From 916,000 head as of early January, outbreaks in the first two months of 2019 is bringing the number of hogs either killed by ASF or required culling to approximately a million. There are however reports that the actual number could be in the several millions: China compensates farmers US$179 (RMB1,202) per culled pig but during the November-January run-up to Chinese New Year, a 100kg hog sold for RMB1,250 (US$186) to RMB1,450/hog (US$216/hog).

Evidence of sick hogs being sent to market recently turned up in Hunan and Gansu provinces, where frozen pork products including dumplings were found to have live ASF virus in them.

In almost any other country, all this would be a monumental sector disaster, but not China. Swine culled as of late February amount to only 0.2% of its hog population, which eFeedLink Pte Ltd estimates at 492 million head. For now, ASF is having a serious impact on hog farming returns, depressing prices, profits and production more than consumer demand, which has been far less impacted.

In China, the three months leading up to Chinese New Year (which occurred early in February) are a time of rising swine inventories and high live hog prices. Hog farms traditionally make a large proportion of their annual profits in the three months leading up to Lunar New Year.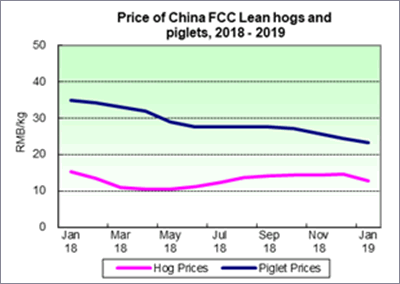 That sadly was not the case in the run-up to 2019's Year of The Pig. EfeedLink's Livestock Tracker shows that in January, large scale hog farms ran suffered a net loss RMB0.24/kg (US$0.04/kg) while backyard farms had RMB0.59/kg (US$0.09/kg) loss margins.

From here on in, ASF's will also start to impact the Chinese swine sector's production and trade fundamentals. Without ASF, China's pork trade was supposed to be one of downtrending imports.

With corn market liberalization announced in 2015, Chinese corn prices (which once cost 100% more than CBOT futures) will gradually trend downwards. Market liberalization was intended so that domestic corn could achieve cost parity with international prices by the mid-2020s. The resulting higher Chinese hog rearing returns and lower unit costs should then have boosted domestic pork production and gradually pushed out imports.

Needless to say, ASF has shattered this rosy forecast. From 2007 (when policies protecting artificially high corn prices were introduced through the mid-2010s when they were abolished, China's propensity to import pork took quantum leaps.

From 709,000 tonnes in 2008, pork imports rode an upward trending roller coaster, with volumes expanding and contracting with China's swine market cycle. Imports peaked in 2016 at a world record 2.18 million tonnes, shortly after the intention to gradually liberalize domestic corm markets was announced.

Thereafter, they fell sharply to 1.62 million tonnes in 2017, with the USDA expecting imports of 1.20 million tonnes in 2018 –but it was not to be. China's 25% import tax on US soybeans pushed up feed costs while creating a domestic protein meal shortage.

Consequently, pork production was already trailing consumption when ASF hit and made the situation worse. While only 0.2% of Chinese hog inventories were culled, the disease made farmers too risk averse to expand their hog herd, thereby putting the brakes on pork production. This can be seen in the accompanying graph, where within a month of ASF breaking out, a fast-rising expansion in China's hog herd tapered off.

Thereafter, neither hog prices nor herd replenishment underwent their traditional pre-Chinese New Year increase. Within a month of ASF breaking out, hog release rates skyrocket immediately and well in advance of Lunar New Year, eventually overtaking hog replenishment. A herd that was on its way to expand from 488 million head to 500 million head just before early February's Chinese New Year leveled off at 492 million instead.
In localities where outbreaks occurred, farmers feared losing their investment. Their subsequent premature releasing of hogs that had not achieved their finishing weight further curtailed pork production, causing it to fall even more behind consumer demand.

Initially, the USDA projected both 2018 Chinese pork production and consumption to rise by 2.4%. Instead of rising to 54.65 million tonnes as originally forecast, the USDA slashed its 2019 pork production estimate to 51.35 million tonnes.

Based on more recent industry reports, eFeedLink thinks this figure is too conservative. It believes output will fall 7.4%, to 50.0 million tonnes, or possibly even lower.

Instead of rising to 56.53 million tonnes, the USDA now expects consumption to fall 4%, from 2018's 55.411 million tonnes to 53.34 million tonnes this year.

Needless to say, this widening , a 2 million tonne difference between Chinese pork consumption in production in 2016 narrowed to 1.4 million tonnes in 2017 and 2018 will widen to a 3.18 million tonne deficit this year.

With part of this supply-demand gap being filled by additional consumption of poultry, beef and mutton, the USDA expects 2019 pork imports to rise to 2 million tonnes. Believing that production will fall by more than USDA estimates, we estimate 2019 pork imports at 2.3 million tonnes.

At this time, it is not known if China's swine sector is caught in the same long-term "trap" as its poultry and dairy industries: Chicken meat output peaked in 2013 at 13.8 million tonnes. Since then, intractable chronic bird flu outbreaks have kept output in the 11 to 13 million tonne range, with chicken meat import volumes bridging the gap between supply and demand.

Fluid milk production similarly peaked in 2008, then fell into permanent stagnation amid rising dairy import volumes. Is the same now happening to China's swine sector?

China's pork output peaked in 56.7 million tonnes in 2014. ASF disrupted both the industry's recovery from a normal, mid-decade market downturn and stopped a downtrend in pork import volumes. While there is much uncertainty, European countries with more technically advanced swine sectors took up to ten years to get ASF under control.

There will be huge implications if China's swine sector follows poultry and dairy industries into a long period of secular stagnation. Pork import growth to 3 million tonnes and beyond could then be assumed –but the world could be in the process of losing one of its greatest sources of feed demand growth.

Hogs account for 42% of China's world-leading feed production. Together with the stagnant broiler and dairy sectors, they account for over 80% of Chinese feed demand. Chinese feed production stagnated after China's chicken sector developed chronic bird flu and aquaculture production stagnated. The situation could be made worse if ASF puts its swine sector into a depression.

Alongside keeping China's feed production and appetite for feed crop imports flat, an ASF induced stagnation of China's hog sector would bring about an era of rising meat imports led by pork. Whereas the previous era of agribusiness inflation was caused by high feed costs, ASF could bring on an era of meat-driven food world price inflation.

All rights reserved. No part of the report may be reproduced without permission from eFeedLink.