AB Vista: Expanding global success in the feed market

Since the launch of AB Vista by parent company AB Agri in 2005, the company has grown from a start-up to a highly respected global player commanding market positions in its core segments of feed enzymes with products like Quantum Blue and Econase XT.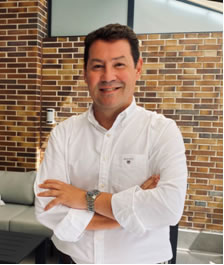 Juan Ignacio Fernandez, who was appointed as AB Vista's new managing director last year, says the company wants to consolidate this position in the coming years, extending its knowledge of different substrates like phytate and fibre.

He adds: "At the same time, we continue to increase our participation in the betaine and live yeast segments for different species including not only poultry and swine but also ruminants and aquaculture where our share in different markets continues to grow. Finally, we also have had good success with the introduction of a new Stimbiotic concept in the market and our product in this area, Signis, has been proven to bring good benefits to our customers."

AB Vista recently introduced Signis in the Asia Pacific, the first Stimbiotic product on the market that is designed to maximise fibre fermentation to improve feed efficiency and gut health.

Commenting on the impact of COVID-19 on the global animal nutrition industry, Fernandez says: "COVID-19 is impacting globally the animal nutrition industry, although, in general, much less than other industries or sectors, where the pandemic is hitting dramatically.

"That said, I have no doubt that the economic situation means customers are under increasing financial pressure. This means customers are much more likely to question products included in formulations and perform a closer analysis as to whether these are essential or can be stripped out of the diet."

According to Fernandez, the livestock and feed industries have consistently been under pressure to maximise profit and performance. It is now more important than ever for feed additive producers to demonstrate the added value that they can bring to customers whether it is through product expertise, technical services support or intelligence related to the individual customer operation. These factors will be important for customers to consider when selecting an additive supplier, particularly during these difficult times.

Fernandez exemplifies: "We are working closely with our customers to get maximum value from our enzymes Quantum Blue and Econase XT. The consistency in our matrix values and the technical support through our NIR (near-infrared spectroscopy) service allow our customers to optimise the cost of their compound feed."

AB Vista is also looking ahead by addressing important industry issues including the pressure to reduce antibiotic usage and improving animal welfare while also reducing the environmental impact of production without affecting production cost.

"Although there isn't a silver bullet for all these problems, there are alternatives to help livestock producers to do away with antibiotics as growth promoters from the farm while maintaining performance and consequently improve animal welfare and reduce environmental impact," Fernandez says.

He added that, while the level of interest and focus in those areas varies depending on the region and customer, it will be increasingly important for feed additive companies to become more proactive.

The company is also working with its sister company, Intellync, to offer a support service to its customers to track the environmental impact of their production and provide opportunities to reduce it while maintaining economic returns ("AB Vista launches emissions reporting service for feed mills").

Commenting on AB Vista's collaboration with Intellync, Fernandez says: "Our significant understanding of feed formulation ingredient quality and enzyme applications means we can use this information to recommend the use of enzymes to change feed formulation, using ingredients of lower cost and environmental impact while achieving the same level of animal performance."

Fernandez believes that the Asia-Pacific will continue to be one of the key focus regions for AB Vista.

"I will be looking to continue building upon the company's success in feed enzymes and applying the strengths of AB Vista to the wider feed additive market," he says. "We have invested a lot in (Asia-Pacific) in recent years, and we plan to continue this trend as well as expand our team further to meet the rising needs of the industry."