Grain & beans yesterday, pork & cheese tomorrow: The US-China trade deal's uneven impact on American agribusiness
Soybean farming profits will enjoy a partial recovery but meat and dairy are the new trade agreement's main beneficiaries.
The US-China trade war disrupted one of the world's most mutually profitable business relationships. Now, a new Phase 1 trade agreement promises to partly repair the damage done to American farmers –by boosting Chinese imports of US grains and proteins by US$32 billion worth above the 2017 baseline of $24 billion in 2020 (to US$36.5 billion) in 2020 and by $19.5 billion above 2017's level (to US$43.5 billion) in 2021.
Even so, our analysis shows that those who will benefit from the agreement are not the same ones who were damaged by this trade war in the first place.
Before the US-China trade war broke out, the value of American agricultural exports expanded at a 9.2% annual rate, from US$44 billion in 2000 to US$152.3 billion in 2014. Thereafter, even before trade war hostilities broke out in 2017, a post-2012 50% fall in the export price of corn and soybeans was not fully offset by sharply higher meat export prices or increased shipments of DDGS, sorghum, and other alternative feed grains. By 2016 –even before the trade war began -- US agricultural export revenues had slumped back to approximately US$130 billion.
Over this same time, revenue from US agricultural exports destined for China jumped by 20.9% annually, from three billion dollars in 2000 to US$29.3 billion in 2012, before crashing feed crop prices lowered export revenues into the US$24 billion to US$28 billion range in the years up to 2017, when trade disputes started impacting the market.
From just 5.9% of agricultural export revenues in 2000, China provided 21.6% of American agricultural export value by 2012, making it the second most important customer of US agricultural products after Canada. On a strict volume basis, from 2000 through 2017, the total quantity of US agricultural goods shipped to China increased a whopping 700%.
By 2018, with exports to other nations partly counterbalancing Chinese market share losses, US agricultural export revenues recovered to US$140 billion. Totaling $5.9 billion, shipments to China accounted for only 4.2% of this amount; its lowest proportion since the mid-2000s.
Leading the export loss parade was soybeans, where export revenues fell from US$21.5 billion in 2017 to US$17.2 billion in 2018 and an estimated US$18.5 billion in 2019.
Thereafter, after 15 years of near 10% annual revenue growth, 2019 saw the value of US agricultural exports up a paltry 1.5% to US$141.5 billion. With their trade war intensifying, rising US agricultural export volumes to other countries mostly offset by plunging shipments to China.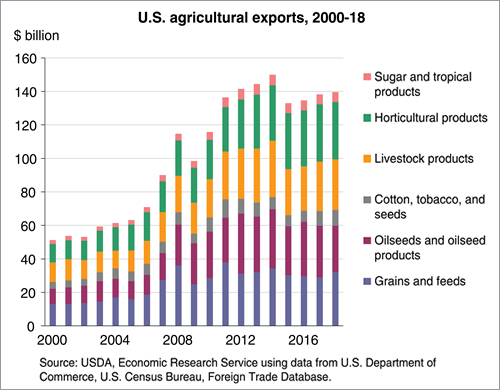 –Going forward, the large size of China's import commitment has many analysts wondering if Beijing can even keep its promise to boost volumes required to boost US agricultural imports by such a vast financial sum as US$32 billion over two years.
Assuming China lives up to its trade deal commitment, its share of US agricultural revenues is going to make a remarkable comeback. Under the agreement's terms, China does not remove prevailing tariffs on US agricultural goods, nor does it commit itself to buy a specific minimal physical quantity of any US feed grains, meats or dairy goods.
Beijing made its import commitment as flexible as possible, specifying that it would boost the value of US agricultural imports by US$32 billion over the next two years. The additional US$32 billion of US agricultural imports Beijing opted to import can take the form of almost any combination or volume of American feed crops, grains, meats, fruits or vegetables.
On one hand, this is a huge improvement for certain segments of America's agricultural sector: With this new trade agreement, Rabobank estimates that the value of US agricultural exports to China will break their old records, totaling US$36.5 billion in 2020 and US$43.5 billion in 2021. This could play a great role in boosting total US agricultural exports by nearly 29% in two years, from US$140 billion last year to at least US$173 billion in 2020 and US$180 billion by 2021.
--But the American agribusiness stakeholders who would benefit most from this promised export bonanza are not the same ones who suffered most of the roughly US$20 billion in export revenue losses. Over half of export losses to China were suffered by soybean farmers –but they won't be getting anywhere near two-thirds of this deal's potential $32 billion export windfall over two years.
This is because feed crops –the US agricultural line which accounted for the most exports by volume generate the lowest unit revenues. Moreover, there are many reasons why they have the poorest potential for increased Chinese procurement.
First, feed crops such as soybeans (US$340/tonne) and corn (US$153/tonne) are high volume goods that generate far lower revenues per unit than beef ($6,200/tonne), pork (US$2,600/tonne), chicken (US$1,090/tonne) or dairy goods such as butter (US$4,030/tonne) or skim milk powder (SMP) (US$3,026/tonne).
This means that boosting imports of the above-mentioned protein lines (beef, chicken, pork, butter, and SMP) by 200,000 tonnes each generates roughly as much US export revenue as boosting corn and soybean import volumes by 10 million tonnes!
This means that for China to keep its promise to boost US agricultural imports by US$32 billion over two years, it can boost the quantity of meat or dairy products purchased from the US by far less than it would need to increase the quantity of corn or soybeans imported to total to the same amount of revenue.

Second, even though China is gradually liberalizing its internal feed grain and oilseed markets, it still makes a point of protecting farmers who grow feed crops from foreign competition. This limits the extent to which China can boost feed crop imports.
Third, on one hand, China signed commitments to buy corn and/or soybeans with Brazil, Argentina and Ukraine. On the other hand, China has not made any overriding commitment to purchase meats or dairy goods with specific trading partners. Hence, China would not pay a political price for example, substituting imports of US pork in place of European pork, or by buying more beef, SMP, butter, cheese or whey from America and less from Australia and New Zealand.
Fourth by causing a severe near 50% drop in China's pig population, African Swine Fever (ASF) has severely depressed China's demand for imported corn and soybeans –most especially the latter. China's feed demand peaked at 198 million tonnes in 2012 –and it only produced 160 to 170 million tonnes of feed in 2019.
Five years ago, 2020 soybean imports near 120 million tonnes were forecast. With ASF and China's slowing economy depressing meat consumption, China only imported 85 million tonnes of soybeans in 2019, down from 94 million tonnes two years ago.
With China's hog population still falling, it may produce even less feed and require less imported corn and soybeans in 2020 than it did in 2019. Beijing is thus in a position where it must protect Chinese farmers and is committed (via recent trade agreements) to buying more Brazilian soybeans and Ukrainian corn –even as feed production plummets.
This makes it extremely unlikely that Beijing can boost US soybean imports from the 10 million tonnes purchased this year to the (up to) 39 million tonnes it said it may buy in 2022 –and at current prices, that would only account for about US$13 billion of its US$32 billion US import commitment anyway.
With respect to other feed grains, US corn purchases could rise by 6 to 8 million tonnes by reducing its purchases from Ukraine and Argentina to minimal, agreed on levels. US wheat purchases could be boosted by 4 to 6 million tonnes by making fewer purchases from Australia and Canada.
Even so, additional purchases of corn (US$1.25 billion) and other grains would generate US$3 billion or less in additional export revenue –and that's assuming China's faltering feed demand doesn't make their importation unnecessary.
Five, ASF reduced China's pork production much more than it did its demand for meat. This has already boosted Chinese imports of all three major meat lines –and will do so by even more in the next two to three years.
Under these circumstances, it is politically far easier, more practical and economically profitable for China to boost American meat imports and dairy imports. Due to protein's much higher unit prices, substituting US meat and dairy goods in place of competing proteins imported from Europe, South America, Australia or New Zealand can go a long way towards meeting China's minimal US$32 billion US agribusiness purchase commitment.
Among feed inputs, DDGS exports to China could be boosted from last year's 0.4 million tonnes to 5 million tonnes in 2020 and up to 7 million tonnes in 2021. That would break the 6 million tonne record established range achieved before trade frictions mounted, as very few nations can supply world markets with as much DDGS as America does.
At one point close to 10 million tonnes of sorghum substituted in place of feed corn was shipped to China. Given China's rising use of corn in feed rations, imports of this alternative feed input will probably rise only into the 5 to 7 million tonne range.

In all, imports of feed crops can only boost US agricultural exports to China by US$18 billion to US$22 billion over the next two years –moreover, the feed production needed to justify these even this volume of feed crop purchases may simply no longer exist.
--Consequently, China's US$32 billion dollar import boost over two years can only be achieved via the procuring of higher-value protein goods. Leading the charge will be the protein that is most popular but in short supply in China –pork. Swine meat's prospects are augmented by the agreement allowing the US to export pork intestines and bungs to China for the first time.
From around 250,000 tonnes in 2019, we project US pork exports to China will total 500,000 tonnes in 2020.
Rather than the current, USDA projected 3.22 million tonnes, US pork exports will probably total a record 3.6 million tonnes in 2020, with China accounting for 75% to 80% of the increase in shipment volumes.
In China, this will mostly come at the expense of European and Brazilian suppliers, who will see their imports flatten out or grow much more slowly than they did from 2017 through 2019. In all US pork exports to China should total approximately US$3.11 billion in 2020, up from approximately US$1.25 billion in 2019.
We can expect a similar increase of around 350,000 tonnes in China's import volume of US beef, coming at the expense of lower or flat growth in the beef imports of other supplier nations, especially Brazil and Australia, which currently have the largest market shares. With US beef's average international price above US$6,200 tonne, that could generate an additional US$2.2 billion in agricultural export revenue.
Two-thirds of such a US beef export increase to China will come from higher export volumes, which may total a record 1.7 million tonnes, with another 100,000 tonnes of US beef diverted from other export destinations to take advantage of higher Chinese prices.
In the same vein, US chicken was allowed back into China for the first time in five years two months prior to this agreement's signing. With China starting to give Japan and Saudi Arabia competition as a top chicken meat importer, this should boost US chicken meat export volumes by up to 200,000 tonnes above their initial USDA forecast and nearer to 3.5 million tonnes.
Alongside pork however, the new agreement's biggest winner may be America's dairy sector: The average unit price of dairy commodities is roughly twice that of chicken or pork and ten times more than what most feed crops sell for. Consequently, China's increasing of US dairy imports by several hundred thousand tonnes can go a long way towards meeting its export commitment –while satisfying strong domestic demand for foreign dairy goods.
In 2019, US dairy exports accounted for only 5% of Chinese dairy imports, compared to the much larger shares enjoyed by EU (47%), New Zealand (39%) and Australia (9%). With dairy goods producing US3,000 to US$7,000/tonne of revenue (compared to under $350/tonne or less for feed crops), Beijing can go a long way towards meeting its import obligations by doubling US dairy import volumes from their current low levels.
In particular, boosting its imports of US fluid milk, SMP, whey, casein, butter and cheese by 100,000 tonnes or more each could generate US$2 to US$3 billion in additional revenue without impacting the import volumes of current leading dairy suppliers, as its overall demand for higher-end dairy goods continues to expand at a healthy rate.
In conclusion, Phase 1 of the US-China trade agreement will require a re-alignment of world trade flows to older, pre-existing patterns. As US soybeans exports rise back toward previous highs, a portion of Brazilian soy purchased by China in 2019 will once again be shipped to traditional European and Asian customers.
Similarly, as China curtails its purchases of other nations' proteins to make space for US agricultural goods, the proportion of European, Australian and New Zealand meat and dairy goods destined for Japan, South Korea or Southeast Asia will rise.
At the same time, low feed crop prices, falling Chinese feed production and its commitments to buy corn and soybeans from other nations will prevent US grains and oilseed export revenues from equaling their 2011-13 peaks. Beijing's commitment to buy US$32 billion of imports over the next two years will require far more than stepping feed crop volumes back to their previous highs: CBOT corn futures would need to rise by 70% from current levels and China's feed output would have to approach the 198 million tonne level it has not equaled since 2012. Neither is very likely to happen before 2022.
Instead, the agreement's real winners are meat and dairy exporters: For China to have any hope of importing an additional US$32 billion of American agricultural products when its own livestock sector is in a depression, it has no choice but step imports of value-added proteins. The new trade agreement puts meat and dairy producers on track for both record export volumes and record export-driven earnings.
With Chinese meat and dairy consumption falling behind their domestic consumption and protein-based goods generating five to 10 times more US export revenue per tonne imported than feed crops, the agreement marks an important inflection point in China's agribusiness trade with America: The post-1994 soybean-dominated trading arrangement is giving way to a relationship based on the import of far more profitable, value-added meat and dairy lines.


All rights reserved. No part of the report may be reproduced without permission from eFeedLink.